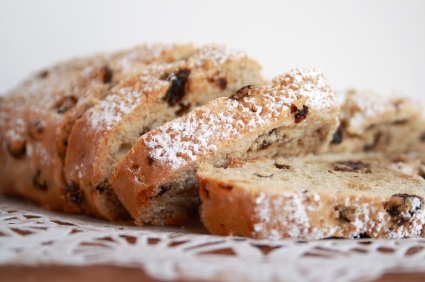 This recipe is actually an annual re-post but, it's one of the most requested recipes on the site. Hope you enjoy….
What's a Jewish girl doing with her Mom's Irish Soda Bread recipe?  NOTHING.
But, my mom does have an insane amount of generational recipes in the section I cataloged "Jewish Judy."  Some of these recipes are so torn, faded and damaged, it's as though they survived the battlefields of Word War I.  With Passover right around the corner, I simply can't wait to roll up my sleeves and start exploring!
But, we're not talking Passover just yet.  We're talking St. Patrick's Day!
And, like I said, I'm Jewish.  Unfortunately for me, Mom has no Irish Soda Bread recipes floating in her archives.  And, it just wouldn't feel authentic making this bread for my family.  So, I reached out (only 2 NYC blocks) to my dear friend Claire.  I could sense that not only would her  9-year old daughter be stomping throughout her apartment practicing her Irish Step Dance for the St. Patty's Day Parade, but, I just knew her kitchen would be wafting with the warm sweetened smells of Irish Soda Bread.  And I was right.
I am thrilled to have Claire share her own family story and authentic Irish Soda Bread recipe:
What happens when an Irish girl marries an Italian guy? That Italian guy gets the short end of the stick when it comes to home-cooked meals.
From the stories I've heard, my mother-in-law was an amazing cook. I'm hardly an amazing cook. In fact, it's a struggle to even make dinner but, baking always came easy to me.  I appreciate that baking is so formulaic and the recipes don't lie. One of my favorite items to bake is Irish Soda Bread.  Besides craving its taste, the bread making process brings me back to those days in the kitchen by Mom's side, helping her bake this traditional bread.

All four of my grandparents were from Ireland and Irish culture was very important in my household. I grew to identify the month of March with groceries bursting of flour, raisins, caraway seeds and buttermilk.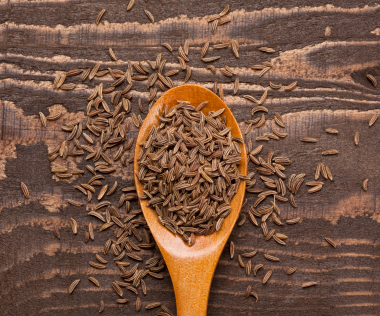 Carraway seeds…a key ingredient to Soda Bread
Not only did my mom make soda bread for us, she made it for neighbors, friends and of course, any St. Patrick's Day dinner she was attending.
This year, I decided to pass on Mom's shared baking tradition and bake with my kids.  Not only did I bake with my own kids, I was crazy enough to invite my daughter's entire 1st grade class to come to my apartment to bake (think 24 kids in a Manhattan kitchen).

I studied up on the breads' historical significance and gave some important background facts before we got down and dirty:
Did you know that the name Soda Bread is derived from baking soda since it's used as rising agent instead of yeast?
Did you know, in the early days raisins and caraway seeds were never ingredients used in bread since these items were too expensive and considered a treat.
Did you know the cross cut into the top helps the bread expand when baking–however some Irish superstitions claim it was to "Let the devil out".
Over the years, like any good Irish girl, I have tried a number of Soda Bread recipes. But, one always rises to the top (no pun here).  My friend Kathleen's recipe, handed down to from great-grandmother (Mary Halloran) to her grandmother Mary Ann Henry from Galway Ireland, is simply delicious. 
So delicious that the recipe was even featured in Family Circle Magazine…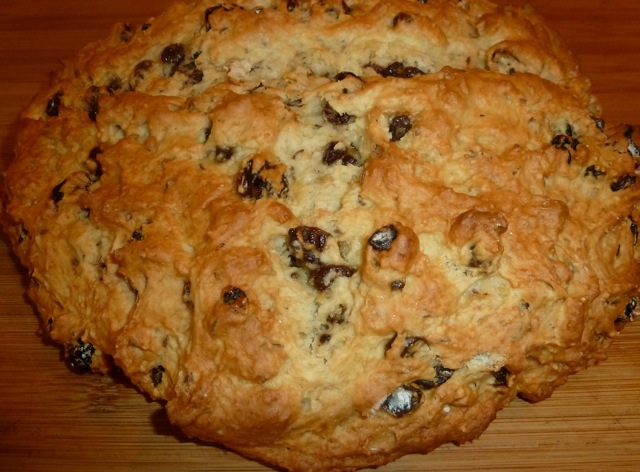 Irish Soda Bread
Ingredients:
4 cups flour
1⁄2 cup sugar
2 teaspoon baking powder
1 teaspoon baking soda
3⁄4 teaspoon. salt
3 cups of raisins
2 tablespoons caraway seeds
2 eggs beaten
1 1⁄4 cup buttermilk
1 cup sour cream
Instructions:
Preheat oven to 350 degrees.
Combine flour, sugar, baking powder, baking soda, salt, raisins, and caraway seeds in a bowl.
In a separate bowl, blend eggs add buttermilk and sour cream, then stir into flour mixture.
Form into round loaf and place in a slightly-greased a 12″ cast iron pan (baking pan will do).
Make a cross on top with a knife and bake 65-75minutes.
Let cool and serve with butter!
Enjoy.
This bread also freezes very well!