Just because the weather's getting warmer and spring is literally around the corner doesn't mean that your slow cooker needs to be stowed away until next winter.  Before my ventures into slow cookery, the crock pot was synonymous with heavy, hearty stews and calorie-laden dishes (read wintertime).  However, there are plenty of dishes that won't bust your gut but will satiate your appetite. I was still eager to try chicken in the crock pot.  It seems the only meat I've tried to cook is beef.  And, while the crock pot is better-served for red meat ( it becomes so soft that it falls apart on your fork) I was ready for a chicken dish.
I found a honey-glazed chicken recipe that looked so easy and sounded very tasty.  Even though we love the Honey Lemon Chicken dish on the stove top (and make it every other week), honey-glazed chicken in the slow cooker sounded equally pleasing. Plus, I still have plenty of jars of raw honey in the pantry and my kids never say no to a chicken dish.
There is nothing easier than slow cooking.  I'm not sure what it'll take to convince any of the skeptics out there but, all you need is the ingredients.  The slow cooker is your dump.  You just dump all of the ingredients and let the porcelain pot work its magic.  There is truly no culinary skill required.  And so, after surveying the ingredients, I was relieved that had everything on hand.  If you have a stocked kitchen.pantry, chances are this recipe won't require a trip to the market.  Now you have NO excuses.
I was hoping to serve the dish for dinner the same evening and it was already mid day. I simply altered the cooking directions and cooked the chicken on HIGH for 3-4 hours instead of on LOW for 6-8 hours.  I would placed the raw chicken directly in the cooker marinated with the glaze and started the cooking process.  I didn't try to semi-cook the chicken on the stove top first (many people like to brown the red meat prior to slow cooking) because I knew it would significantly dry out the meat.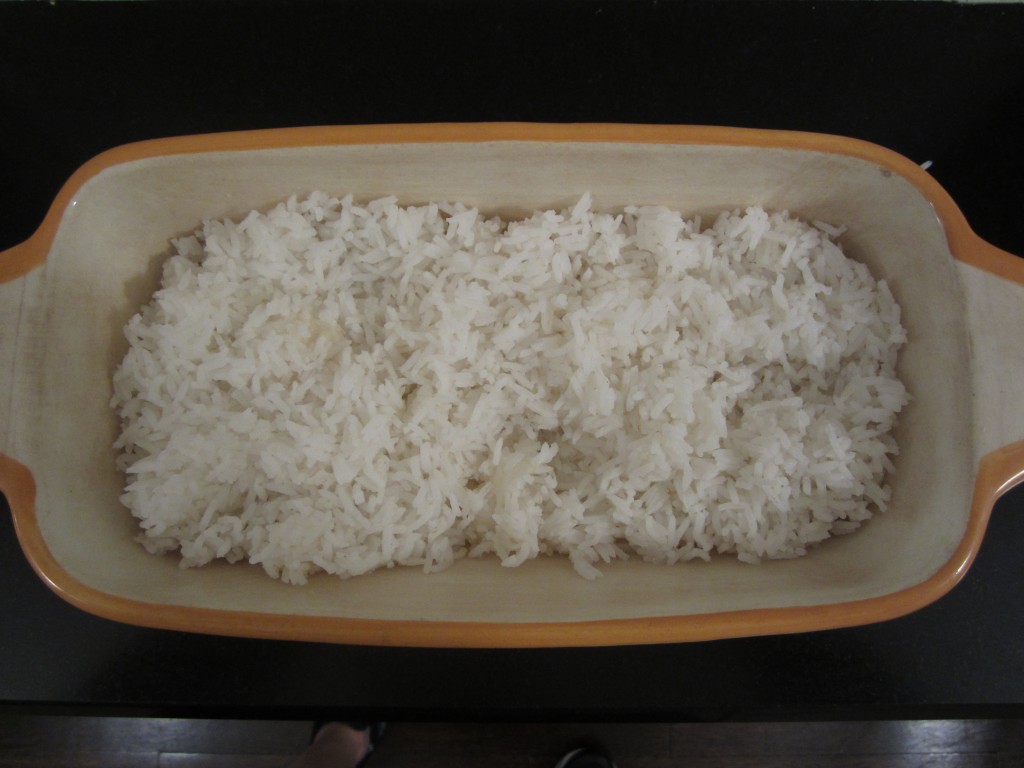 Jasmine rice awaits slow-cooked chicken
However, it didn't matter.  The meat was very dry anyway.  I would use dark meat chicken in lieu of white meat.  It's juicier and will resist drying out.  While no one in my family eats dark meat, I did make a second batch with chicken thighs and the final dish was noticeably juicier and MUCH tastier.
When served the second time with brown meat and  rice, this dish received two thumbs up!
Try it!
Honey-Glazed Slow Cooked Chicken
Ingredients:
Instructions:
Place chicken in slow cooker; sprinkle with salt and pepper to taste.
Combine honey, soy sauce, ketchup, oil and garlic in large bowl.
Pour over chicken. Cover; cook on LOW 6-8 hours or on HIGH for 3-4 hours.