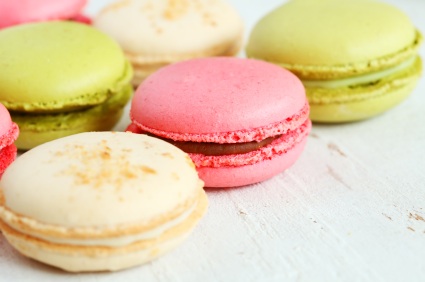 On a trip last year to Paris, lucky for me, our hotel was located right around the block from Ladurée, perhaps the most famous Paris pastry shop and the birthplace of macarons. Apparently they sell more than 15,000 macarons every day! It's hard not to get excited looking at the vast colors and range of macarons available in a multitude of flavors.  While I knew I wouldn't be able to recreate the French masterpieces, as a macaroon-lover, I was eager to at least try the basic recipe in my own kitchen.
Like most recipes, just the idea of baking macaroons seemed intimidating. But, after a thorough review, I realized they're probably easier to bake than Mom's Earthquake Cookies or her Black  Bottoms Cupcakes (both of which I can now make with my eyes closed).
It's hard to argue with a recipe containing only a couple ingredients:  coconut chips, egg whites, vanilla and sugar. I found one of Mom's half-completed recipes in her "Jewish" section with which I integrated a macaroon recipe from Food 52. Both recipes lack flour (and therefore a signature dessert during Passover) so the egg whites and the sugar aare the mortar for the coconut.  While Mom's recipe features sweetened angel flake coconut, I opted to try out coconut chips – unsweetened dessicated shavings that aren't riddled with corn syrup.  (You can find them in any health food store).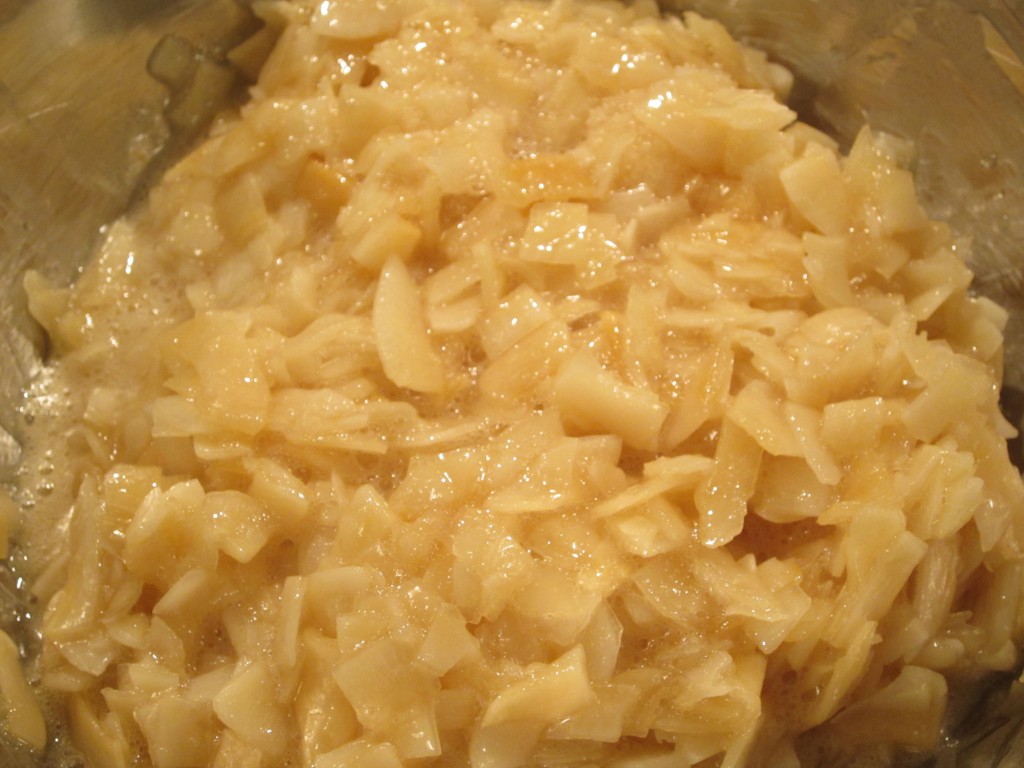 Coconut chips cooking on stove top
If you're a coconut lover, this cookie was made for you.  As you're stirring all the ingredients together over simmering water on the stove, your kitchen will reek of coconut.  Once the ingredients are  properly mixed, you'll need to let them settle for about 30 minutes before placing spoonfuls on a sheet and into the oven.
The sweet coconut smells wafting from the oven door lured me to observe the cookies.  When the coconut flakes turned brown on the edges and curled up, I felt like I was watching my kid's shrinky dink project.
While my final macaroons didn't resemble any of Ladure's fine works of macaroon art, I proudly displayed my crude version on the table. Like a seasoned pastry chef, I then decorated them with tiny pieces of dark chocolate.
The chocolate quickly melted in the center of the cookies and I knew, right then and there, I could NEVER purchase store-bought macaroons again.
Unless, of course, they're from Laduree…
Enjoy.
Coconut Macaroons (slightly adapted from Food 52)
makes approx. 20 cookies

Ingredients:
4 large egg whites
3 1/2 cups unsweetened dried flaked, not shredded, coconut (also known as coconut chips)
3/4 cup sugar
2 teaspoons pure vanilla extract
Instructions:
Preheat oven to 450 degrees.  Line two cookie sheets with parchment paper
Combine all ingredients in a large heat-proof bowl. Set the bowl directly in a wide skillet of barely simmering water (if your bowl bobs in the water, simply pour some out). Stir the mixture with a silicone spatula, scraping the bottom to prevent burning, until the mixture is very hot to the touch and the egg whites have thickened slightly and turned from translucent to opaque, 5 to 7 minutes. Set the batter aside for 30 minutes to let thicken.
With a tablespoon, make heaps 2 inches apart on the lined cookie sheets. Bake for about 5 minutes, just until the coconut tips begin to color, rotating the pans from top to bottom and from front to back halfway through the baking time to ensure even baking.
Lower the temperature to 325 degrees and bake for 10 to 15 minutes.
 Set the pans or parchment  liners on racks to cool.
Let cool completely before gently peeling the parchment away from each cookie.
Best when consumed the day they're made.  Ideal cookie is chewy on the outside and moist on the inside.  Cookies can be stored for up to 4 days in an air-tight container.
Notes:  I let the batter sit out for 40 minutes prior to baking.  I also  bake cookies for at least 22 minutes as they still appeared undercooked after 15 minutes.  I added little squares of chocolate to the center of cookie as they were cooling.  I ate at least 17 out of the 22 cookies in two days.  They're that good.