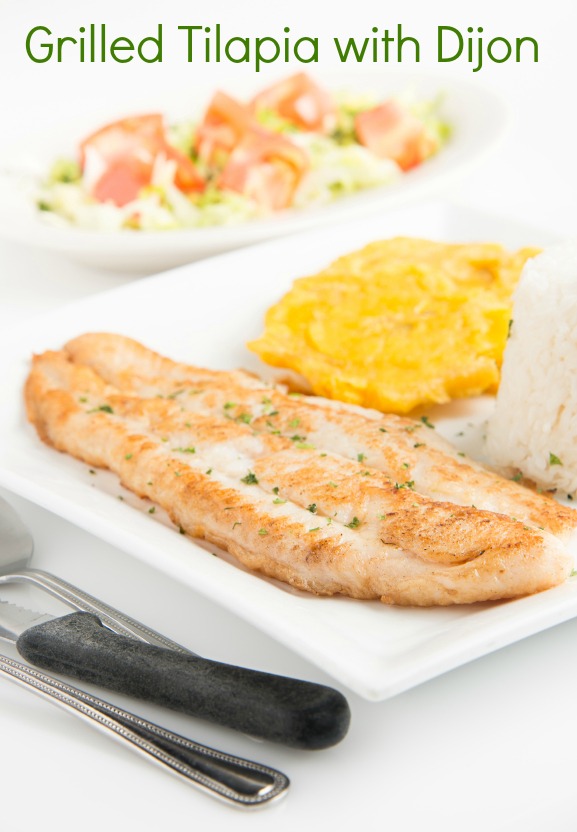 We're desperately holding on to summer even though so many kids have already started school. We've got one week left so that means we've been firing up the grill every single day.
I realized that while we have been grilling a ton this summer, it's mostly been meats— flank steak, burgers, chicken— the basics (for me). Remember, three summers ago I was petrified of the grill and never used it but, now I'm I've been donned grill master of the household.
Doing some research I realized the last time I cooked with tilapia was when my daughter was 9.  I made some tasty Broiled Tilapia in our small apartment oven.  She's now 12 1/2!  YIKES.  I was ready to try a new dish since I had successfully convinced my kids (over 3 years ag0) that not all fish tastes fishy.
Grilling a fish is so easy, because as I always say to my kids, with a light and flaky fillet, the fish will taste like whatever you put ON it.
For the fillet I was hovering between sole, tilapia or flounder. We do LOVE swordfish and tuna but, they're steaks and we were looking for fillets.  I picked tilapia because the fillets looked great in the market and, they're SUPER cheap too.
For a quick and easy dish, you can always just spread your fillets in some olive oil, white wine, lemon juice and salt, and pepper to taste. Grilling takes mere minutes on high heat.
Last night I decided to make some Dijon Tilapia Fillets. We all love Dijon mustard so I figured there was a 50% chance we'd all love the dish that's the conduit for the mustard. Then I just got creative and I added in some bread crumbs (to enhance the texture and give it a little crunch) and they were delicious.
Try it for yourself and don't forget to get adventurous with your fish dishes too!
Grilled Tilapia with Dijon
serves 4
Ingredients
4 filets
1/4 cup olive oil
bread crumbs
Dijon mustard
salt & Pepper
Instructions:
Place fish in Pyrex dish and coat with olive oil.
Baste each fillet with 2 tablespoons of mustard.
Sprinkle breadcrumbs over top so the fillets are coated.
Place on the grill over medium heat and grill until fish flakes with a fork (approximately 5 minutes)