Yesterday afternoon I had the pleasure of attending a private luncheon at Scott Conant's gorgeous culinary suite in Soho, hosted by the celebrated pasta brand, Barilla.  We dined with Barilla's renowned Executive Chef Lorenzo Boni, and sampled the company's latest product innovation: Barilla Microwaveable Meals – available nationally this month!
Chef Lorenzo imparts his authentic Italian culinary wisdom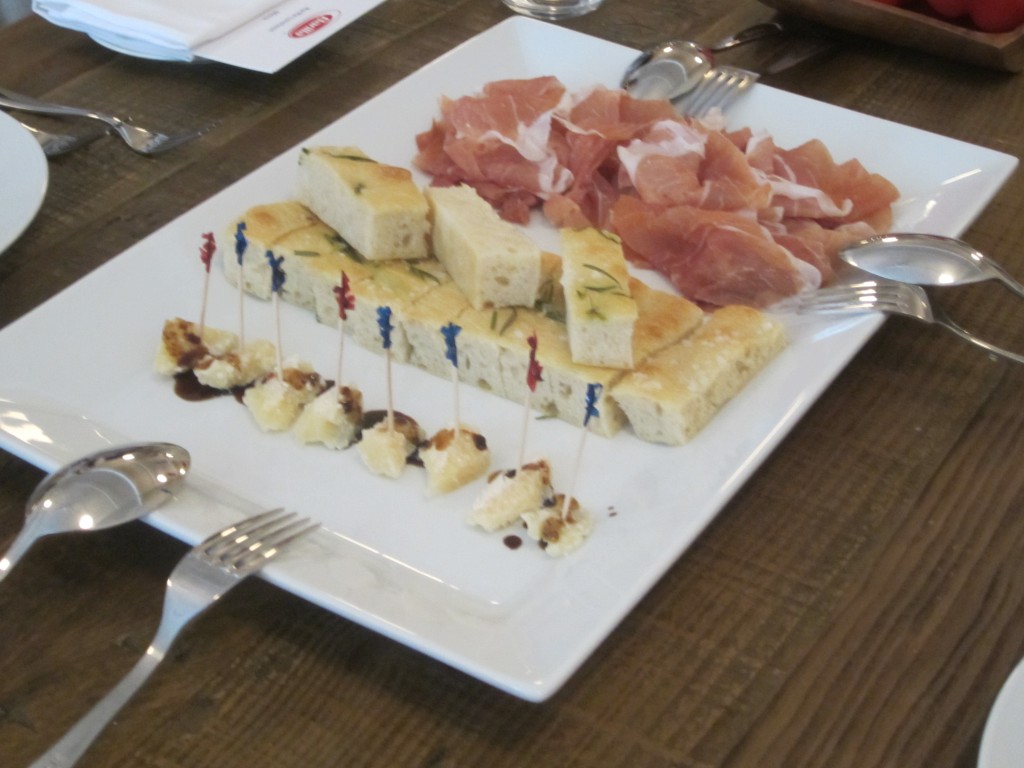 What's an Italian meal without proscuitto, foccacia and cheese
I quickly learned that Barilla is a family-owned brand that has been around for 135 years.  That's reason enough to embrace their continued mission to offer high quality pasta that preserves the culture and tradition of Italy.  Their latest product line, a variety of 5 different microwaveable pasta meals, continues to deliver the Italian taste and quality people have come to expect from Barilla – Italy's #1 brand of pasta – in a single serve offering.
Made from the same 100% natural ingredients as Barilla dry pasta and jarred sauces, the microwaveable meals are shelf stable, portable and ready in just 60 seconds.  This product is the perfect remedy for people with a hectic lifestyle.  Whether you're at work and can't figure out what to eat and are confined to your desk for lunch or, you're harried, trying to put together a last minute dinner for the family, these microwaveable pastas are a practical solution.
Do pre-packaged microwaveable meals scare you? Have bad memories of unidentifiable items that look like a petrified science project? Don't fret, we also had the opportunity to listen to Anna Rosales, a professionally trained chef, instructor and registered dietitian for Barilla America.  She enthusiastically provided an extensive overview of the nutritional values to these meals:
Each 9 oz. package contains 1 serving of pasta and sauce and:
All meals are 320 calories or less.
There are no artificial colors or added preservatives- 100% natural ingredients
All meals provide between 9g and 11g of protein.
The pasta in the microwaveable meals is an excellent* source of fiber.
The sauce in the microwaveable meals are a good or excellent* source of vitamin A.
The whole grain varieties are a good* source of iron.
Sound good?  See for yourself.  If you read the pasta container it actually reads like a recipe; you'll notice that all the ingredients are natural.  You should be able to recognize all of the ingredients listed – a huge feat in today's increasingly deceptive world of food labeling.
What's even more surprising is that the revolutionary packaging of the Barilla microwaveable meals maintains the product's taste, texture and freshness for a shelf life of 12 months at room temperature!  And, the pasta and sauce are stored in separate trays, allowing consumers to customize their meal experiences.
At our lunch, we were able to choose from one of the five available varieties: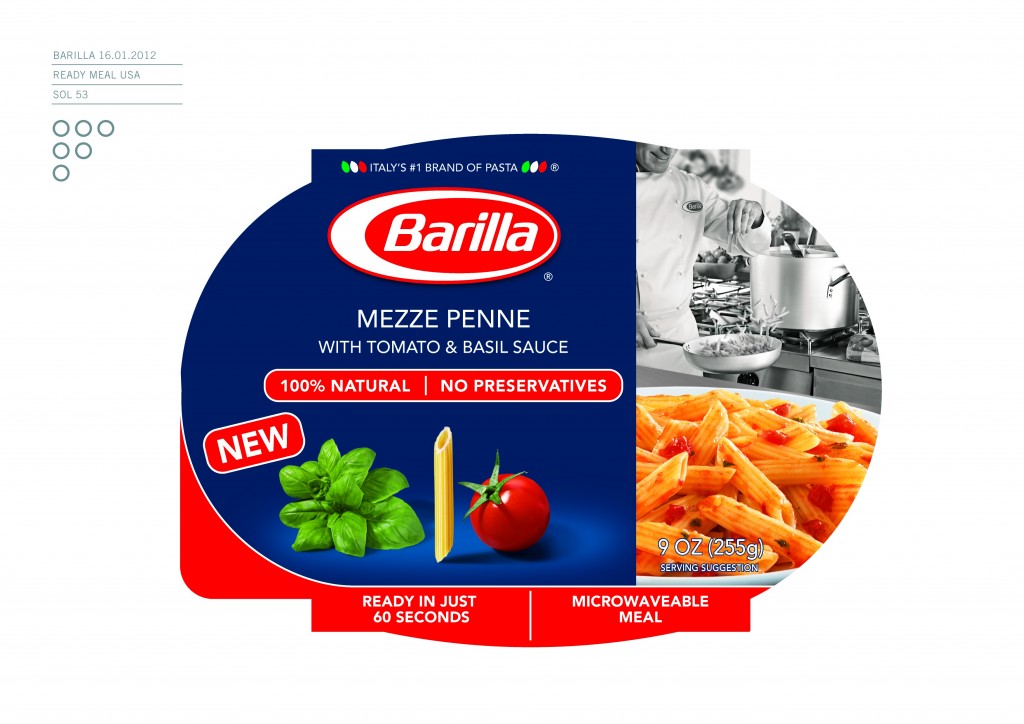 Mezze Penne with Tomato & Basil Sauce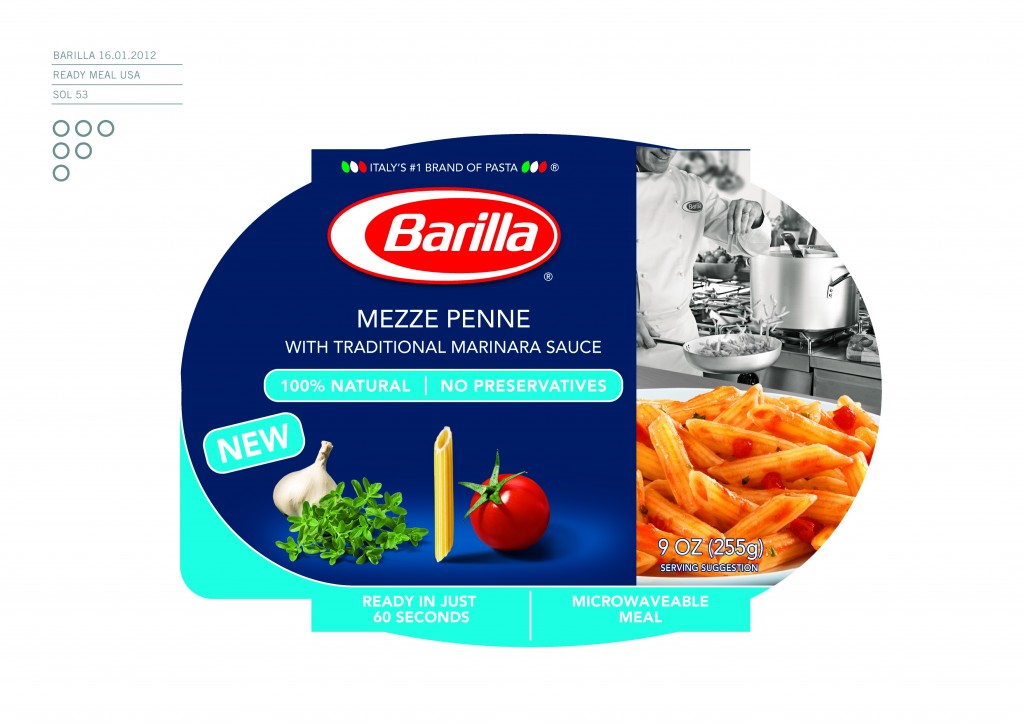 Mezze Penne with Traditional Marinara Sauce
Mezze Penne with Spicy Marinara Sauce (I chose this!)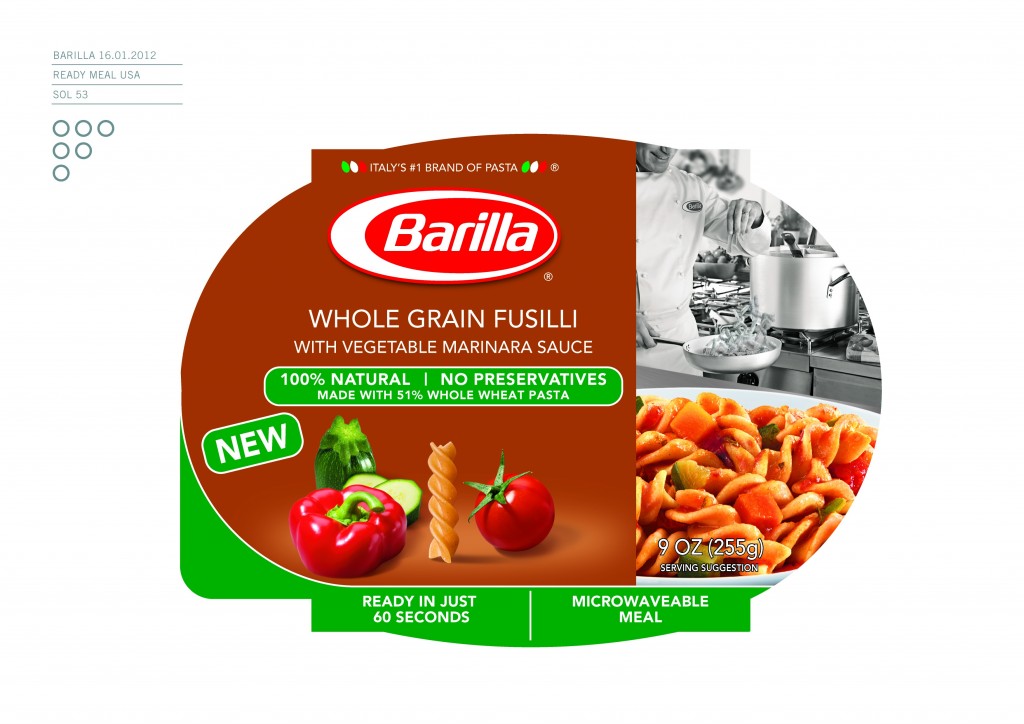 Whole Grain Fusilli with Vegetable Marinara Sauce
Whole Grain Mezze Penne with Tomato & Basil Sauce
And, within just a few minutes (it should've been only 60 seconds but hey, they did have to accommodate all 35 people at once) we were served our very own past entrée in its original packaging.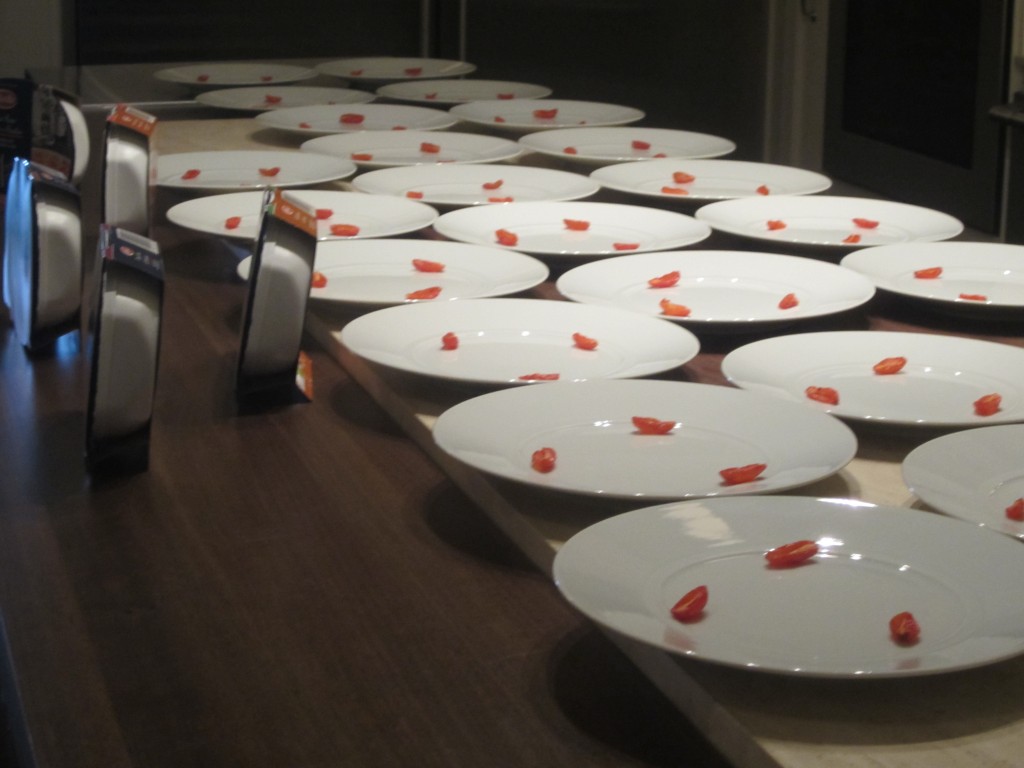 Plates awaiting the microwaveable pasta dish
Now, I must come clean.  While my kids eat pasta at least 3 times per week, me, not so much.  And, gulp, I only just mastered the art of cooking pasta.  While it my seem elementary to most, I always either overcooked or undercooked the pasta.  I never achieved the perfect al dente temperature. However, my 9oz. serving of Mezze Penne with Spicy Marinara Sauce was perfectly al dente and surprisingly, extremely tasty.  In fact, if it had been plated, I'd have no way of knowing it wasn't served directly from the stove top!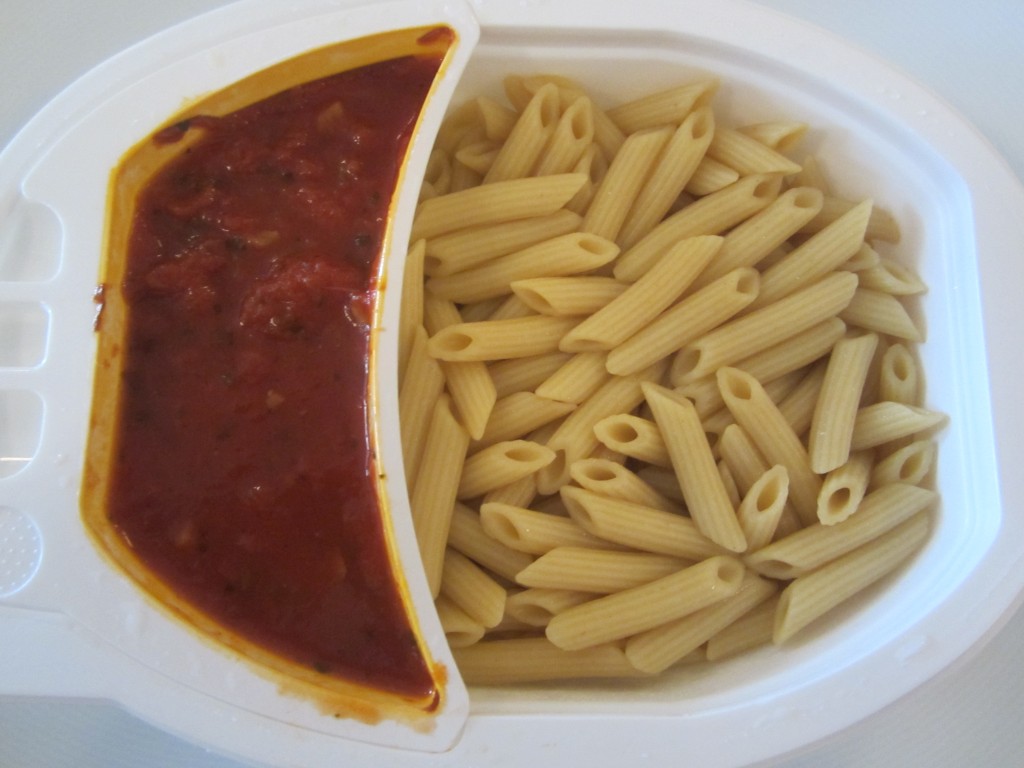 My serving of Mezze Penne with Spicy Marinara
It's genius that the Barilla brothers have developed a new way to discover the best of Italian cooking without cooking at all- no collindars, no boiling water!
Whether you throw some containers in your bag on the way out the door, keep a supply in your desk drawer or, stock your pantry shelves, how can you say no to a meal that can be conveniently available anytime anywhere?
Go on, take a trip to Italy.  It only takes 60 seconds and $3.29!
For more product information, or to locate a grocery store near year, go to www.BarillaUS.com.
Disclaimer:  I was not compensated to write this post.  However, I was treated to a very fine lunch featuring the new Barilla microwaveable meal.  I also received some nice Barilla-branded baubles as well as samples of the 5 microwaveable varieties.  All opinions expressed (as always) are my own.  I attended this event on behalf of Beccarama.com and myjudythefoodie.com.