Gardening is about enjoying the smell of things growing in the soil, getting dirty without feeling guilty, and generally taking the time to soak up a little peace and serenity.  ~Lindley Karstens
Last summer my family created our first-ever garden on a meager 6×8 foot plot of land. It only received partial sunlight, was contained by a crude chicken wire fence, and looked very sparse. But, we were ready to give our little patch of land some  love.  Day in and day out, my 6 year old son and I watered and tended to our project. And in the end, even though the garden looked like someone's science experiment gone wrong, we were completely overjoyed with our veggie and herb bounty!
Honestly, there's no better feeling than to tend to a garden; to watch the plants grow out from the earth from nothing but sunlight and soil and water; to harvest the crop and immediately cook with your yield–fresh, organic, homegrown.  The entire experience feels so pure.
This summer we decided to step it up.  Now that I have a year of actual cooking under my belt and a little more kitchen confidence, I have a higher demand for veggies and herbs for our meals.  But, I honestly didn't know where to begin.  The most memorable blunder from last year's garden was the placement of the veggies:
Our tomato plant grew so tall and wasn't contained in a cage. It collapsed and killed our edamame plant.
Our chocolate mint grew like a weed and literally took over the whole side of the garden.  In fact, even after the garden was tilled for the winter, the mint sprouted right up the second the ground thawed.
The zucchini was planted too close to the string beans and covered the entire plant.  The garden was an overgrown mess.
So, I decided to lean on my friends at Earl's Kitchen Gardens for little pep talk, advice and hand holding.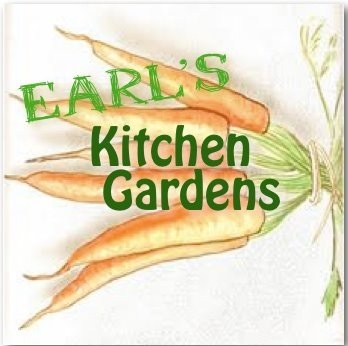 Earl's Kitchen Gardens is a Long Island-based business run by celebrated artist, Elizabeth Rexer Leonard (yup, hence the acronym EARL).  I love the versatility of this small business.  They'll do anything for you. They'll sketch a garden layout (like for me!), plant your garden, maintain it, and teach customers how to care for it and how to harvest.  Right off the bat, Elizabeth will give you some general tips for growing a garden like:
Location is very important; southern exposure is optimal.
Start small and grow a few plants.  Learn everything you can about those plants and then each year, add a few more.
Don't over water, don't under water.  Get to know your soil.
Ask questions.
Then she'll tailor her advice to your specific needs.  She told me to put the tallest growing plants on the north side of our beds (wish I knew this last summer.) She also advised me to  incorporate onions or anything in the onion family as it's good for repelling lettuce eaters (who knew).  And, within minutes, I received her proposed layout sketch and notes which became my bible this weekend during the garden planting with Pop Pop Buddha and my kids.
After a year in the business, Elizabeth is still amazed that people are so removed from how their food is grown.  She continually preaches to get back to basics and encourages getting your entire family involved and invested in their food.  Even her two little boys (ahem, under the age of 6) are both involved with every aspect of her business and home garden.  She was even giddy to tell me they just released 300 praying mantis into her garden beds this weekend?
So, we got back to basics, followed Elizabeth's advice, and began our new garden journey this weekend with Pop Pop Buddha.  My kids were instrumental throughout the entire process.  To witness them discussing the meals we had cooked together over this past year, then deciding which vegetables and herbs to purchase, and then planting everything themselves made for a very memorable and quite inspirational day for all of us.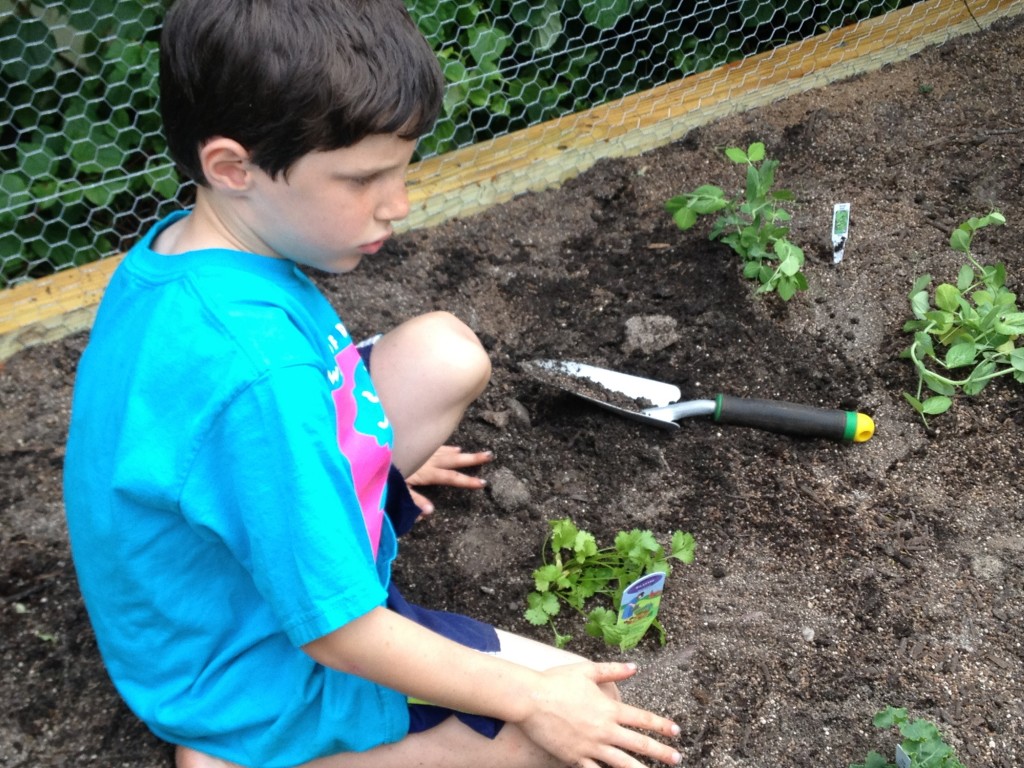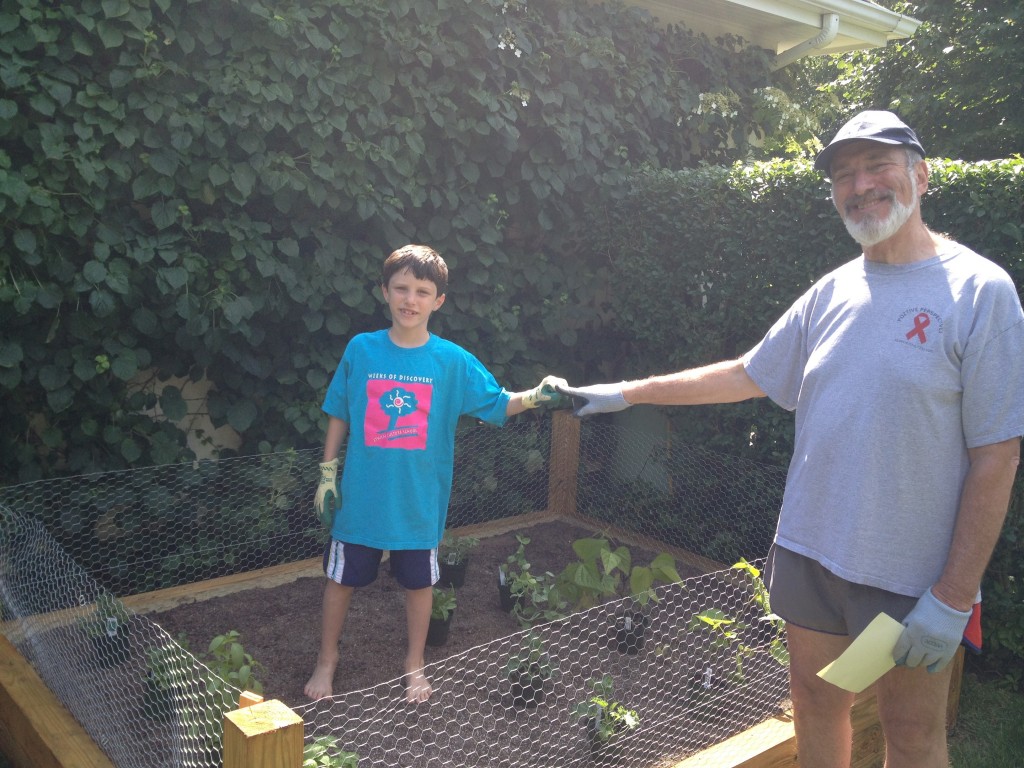 Grandfather and grandson celebrate the completed garden
This year, we added kale so we could make more crispy kale chips and kale dip. We planted more zucchini for zucchini mint dip; orzo and zucchini; zucchini cheese frittata. We added a couple cilantro plants so we could make endless batches of wholly guacamole. And, we tripled up on basil for mass consumption of our favorite pesto sauce.
With freshly-grown basil, you can make the most tasty batch of pesto sauce that'll compliment myriad dishes.  Just like the smoothies and all the dips we've made together, pesto is just as easy to make.  You simply combine all the ingredients in a blender and hit BLEND.  That's it!
My kids love their pesto with peas and pasta. I love pesto on a slice of sourdough bread with melted gruyere cheese. I guarantee you'll find your favorite pesto dish too.
So, what are you waiting for?  It's time to get your garden on!
Enjoy!
Fresh Pesto Sauce
Ingredients:
2 cups equal combination of parsley leaves and basil leaves
1 teaspoon of salt
1/2 teaspoon freshly ground black pepper
1 teaspoon chopped garlic
2 tablespoons pine nuts
1/2 cup of olive oil
1/2 cup freshly grated parmesan cheese
Instructions:
Blend all ingredients except cheese in food processor or blender.
Add more olive oil if necessary to make a smoother puree.
Add in 1/2 cup freshly grated parmesan cheese and blend again until smooth.
Disclaimer: I was not compensated for writing this post.  I simply received some amazing garden planning advice from Earl's Kitchen Gardens and love helping out small business owners.  All opinions expressed in this post are (as always) my own.
Become a fan of Earl's Kitchen Gardens on Facebook.
Read Earl's Kitchen Gardens blog.
Contact Earl's Kitchen Gardens at 516.551.2301 or email at earlskitchengardens@gmail.com!