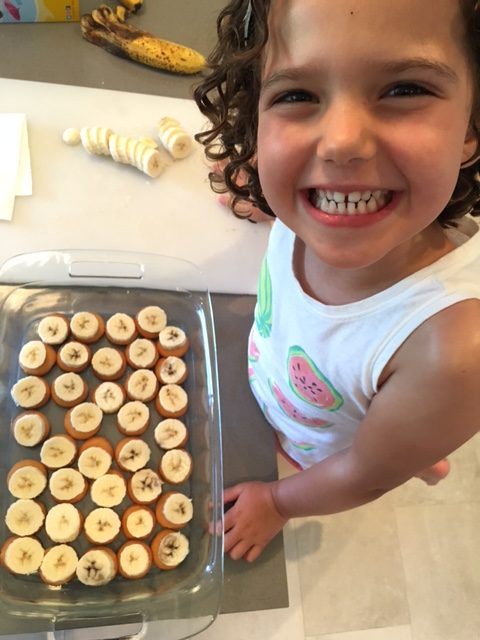 Face it.  No one wants to slave over the stove on a hot summer day.  This no-bake Banana Pudding will definitely satiate your hunger without heating up your kitchen.
We took a much-needed mid-afternoon break from the blazing sun so we were thrilled to start concocting the Banana Pudding.
My helper was an adorable 4.5 year old who approached the pudding creation with the precision of an art project.
She blended and mixed and lined up the ingredients to create a beautiful masterpiece
The recipe is as creamy as it is sweet.  Its internal filling is book-ended with two layers lined with crunchy Vanilla Wafer cookies for a deliberate sensory overload.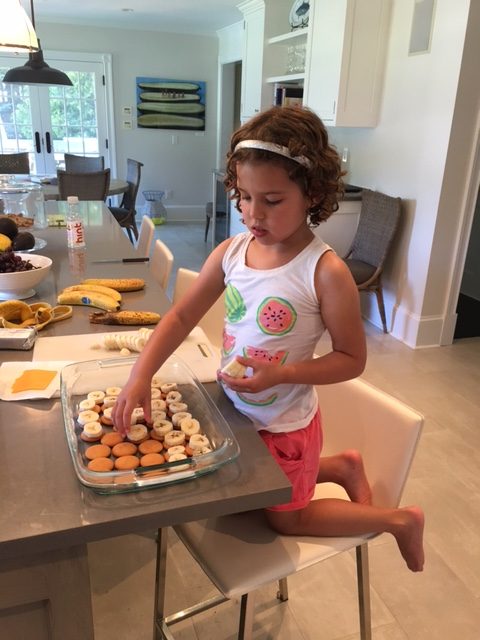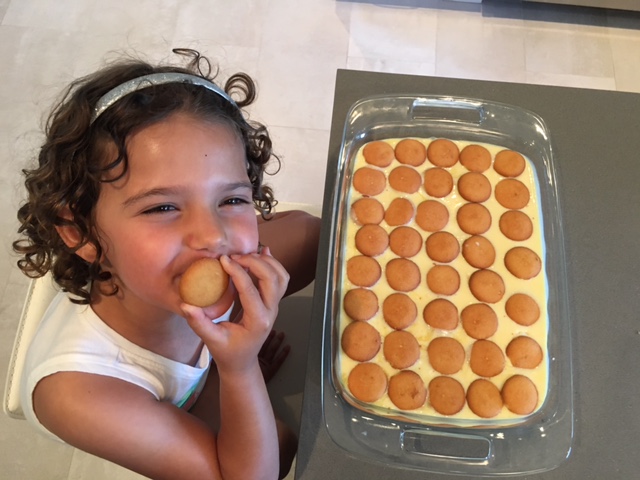 Try it for yourself.  We had a lot of fun!
Banana Pudding
Author:
adapted from Puala Deen
Prep time:
Cook time:
Total time:
A cool treat for any summer day.
Ingredients
2 bags Vanilla Wafers
6 to bananas, sliced
2 cups milk
1 (5-ounce) box instant French vanilla pudding
1 (8-ounce) package cream cheese, softened
1 (14-ounce) can sweetened condensed milk
1 (12-ounce) container frozen whipped topping thawed, or equal amount sweetened whipped cream
Read more at: http://www.foodnetwork.com/recipes/paula-deen/not-yo-mamas-banana-pudding-recipe.html?oc=linkback
Instructions
Line the bottom of a 13 by 9 by 2-inch dish with 1 bag of cookies and layer bananas on top.
In a bowl, combine the milk and pudding mix and blend well using a handheld electric mixer. Using another bowl, combine the cream cheese and condensed milk together and mix until smooth. Fold the whipped topping into the cream cheese mixture. Add the cream cheese mixture to the pudding mixture and stir until well blended. Pour the mixture over the cookies and bananas and cover with the remaining cookies. Refrigerate until ready to serve.
Read more at: http://www.foodnetwork.com/recipes/paula-deen/not-yo-mamas-banana-pudding-recipe.html?oc=linkback
Save
Save
Save
Save
Save