I don't remember ever eating Orzo as a child. But, I did find a recipe in Mom's collection for this rice-shaped pasta (otherwise known as risoni).  And, knowing that my kids LOVE rice and pasta independently, I sensed orzo would soon be a big hit and a regular on our dinner rotation.
I couldn't wait to look through Mom's Orzo recipe.  When I opened up the tattered, worn paper, I felt like I was looking at an ancient relic.  The lines are all blurred and the only legible ingredients said "1 cup of orzo" and "zuc" and "salt".  That's it.  No cooking instructions.  No amounts. No nothing.  Unfortunately, I've been in this situation many times before.   More than half of Mom's recipes are incomplete, probably scribbled quickly straight from memory.  While Mom didn't need any hand holding, I still often feel like I've got my culinary training wheels on.
Luckily, I found an easy recipe for Lemon Orzo with Zucchini and Tomatoes to which I could adapt to Mom's gibberish.  Orzo is the perfect spring dish, light and tasty.  It's complimentary as a side.  It's also good as a main dish with some added protein (chicken or fish).  I wasn't comfortable enough to give orzo the spotlight the first time around so, it was delegated as a side.
I bought some dried tri-color orzo for visual appeal (I figured that would get me extra brownie points).  Luckily, I had all the other ingredients on hand.
The recipe is quite simple and only requires cooking the orzo in boiling water with chicken bouillon cubes.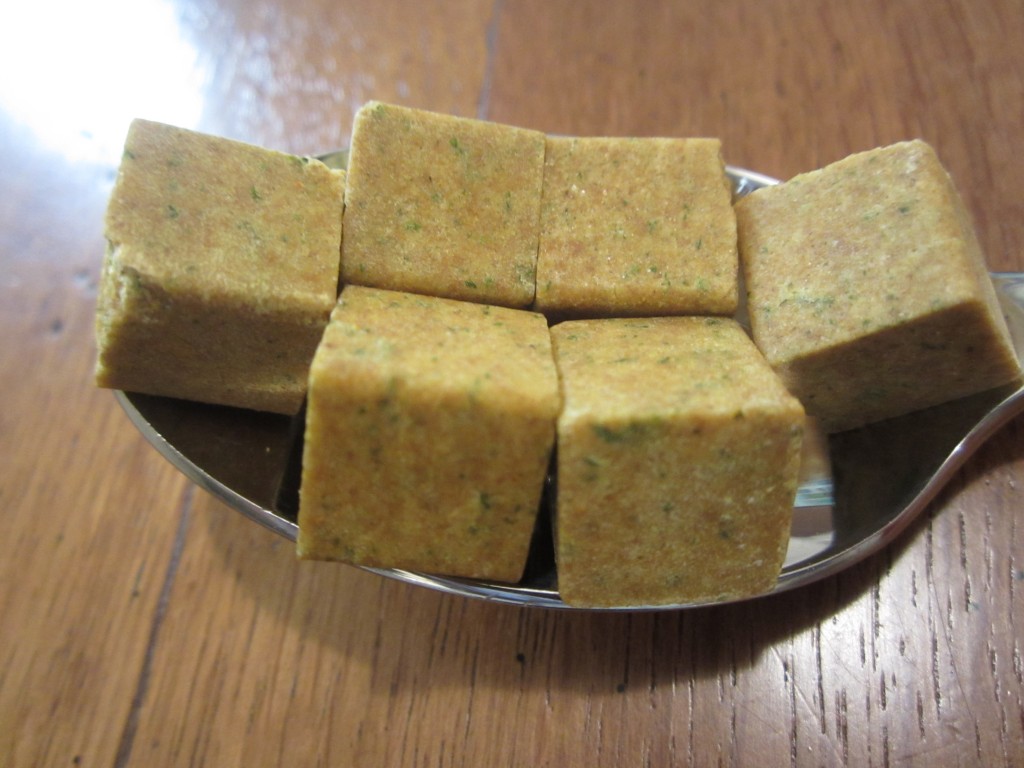 Chicken Bouillon cubes – tasty
I then sautéed the zucchini, shallots, tomatoes and garlic on the skillet.  Then, I combined the pasta and veggies, added in some salt and pepper to taste and voila.
My kid critics loved the pasta.  They even ate the zucchini but, left the cherry tomatoes behind.
And, that's ok.  I'm just happy to have a new dish to tweak again and again time.
Enjoy!
Lemon Orzo with Zucchini and Tomatoes
serves 5-6
Ingredients:
1 cup tri-color orzo
8 cups water
1 Tbsp. chicken bouillon granules
1 Tbsp. olive oil
1 large zucchini, chopped
15 cherry tomatoes, sliced in half
1 large shallot, sliced
1 clove garlic, minced
1 tsp. fresh basil, minced
1 tbsp. lemon zest
salt and pepper
Instructions:
Bring water and bouillon to a boil in a pot over high heat. Add orzo and cook about 9 minutes, or until al dente. Drain, set aside.
In a large skillet over medium heat, add olive oil. Wait for the skillet to heat up a bit. Add zucchini, cherry tomatoes, shallot and garlic. Sautée for about 7-8 minutes, or until the zucchini is tender.
Remove from heat and add basil, lemon zest, salt and pepper, stirring well. Then toss with orzo until well combined. Serve immediately.