Happy 1st birthday to the blog!!!
Exactly one year ago the first of Mom's recipes, Cheeseburger Pie, was unveiled to the blogosphere!
What a wild ride it's been: from VIP food events, to featured articles, to featured recipes, to hob-nobbing with world-renown chefs, to working alongside some amazing brands.
One year ago today:
I didn't know how to boil pasta…I had no idea how to cut an avocado…my meals were usually dialed up from a menu.
Today, my kitchen fridge and pantry are always well-stocked, I actually meal plan for the week, and my kids have said in public (without being bribed) "Mom's a good cook".
163 posts, over 200 recipes, and a Top 25 Foodie Mom Blog 2012 award later, my kitchen is in full swing as I'm desperately trying to honor Mom and emulate what she effortlessly did for others—spreading love through food.
Thank you to the loyal fans who have been part of this mission by reading, cooking, and sharing Mom's recipes and stories!
To appropriately celebrate our first birthday, let's enjoy one of Mom's celebrated Chilled Cucumber Soup recipes.  It's light and refreshing– the perfect accompaniment to sultry summer days.  But, you'll need a top-of-the-line blender to help mix your cucumbers and yogurt and buttermilk.  So, we're hosting an awesome Ninja Professional Blender giveaway too!
The Ninja Professional N600 Blender has an insane 6-blade technology that makes it as simple to blend gazpacho, soups, marinades, sauces and spreads as it is to chopping whole veggies at once!  I received my first Ninja and Mother's Day and it's been my go to appliance for our Sunday afternoon smoothies. I've already lined up a long list of summer soups I want to try in the blender (among other items).  With a Ninja in your kitchen, your life will forever change.  So, what are you waiting for? Enter to win!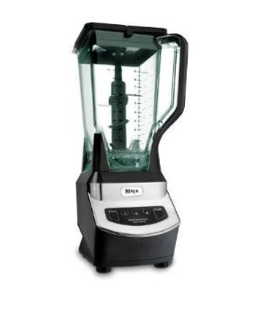 Ninja Pro NJ600 Blender Giveaway Details
One (1) winner will receive a Ninja Pro NJ600 Blender!
How to Enter
To enter to win, simply leave a comment in the post letting telling me what you'd like to make with the blender. That's it! You're entered to win!
Additional (Optional) Entries
To up your chances of winning, you can receive up to FOUR additional entries to win by doing the following (these are optional, not required):
1. Subscribe to My Judy the Foodie by RSS. Come back and let me know you've subscribed in an additional comment.
2. Become a fan of My Judy the Foodie on Facebook. Come back and let me know you became a fan in an additional comment.
3. Follow My Judy the Foodie on Pinterest. Come back and let me know you've followed in an additional comment.
4. Follow @myjudythefoodie on Twitter. Come back and let me know you've followed in an additional comment.
The Fine Print
Deadline: Tuesday, June 5th 2012 at 11:59pm EST.
Winner: A winner will be chosen at random using Random.org and announced at the top of this post. The winner will also be notified via email and the My Judy the Foodie fan page on Facebook; if the winner does not respond within 48 hours, another winner will be selected.
My giveaways are listed on Contestgirl
Chilled Cucumber Soup
serves 4-6
Ingredients:
5 cucumbers
1/3 cup chopped parsley
6 scallions, finely chopped
2 tablespoons chopped fresh dill
1/4 cup fresh lemon juice
1 quart buttermilk
1 pint yogurt (Greek yogurt will create a thicker consistency)
Kosher salt and freshly ground pepper to taste
Instructions:
Peel and chop the cucumbers.
Place the cut pieces in your Ninja Blender along with lemon juice, buttermilk, yogurt, dill and scallion.
Blend at high speed until consistency is thick and soupy.
Season with salt and pepper to taste.
Chill in refrigerator at least an 1-2 hours before serving.
Add a dollop of fresh sour cream to the top of each bowlful of soup!  Enjoy.