Today's recipe is from resident soup expert Serena, aka Seriously Soupy. Serena has not only given soup tours and taught soup classes, but has a catalog of over 100 original soups! Once month you can join Serena on her soupy journey here, at My Judy the Foodie, sharing her wisdom and helping demystify the world of soup.
I asked Serena to create a light, yet hearty, chilled soup celebrating the bounty of summer.
Here's what Serena has to say:
Summer is synonymous with enjoying the outdoors while also trying to beat the heat. While I do love an ice cream as a way to stay cool, I also enjoy refreshing (and healthy) chilled soups during this time of year.
Soups offer the same health benefits as salads and smoothies but allow you to benefit from a different method to get your daily dose of veggies.
For this recipe, I enhanced the traditional gazpacho with carrots and cucumbers as the base (tomatoes are also in there)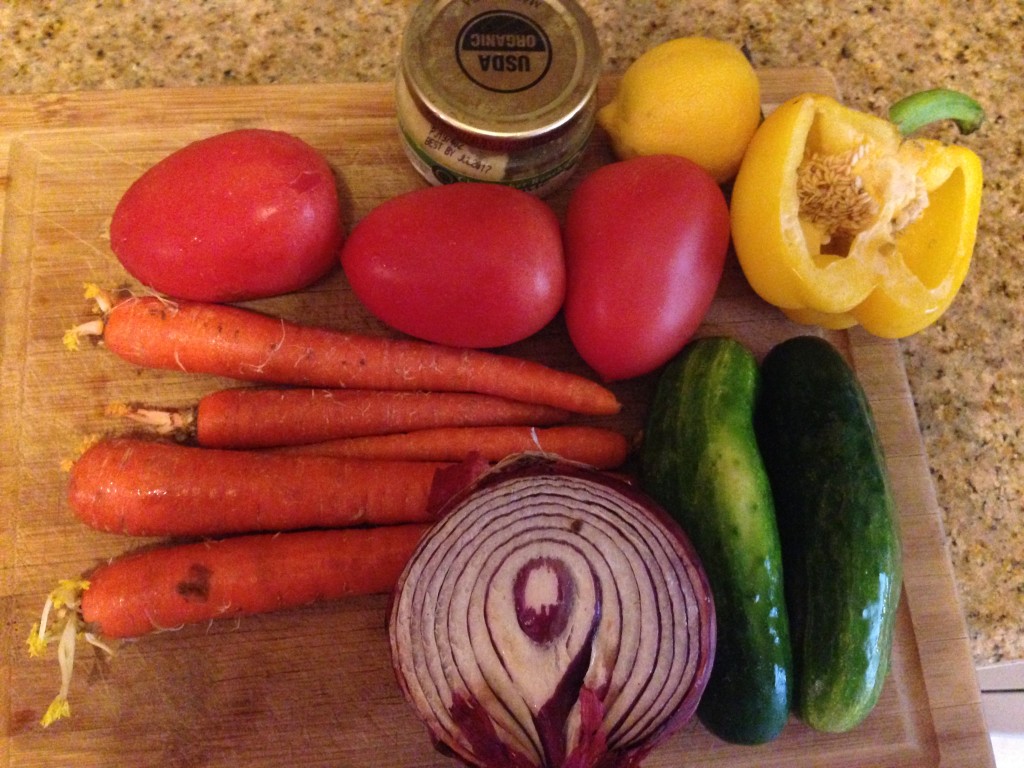 for a refreshing, light, and wholesome way to beat the heat.
Enjoy!
Cucumber and Carrot Gazpacho
serves 3-4
Ingredients:
2 cucumbers, cut up (with skins)
1 pepper, de-seeded and chopped (I used yellow)
½ red onion, diced
6 carrots, cut up
4 cloves of garlic, minced (I used a tablespoon of jarred garlic)
3 tomatoes, cut up
½ fresh lemon
bunch of fresh basil, cut up
1 teaspoon of turmeric
pinch of sea salt and pepper
Instructions:
Boil a pot of water on a medium heat. Cut the carrots and add in when boiling.
Cut up the cucumbers, red onion, pepper, tomatoes, garlic, and basil into small pieces. Place them in a medium-size bowl and drizzle them with lemon juice. Let sit
In 15 minutes the carrots should be done. Drain and let cool. Add to the bowl.
Add all of the ingredients to a blender, along with the turmeric, pepper, and salt. Puree until the ingredients are medium-to-chunky (depending on your preference).
Let chill for about 3 hours. Top with some cut up cucumber and peppers. Enjoy!