Find YP on Facebook and Twitter!
My life has significantly improved since I've been using the Yellow Pages mobile application on my iPhone.  Remember the days of thumbing through the bible-like Yellow Page books?  You know, the ones that were often primarily used as make-shift seat wedges so the little kids could reach the table.  Imagine all of that information and more at your fingertips in nanoseconds.  The free application is so user-friendly, you could spend hours playing around with its myriad features.
YPmobile® products turn your mobile device into a powerful local guide that brings you everyday savings and you can:
Search 16MM+ businesses quickly by typing or browsing popular categories including gas prices, restaurants, bars, hotels, mechanics, dentists, etc.
Find businesses faster with predictive text, and quick links to top categories. The auto-complete feature remembers your favorite search terms making it easier to access past or favorite (pick one) on-the-go. Get the scoop from other locals, access comprehensive business listings including ratings, reviews, business details, open hours, or click to the website.
Save money on-the-go. Search, share, and redeem thousands of local deals directly from your phone. Deal alerts notify you of saved coupons expiring within the week.
Store your favorite businesses, deals and event to "My Stuff" for easy access. Share business details and deals with friends via text, email, Facebook or Twitter.
I've been enjoying the YP app to seek out new restaurants and to write my personal reviews.  The menu search capability is extremely well-defined— you will always find what you're looking for and more.  You can search restaurants by genre, specialty, price, distance or, you can even refine your search and simply type in a very specific food item and the app will list out the nearest restaurants serving that particular food.
For example, I just made Fish Tacos last week for my Secret Recipe Club entry and wanted to sample some in a local restaurant.  I typed in "fish tacos" and not only learned that the little coffee company down the road serves them for lunch (who knew), but, the app also listed the actual item from the menu with the price!  I also received directions to the restaurant with a map, and a direct link to the website.  It's nice to know after all these years, and even in our fast-paced digital world, the Yellow Pages tagline still rings true: Let your fingers do the walking.
Perhaps my favorite YP app capability is its "gas price" feature which allows you to search for the nearest gas stations based on the "best" price per grade level. Approximately 6 months out of the year I'm not usually driving a car since I live in New York City and take public transportation everywhere.  However, I recently found myself on a three hour drive in unfamiliar territory and used this program as my beacon to the nearest, cheapest gas station.  Without this guide I would have aimlessly pulled over wherever I could find the nearest  station.
YP mobile app for the iPhone screenshots
And, if you're like me and LOVE to write reviews to help others navigate their way through the overwhelming restaurant scene, setting up a profile page is easy– it takes seconds.  Once you're set up you can post comments and reviews to any establishment you've visited, look at some of the YP deals you've earmarked, look at your search history and view any photos you've taken and uploaded.  Check out my profile: http://www.yellowpages.com/user/yp/judythefoodie/reviews where I've recently reviewed over ten restaurants in Manhattan and the Eastern End of Long Island.  Some restaurants were reviewed on the spot  (literally as I finished my meal) on the app on my iPhone!  Others I reviewed online at home at YP.com.  Both were equally intuitive.
With your smartphone or tablet app, you can even directly upload pictures of the restaurants while you're posting your review. Check out my review of Luke's Lobster on the Upper West Side of Manhattan http://www.yellowpages.com/new-york-ny/mip/lukes-lobster-15111651?lid=15111651.
I found adding pictures really enhanced the review as it's important for readers to understand that Luke's is designed to make you feel like you're eating in a lobster shack on any pier off the Maine coast.
My uploaded review photo of Luke's Lobster Upper West Side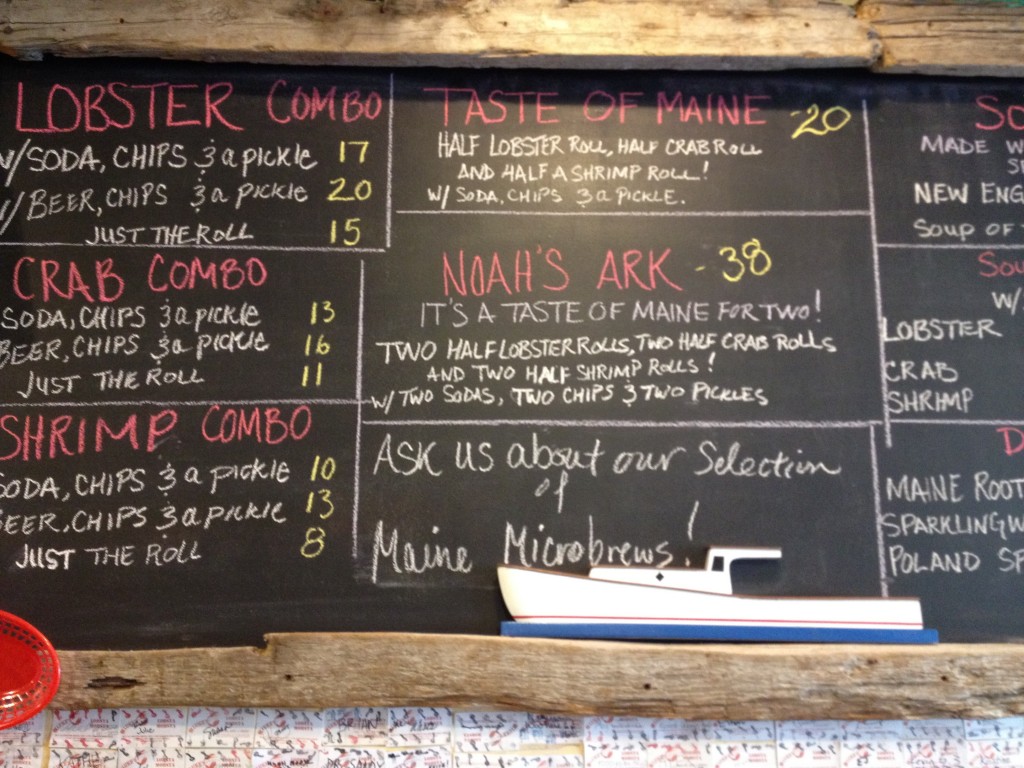 My uploaded review photo of Luke's Lobster's menu
As you can see from my photos, it's small, quaint, no frills; the perfect place to grab a quick tasty bite. If someone were looking for a long lunch with fancy lobster rolls served on white tablecloths, they wouldn't venture out to Luke's.
With the YP mobile app, my whole restaurant experience has been altered.  I'm not only looking forward to trying out new venues but, I can't wait to post reviews of my dining experiences too.
Have you downloaded your YPmobile app yet?
Thank you to YP for being a sponsor. Check out the latest YP app or YP.com to find food nearby fast! YP is your local companion for making decisions on everything from where to eat to where to find cheap gas. This post is in conjunction with my relationship with the Clever Girls Collective, and all opinions expressed here are my own. #YPcrave