Thank you COOL WHIP for sponsoring this post. Join us on Facebook for inspiration and recipes for everyday treats. What you add makes it. #coolwhipmoms

Growing up, my Grandma Sylvia was known in many different circles in Baltimore, simply as "the pie lady."  In the late 1950's, she used to home bake deliciously fresh pies and sell them to the local store for extra cash.  Over the next decades, extended family dinners at Gram's apartment became the Friday night ritual.  If you missed a dinner, you'd miss the opportunity to get a coveted piece of one of her pies, where homemade crusts sealed in a variety of intense flavors from: chocolate to pecan to pumpkin spice.
As a kid, I enjoyed being the consummate consumer of Gram's pie handiwork.  As a mom, the idea of making any pie seemed way too stressful and intimidating.  My head swirled with visions of that storybook, perfectly-baked cherry pie.  I had no intention of wearing an apron, flouring my hands, and using a rolling pin.  However, I had completely forgotten about my favorite no bake pies from childhood.
Gram's No Bake Chocolate Pie is a perfect hassle-free dessert that can be made in 10 minutes! Now that it's summertime, I also wanted a recipe for a refreshing, cool dessert.  And, with a combination of chocolate filling, a graham cracker crust and the addition of COOL WHIP Whipped Topping, a relatively ordinary dessert dish can become quite divine.
Gram's pie recipe is simply too easy to pass up.  And, guess what?  If you're pressed for time and you can't make a pie crust from scratch, you can simply buy a ready-made 8" or 9" crust.  I did, I'm not ashamed.  When you're looking to come up with a dish quickly, using a pre-made crust and COOL WHIP help cut down your prep time considerably.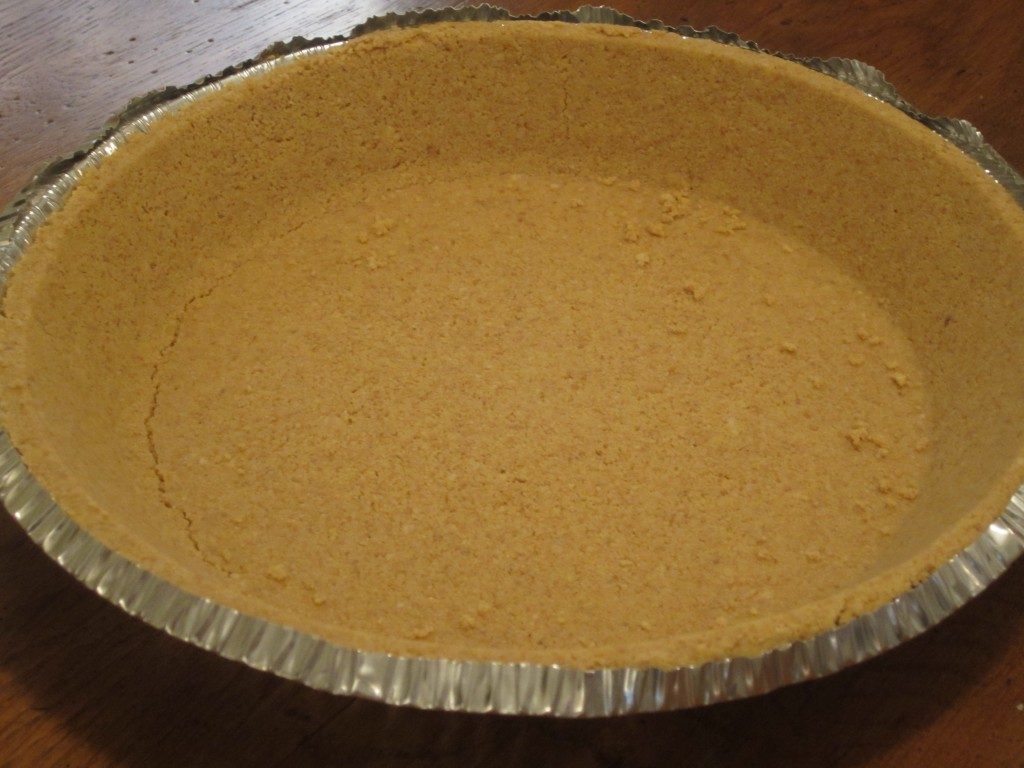 Ready-made graham cracker pie crust
If you have a well-stocked pantry and fridge, you shouldn't need to purchase any of the required ingredients.  Since I wasn't in the mood to make anything from scratch, I only had to purchase a pie crust.  I always have a tub of COOL WHIP on hand since my daughter loves topping off her berries with a nice heaping dollop.
Then, all you need to do is mix the butter, chocolate and sugar, layer it in the pie crust, and set it in the fridge for at least an hour to cool.  I'm fairly certain my kids created more difficult dishes than this in nursery school!
Pie filling – awaiting chocolate
After only one hour to set in the fridge, the gorgeous chocolate pie is slightly hardened and ready for the grand finale: a nice generous layer of COOL WHIP.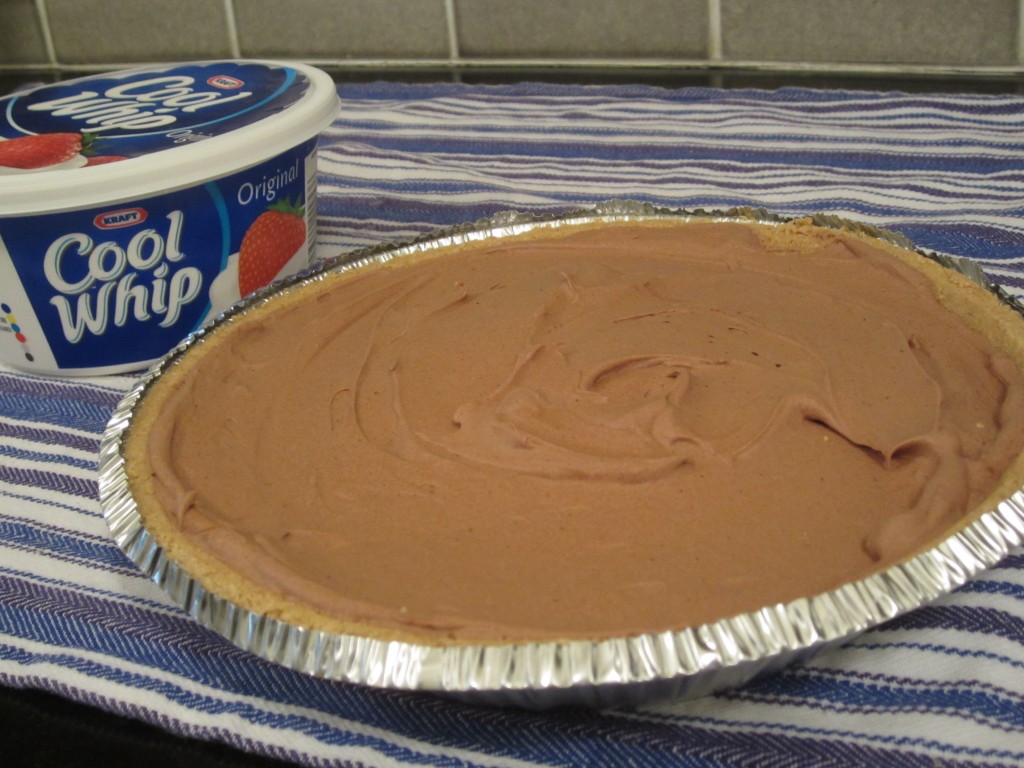 Chocolate Pie – chilled and ready for its finishing touch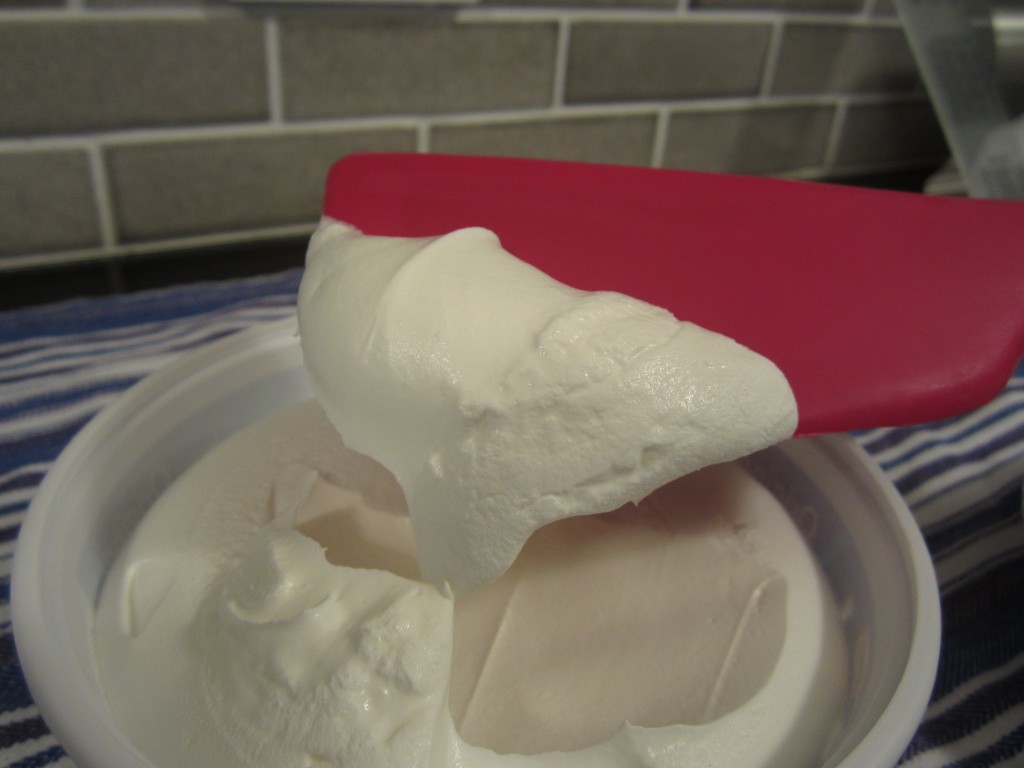 Ready for the COOL WHIP topping
The creamy yet light taste of COOL WHIP tempers the intense chocolate pudding filler flavor.  The COOL WHIP truly renders it mousse-like but, the unexpected crunch of the graham cracker crust stakes its claim as a pie.  And, if you add a just a light dusting of some shaved chocolate, you've got pure decadence.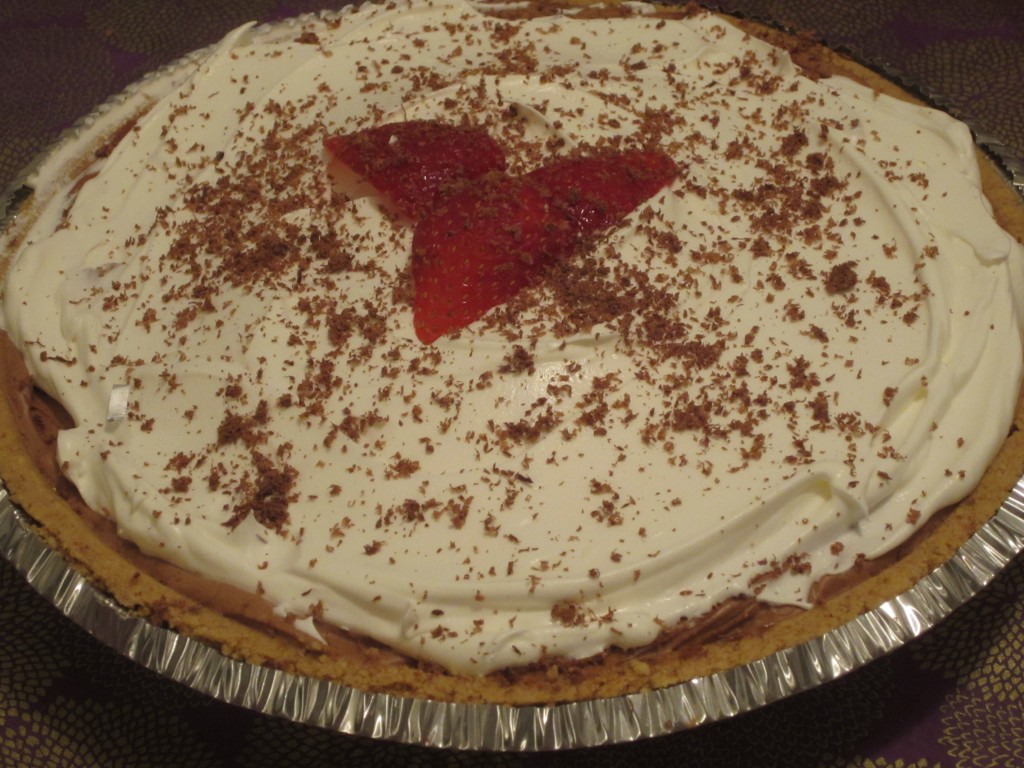 Finished Pie – only 10 minutes to make!
Your No Bake Chocolate Pie can be festive too: add shaved peppermint to your luscious COOL WHIP  topping for Christmas; tint your COOL WHIP with some green food coloring for St. Patrick's Day; add some red food coloring to your COOL WHIP for Valentine's Day.
Heavenly slice of pie w/COOL WHIP & shaved chocolate
Yum (and that's the size of one piece!)
Whichever way you go, this recipe is guaranteed to top your list of dessert favorites!  Enjoy.
Do you have a special dessert you'd like to share?  Enter COOL WHIP's Fan Dessert of the Month Contest for a chance to win $500!  Simply make a COOL WHIP dessert, take a photo and upload it here.  Enter now.
Disclaimer: Sponsored posts are purely editorial content that we are pleased to have presented by a participating sponsor. Advertisers do not produce the content. I was compensated for this post as a member of Clever Girls Collective, but the content is all my own. 
No Bake Chocolate Pie w/ COOL WHIP
Ingredients:
1 pre-made 8-inch graham cracker crust ( or homemade)
1/2 cup unsalted butter, softened
3/4 cup sugar
2 ounces unsweetened chocolate squares
1 teaspoon good vanilla
2 eggs
COOL WHIP Whipped Topping
Instructions:
Melt chocolate in microwave (approximately 2 minutes) and set aside to cool.
In medium bowl, cream butter, gradually add sugar.
Mix in melted, cooled chocolate and vanilla.
Add eggs 1 at a time, beating 5 minutes each.  Make sure to get all of the sugar off the sides of the bowl.
Spoon and smooth into pie crust.
Chill until set, approximately 1 hour.
Cover pie with COOL WHIP (add additional toppings too: chocolate shavings, fruit, nuts).
Enjoy!