Who needs another brownie recipe, right?  Even my kids can make brownies in their sleep.  Mom's Kahlua Brownies is one of our favorite recipes.  We love using any Duncan Hines Chocolate Brownie mix as our base.
And, why not get a little creative and bake some of these brownies with a little "kick" to them?  It makes perfect sense.  I've been to many restaurants where I eat my dessert with a side of Bailey's.  Why not combine them?
But, beware, these brownies are deadly.  Their consistency is much moister than any other brownie I've ever eaten (and that's a lot).  In fact, they're so moist, they teeter on seeming a bit "greasy," which is more fitting for a side of fries than a baked chocolate dessert.  Put them in your hand and they'll sweat.  If you place them on top of each other to serve to guests, they blend together.  If there are any leftovers,  it's best to refrigerate them.  They're not dense or chewy or hard.  Put one in your mouth and I guarantee you'll eat another one and another one and another one.
While Mom's recipe calls for Kahlua, you can substitute it with any other coffee or chocolate, or cream-based liqueur you have on hand.  I used Bailey's the first time and TGIF's pre-made Mudslide mix the second time around.  Both equally tasty.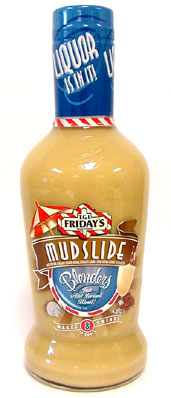 Warning: you might just get a belly ache these are so good.
And, don't worry, you can serve these to minors. There's not much alcohol.
Enjoy!
Kahlua Brownies
makes at least 12 brownies* (depending on size)
Ingredients:
1 Box of Chocolate Fudge Cake mix
1/3 cup of Kahlua
1c  oil
1pt sour cream
6 oz. chocolate chips
Instructions:
Mix together ingredients according to directions on brownie box.
Add in Kahlua, sour cream and chocolate chips.
Pour in well-greased square baking pan (size variations mentioned on cake box).
Bake @ 350 degrees for approximately 1 hour (could be longer, keep checking center of brownies with toothpick).
Remember: these brownies will be extremely, extremely moist in the center, almost fudge-like.  Placing them in the refrigerator can help to decrease the moistness if desired.