Congratulations to Sarah Pinneo for winning the Love with Food Giveaway!
It's time to discover great food for a great cause!
I recently had the chance to spend some time with Aihui Ong, CEO of Love with Food, a nascent food subscription service that launched in December 2011.
To say Aihui is a very driven woman is an understatement.  Like many people, Aihui was looking for a life change and was committed to combine both of her biggest passions, food and technology. So, she started coding, creating a website to help food makers find alternative distribution and marketing channels to help consumers easily discover great gourmet food. With this website as a platform to connect food producers with consumers, she realized that she could also use this as a means to help underprivileged children.  There are more than 16 million children in America that are at risk of hunger. That's more than 1 in 5 children that need a helping hand in order to thrive.
And so, the true mission of Love with Food was born: for each box that is purchased, a meal is donated to food banks all across the country to help combat childhood hunger.
One box. One meal. It's that simple.
As a member since its launch, I can honestly say Love with Food offers the easiest way to discover, taste and buy great gourmet food for a great cause. I have been able to taste unique gourmet foods via a monthly subscription service where I receive a box full of 8+ gourmet samples to my door every month for only $10/month (oh, there's FREE shipping too)!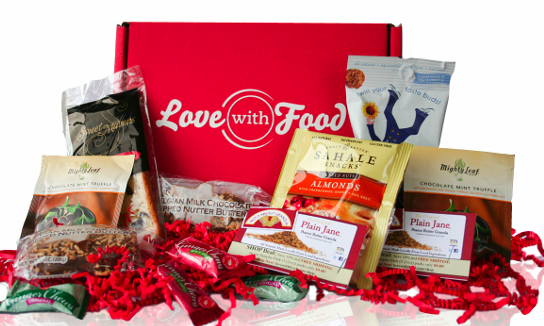 contents of a sampler box delivered to my door
It's a fun way to bring consumers and food makers together regardless of their geographical region. It's hassle-free.  Consumers get to try new foods in the comfort of their own home and food makers get to promote and distribute their products to a nationwide audience! You'll also get cool free online food discounts. And, don't worry, there's no need to print or collect coupons. And did I mention FREE SHIPPPING!
Sounds pretty cool, right?
Well, last weekend at the Blogher '12 conference in New York City, I had chance to talk with Aihui and learn more about her company and her success story.
Love with Food CEO Aihui Ong at Blogher '12
Here's a little sneak peak:
How do you decide which companies to include in a particular food sampler box?
We pride ourselves in curating unique hard-to-find products and delivering them to your door. We help our members discover great gourmet food which they might otherwise not have been able to discover themselves. We want to break the geographical barrier/restrictions of traditional food sales process. Tasty products made and sold on the West coast should be easily accessible to consumers on the East coast too and vice versa. Just because these products can't make it to the retail stores on the East coasts doesn't mean consumers should be deprived of tasting them. Every month we have a theme, we made sure the products fit the theme and they have to be unique and tasty. So we'll reject main stream big brands products which you can easily get at grocery store. We'll also not feature products that we'll not consume ourselves, e.g. products with high fructose corn syrup and artificial coloring are frowned upon.
How do you execute the cause-related angle of donating food to a child who would otherwise go hungry?
Food banks prefer money because they can turn $1 into 7-10 meals, whereas if we give a can of soup, it can only go to 1 person. We started by giving to Feeding America and Share Our Strength (No Kid Hungry) and while working with local food banks, we realized local food banks get very little funding from big organizations like Feeding America and Share Our Strength. So we decided to give directly to local food banks too.  I would say 70% goes to Share Our Strength and Feeding America to feed hungry children and the other 30% goes to local food banks nationwide. We get a lot of email from our members asking if we could give to their local food banks and WE DO. That's how we've been handpicking which food banks should receive the donations. After all, Love With Food is powered by our community and the donation is from our community.
How many children have you fed through Love with Food and where are these children located?
As of today, we've donated more than 8,000 meals. This map shows where we've donated:  https://lovewithfood.com/meals_donated
What's your goal for this venture?  Long term?
Our long term goal is to build a strong brand and make Love With Food a household name. When people think of buying/discovering great food, they'll immediately think of Love With Food. We want to build a strong community where everyone plays a part, whether it's being our brand ambassadors, sharing products they love, or simply being part of ending childhood hunger movement, we are all sharing some kind of LOVE. International expansion is definitely in the horizon. We've received many requests from Canada and we hope one day, we can ship there.
Want to support Love with Food and its mission?
We're thrilled to offer one lucky reader a year-long subscription to Love with Food!  And, If you don't win the giveaway, don't worry.  There's more foodie love to go around.  For all My Judy the Foodie readers, Love with Food has created $2 off discount codes. Simply use the code 'MYJUDYVIP' – and you'll receive $2 off any subscription plans.
So, what are you waiting for?
Giveaway Details:

One (1) lucky winner will receive a  free year-long subscription to Love with Food!

How to Enter
Since Love with Food boxes make ideal gifts, to enter to win, simply leave a comment in the post letting telling me when you would gift a Love with Food subscription to someone special.
Additional (Optional) Entries
To up your chances of winning, you can receive up to Five additional entries to win by doing the following (these are optional, not required):
1. Subscribe to My Judy the Foodie by RSS. Come back and let me know you've subscribed in an additional comment.
2. Become a fan of My Judy the Foodie on Facebook. Come back and let me know you became a fan in an additional comment.
3. Follow My Judy the Foodie on Pinterest. Come back and let me know you've followed in an additional comment.
4. Follow Love with Food on Pinterest. Come back and let me know you've followed in an additional comment
4. Follow @myjudythefoodie on Twitter. Come back and let me know you've followed in an additional comment.
The Fine Print
Deadline: Thursday, August 16th, 2012 at 11:59pm EST.
Winner: A winner will be chosen at random using Random.org and announced at the top of this post. The winner will also be notified via email and the My Judy the Foodie fan page on Facebook; if the winner does not respond within 48 hours, another winner will be selected.
My giveaways are listed on Contestgirl
Disclaimer:   I was not compensated for writing this post.  I was offered a free year-long subscription to LWF to give away to one lucky reader.  All opinions expressed in this post are my own.