This is my second month receiving my artisanal food box from a company called Hatchery:  a program where subscribers receive a delivery of curated, sample-size artisan ingredients and condiments to their doorstep every month.
Each monthly box features hand-selected and meticulously wrapped (to avoid breakage when shipping)  jelly, peach chutney, marinara sauce, dark chocolate malted fudge and spices.  However, the boxes each month can include any number of ingredients like: vinegars, oils, spreads, cooking sauces, honey, syrups, salts, and other specialty baking ingredients.
I guess you're wondering what makes Hatchery so unique?
Hatchery actually deploys a dedicated team of people who travel across the country, sifting through green markets, visiting family farms and literally traveling dirt roads in search of the most incredible flavors to share with its members every single month.  Many times, these small-batch partners don't even offer their products in sample sizes so they actually produce smaller sizes solely for the Tasting Boxes!
Some other important details to $20-a-month (shipping included!) Hatchery membership:
Hatchery members receive 5-6 sample size artisan products each month.
Members can purchase full-size versions of their favorite sample products from Hatchery's online marketplace.
Hatchery takes it one step further and provides easy-to-master recipes (and printable shopping lists) so that you can continue to enjoy each of the products in the tasting boxes beyond just the sample.
Hatchery's online magazine is full of video how-to's, kitchen tips, chef tutorials, tastemaker profiles, producer stories and more.
Hatchery's online marketplace and magazine are available to everyone but, the subscription members receive exclusive access to limited edition products, special promotions, and shipping discounts, in addition to their monthly tasting box delivery.
This company is dedicated to providing tasty artisan ingredients that can actually be used in traditional, easy-to-make recipes. And, they take it many steps further to insure that their subscribers will find recipes with their featured ingredients; they'll even provide ways in which to use them.
If you like a product, you won't have to start a scavenger hunt across the US at random specialty markets, you can simply click over to Hatchery's online marketplace where you'll also find full–sized versions of your favorite products as well as detailed  descriptions and relevant information.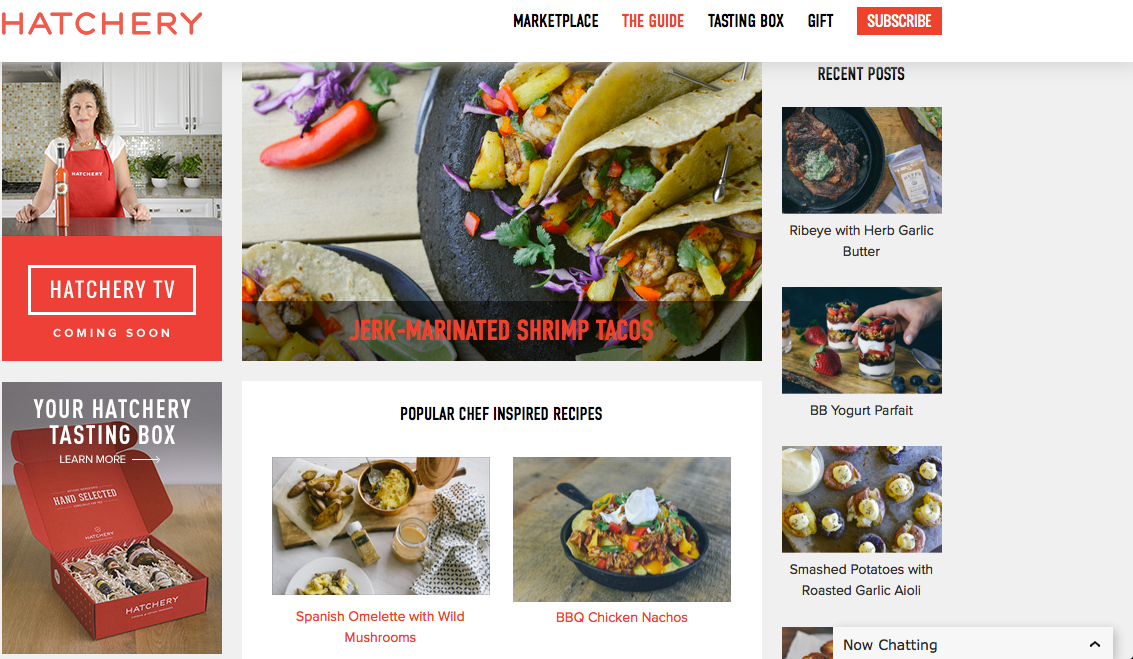 My April package arrived while I was away for the weekend.  I was greeted to the familiar bright red box, packed with individually wrapped samples of the following:
Delta Blueberries – Organic Blueberry Spread
Murphy's Mustard – Motherlode Mustard
Elbow Foods – Arrabbiata Pasta Gravy
Tonewood Maple – Maple syrup flakes
O Olive Oil – Fig Balsamic Vinegar
2 Snooty Chef's – Herbs de poulet flavor spice sample packet
If you're interested in exploring an entirely new world of ingredients created by passionate artisans all over the USA, then the Tasting Box from Hatchery is a great deal.  You'll receive quality-curated items hand-selected from a very passionate team every single month.
To request an invite from Hatchery, click here.
PS -I used the O Olive Oil – Fig Balsamic Vinegar (from my Hatchery box) in a Brussels sprouts recipe.  It added a nice sweet flavor to the bitter sprouts.
BRUSSELS SPROUTS With FIG BALSAMIC VINEGAR
serves 4-5
INGREDIENTS:
12 ounces baby Brussels sprouts
1 shallot, sliced thin
1 tablespoon olive oil
4 tablespoons butter, divided
2 tablespoons Fig Balsamic Vinegar
INSTRUCTIONS:
In a skillet, head the oil & 1 tablespoon of the butter over medium high heat. Add the shallot and saute until the shallot is tender.
Add the Brussels sprouts to the skillet along with the 3 tablespoons butter. Cover and let simmer approximately 10 minutes or until Brussels are tender.
Sprinkle Fig Balsamic Vinegar over top.
Season with salt & pepper to taste.
Serve immediately.
Disclaimer:  This post is sponsored by Hatchery. All opinions expressed in this post, are 100% my own.