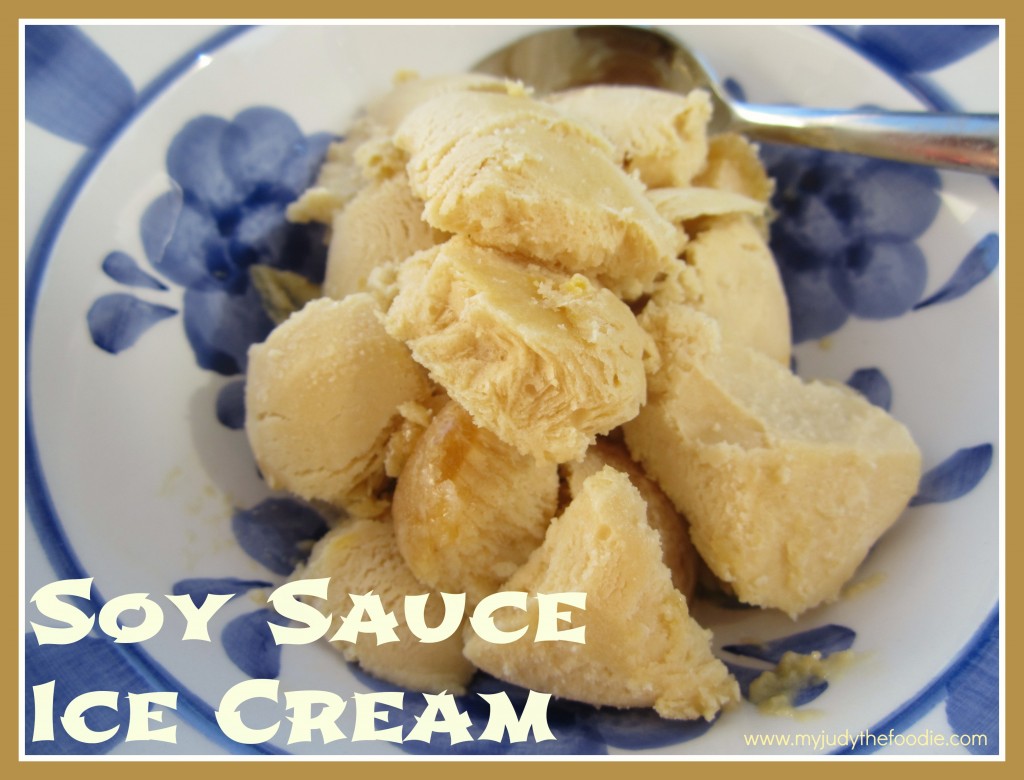 Three weeks ago at the Blogher '12 Conference, I had the opportunity to meet and talk to Helen Roberts, Kikkoman's first non-Japanese chef.  She has been with the company for 27 years and currently oversees Kikkoman's Kitchen and the development and testing of a wide variety of on-trend Asian, American and international recipes for home cooks.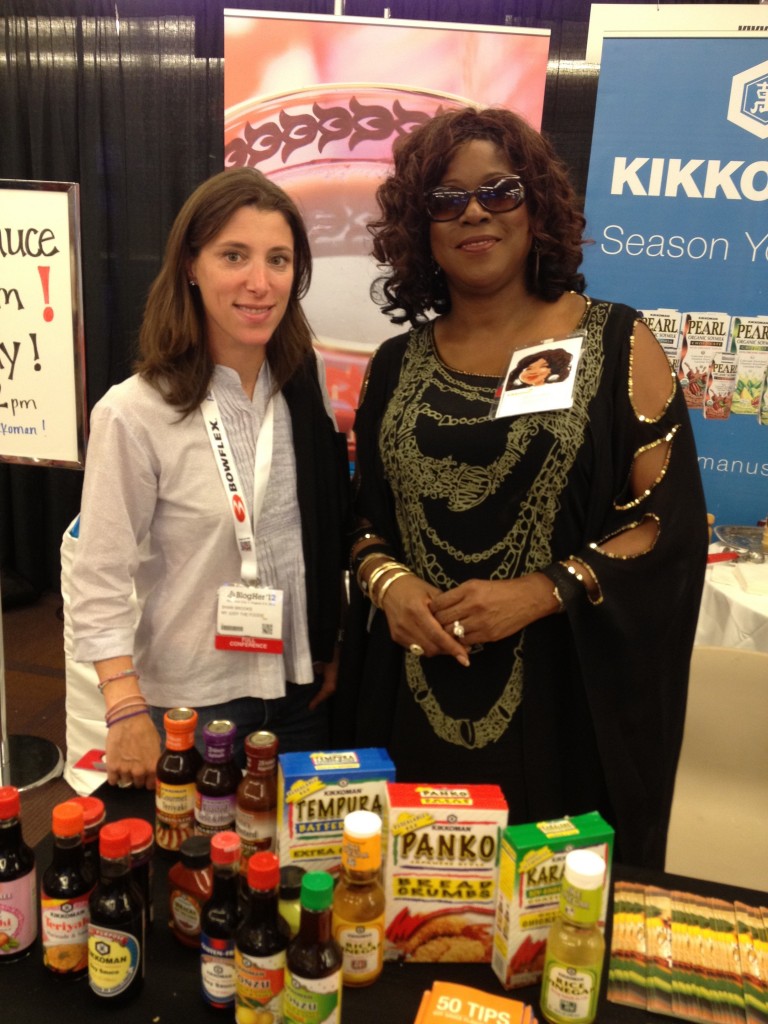 Me and Kikkoman's Helen Roberts
While I'm a big fan of the Kikkoman line of Soy Sauces, and use it (the 50% less sodium version) in marinades and meat dishes all the time, Helen had me sample something with soy sauce that was completely out of the realm of my thinking: Soy Sauce Ice Cream.
I know, it sounds completely bizarre and probably something you'd never want to even try.  But, it's surprisingly tasty and creamy.  If you like the flavor of salted caramel, then you'll love this recipe.
With just some eggs divided and whipped with heavy cream, brown sugar and soy sauce, you'll custom-create an ice cream base in under 10 minutes.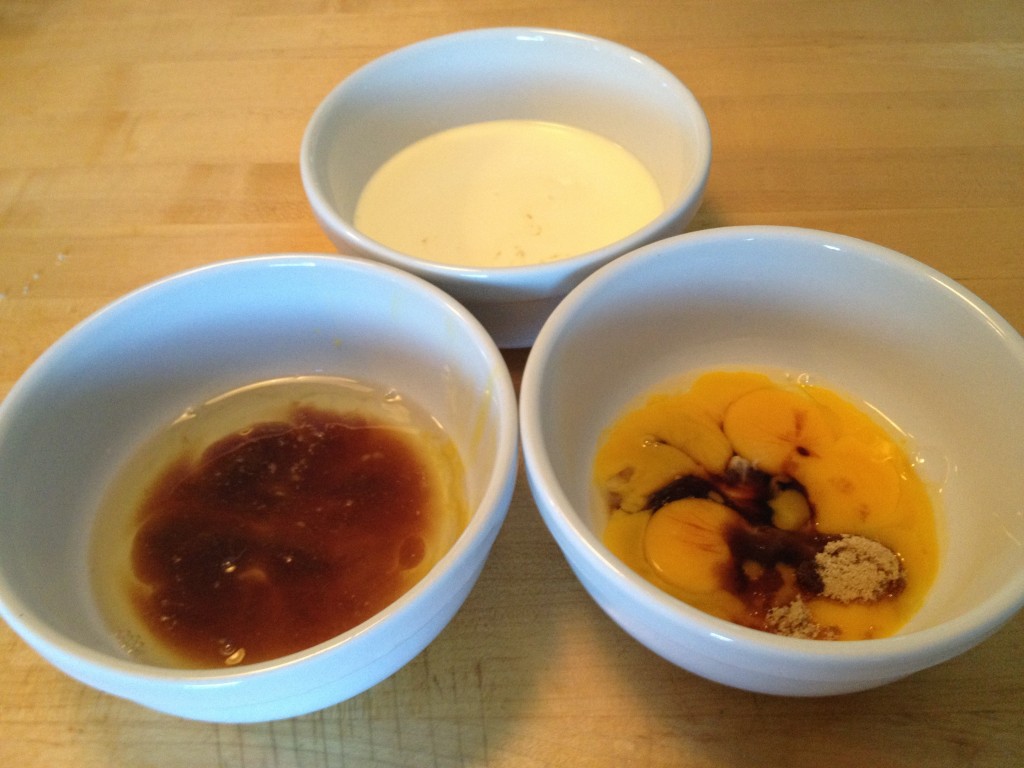 Three bowls pre-whip: egg whites and brown sugar; heavy cream, egg yolks and soy sauce!
Store the base in a freezer and in just a few hours, you'll scoop out some amazing Soy Sauce Ice Cream.
I served the anonymous ice cream to my family, telling them they had to try it.  I wouldn't divulge the true name until after I got their collective feedback.
My daughter thought the ice cream tasted like eggs!
My in-laws guessed flavors ranging from mango to caramel to vanilla bean.
When I admitted the ice cream was actually Soy Sauce Ice Cream, they were completely miffed. And pleasantly surprised.
Even my 7-year old gave it two thumbs up!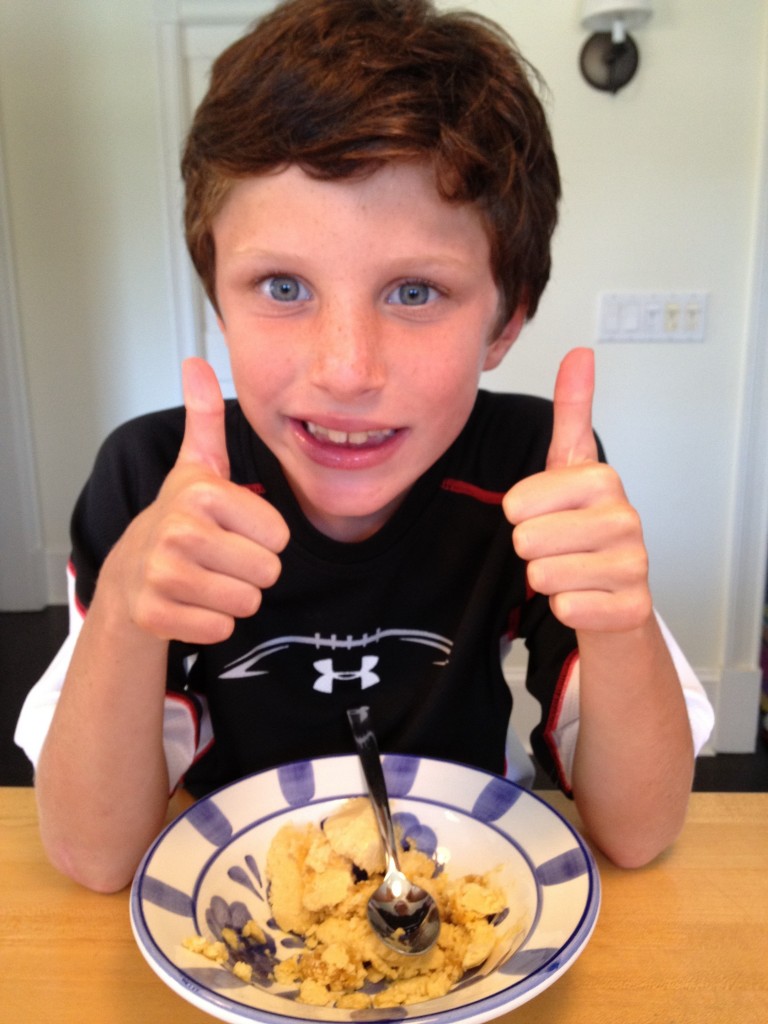 Soy Sauce Ice Cream receives two thumbs up
That's enough of an endorsement to try it for yourself.
Enjoy.
Soy Sauce Ice Cream
Ingredients:
3 eggs, separated

5  tablespoons brown sugar, divided

3/4 cup heavy cream

1/2 teaspoon Kikkoman Soy Sauce
Instructions:
Using 3 bowls, place 3 egg whites and 2 tablespoons brown sugar in one bowl; heavy

cream and 2 tablespoons brown sugar in another bowl.  Finally add 3 egg yolks, 1

tablespoon brown sugar and the soy sauce together in the third bowl

Simply stir to

combine.  Whip egg whites with brown sugar until it peaks.


Whip heavy cream and

brown sugar until it peaks.


Combine whipped egg whites to the whipped heavy cream,

mix thoroughly with the egg yolk mixture.


Freeze until firm in a freezer safe container.