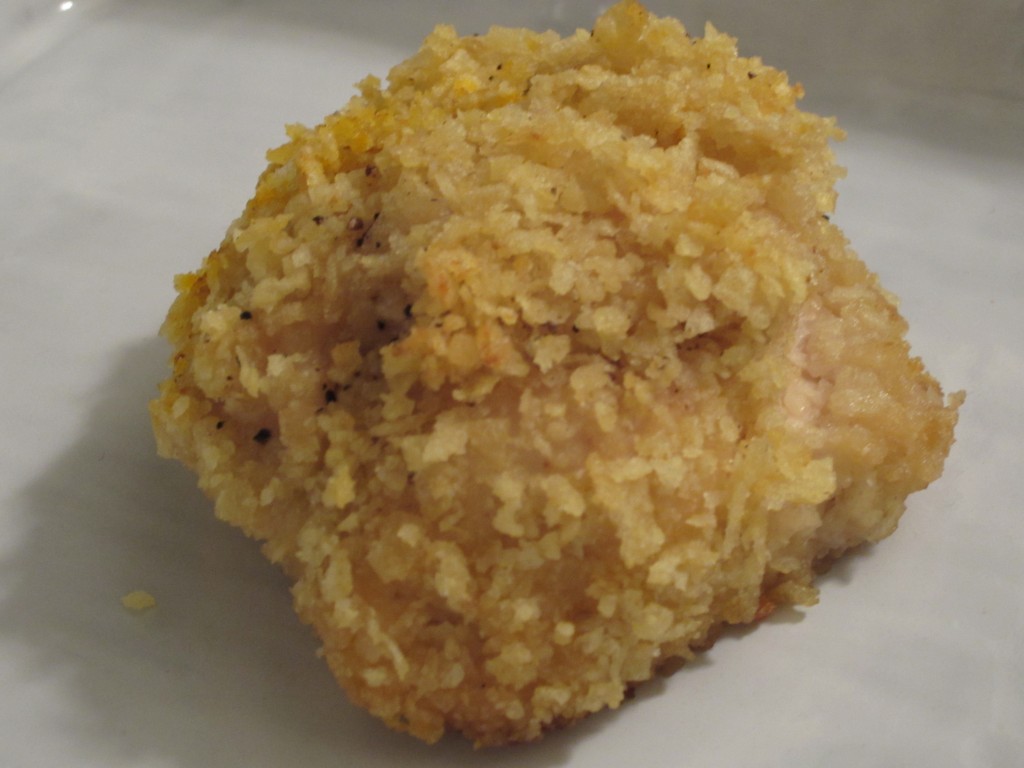 I've had such a busy week with back to reality, back to school, the STRUT FASHIONABLE MOM SHOW and everything in between.  Having time to prepare an involved dinner was just not in my cards.  Next to my crock pot and all the hassle-free dishes it produces, my other go-to meal is Potato Chip Chicken.  Unless your entire family is vegan, it's safe to say,  most people probably have chicken in their stocked fridge or freezer and some form of "potato chip" (healthy or otherwise) in their pantry.  When I have at least 35 minutes to spare for dinner prep, Potato Chip Chicken it is.
I figured, since I remake this dish a couple times a month, it's ok to repost this recipe for those of you that might have missed it the first time around……
Enjoy, again….
With a name like Potato Chip Chicken, could anyone not like this dish (assuming all in question are carnivores)?
Honestly, practice.  Tell your significant other, your husband, wife, child, whomever, that you'll be making Potato Chip Chicken for dinner and gauge their response.  I'm willing to bet their eyebrows will raise, their eyes will widen, and there's a genuine interest in the dish.  At this point, you've won half the mealtime battle.
After a long day of school and after-school activities, my kids usually come barreling through the front door of our apartment, drop their book bags with gross exaggeration, let their coats fall on top of their book bags and, always simultaneously ask (as if programmed) , "what's for dinner?"
Tonight I said, "chicken."
"Ugh, I had that for lunch today" my over-tired, underwhelmed daughter barked back.
"Potato Chip Chicken,"  I confidently replied, knowing that would get her to quit being (what we affectionately term) a piss-ant."
Potato Chip Chicken can be your new secret weapon.  Lure them in with the potato chips and they'll get their fix of protein too.
I understand your potential hesitation.  I now usually try to err on the healthier side with my kids.  I buy organic produce, meats and dairy whenever I can.  However, I have also survived many painful over-the-table arguments about eating what's being served.  And, sometimes I will default to the mindset that as long as my kids are eating something, I'm ok if it's not the healthiest.
So yes, some might be horrified at the thought of crushing up old school potato chips to then cloak the beautifully healthy chicken breasts.  I'll admit, I tried to sanitize the recipe just a bit by using Baked Lay's instead of the greasy old-fashioned Lay's on my piece.  And, let's just say my chicken was dry and tasted like I was eating wood chips.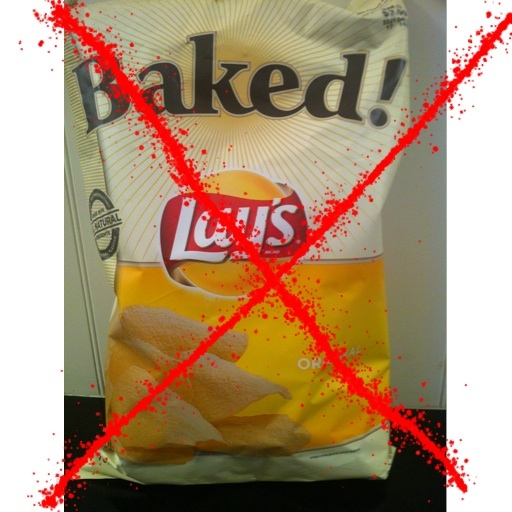 Give it up and use the greasy chips.  They make a better crust!
But, the kids' pieces, baked with the perfectly greasy Lay's chips, tasted flavorful with just the right amount of crunch and flavor and salt!
Requiring only four ingredients, all of which you hopefully have in your pantry and fridge, you've got a quick and easy chicken dish to add to your dinner repertoire.
Just crush the chips, coat the chicken, pop in the oven and 30 minutes later, fresh Potato Chip Chicken.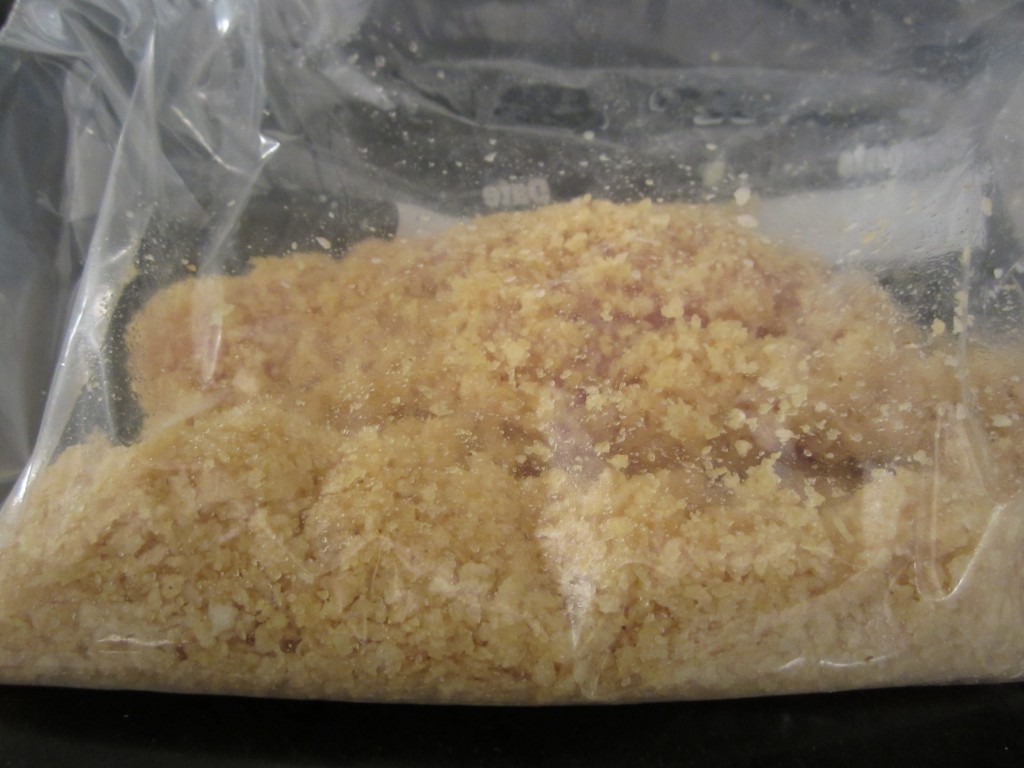 Dump chicken in bag with crushed chips and shake shake shake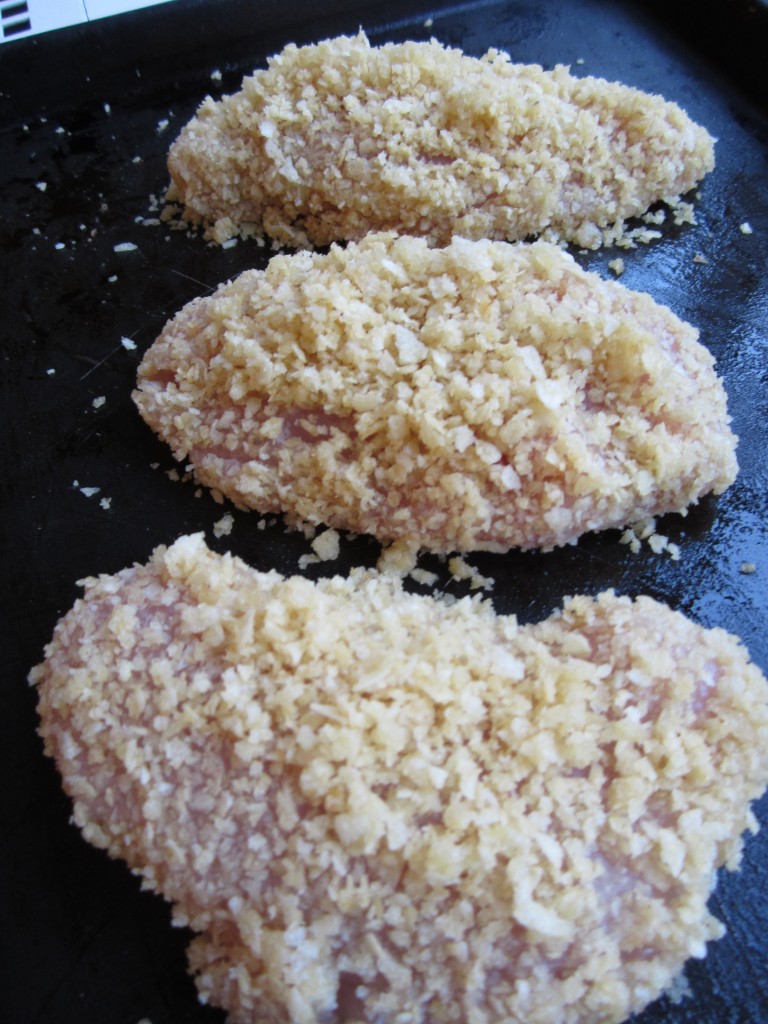 Chicken breast with chip coating, ready for oven
Cut the breasts up and you have Potato Chip Chicken Fingers.
Best part? How many times have you thrown out a bag of chips because  only crumbs are left on the bottom?  Now you're reducing waste too! Won't that placate your greasy potato chip anxiety?
Enjoy.
Potato Chip Chicken (from Happy Simple Living)

Ingredients:
3-4 chicken breasts
1/2 9oz. bag of potato chips (I used Lay's)
1 egg
1/4 cup milk
pepper and paprika to taste
Instructions:
Preheat oven to 400 degrees.
In medium-sized bowl, beat eggs with milk.
Crush potato chips in ziploc bag or food processor.
Dip chicken breast in milk and egg wash and place in ziploc bag of crushed chips.  Shake bag until chicken is coated with chips.
Repeat step 4 for each piece of chicken.
Place chicken on a greased baking sheet and layer on top any remaining potato chip pieces.
Bake at 400 degrees for 25-30 minutes depending on the oven,
Sprinkle pepper and paprika atop baked chicken.
Enjoy!