Now that Bake it Happen has officially come to an end (I will announce results from the campaign this week), I'm back to my normal grind.   A piece of my Sunday afternoons is usually reserved for my weekly meal planning. It helps alleviate any added stress during those frenetic afterschool hours. Armed with a short list of ingredients, Monday early mornings I stock up on the necessities for my earmarked meals.
I'm so thrilled to have received my copy of The Pollan Family Table, the new cookbook from the Pollan sisters and their mom, Corky. I spent a long time reading details about their beloved recipes as well as their communal family table that was the anchor to their lives when they lived at home and still is decades later. It made me reminiscent of my childhood, our family dining table (the gathering place for many), and the importance of family mealtime. I continue to be inspired when I hear people's individual stories about food and family. And, I most intrigued when I get the opportunity to cook a recipe that's a family heirloom, potentially passed down from generation to generation.
In just a few minutes I found 5 different dishes (between chicken and fish) from the book that I'm going to try. I strive to diversify our meals, even with a picky eater on my hands. And, if the main dish isn't a crowd pleaser, I've learned to always have one side dish that's a homerun. I hung up my short-order cook hat three years ago when I started this blog.
Before I head out to the market, I wanted to share with you a very easy casserole recipe. I've found casseroles to be the perfect dish for those cool fall/winter nights. They're quite tasty but, most importantly, they're very hearty, and keep us warm. Since one piece is soo filling, you'll definitely have a lot leftovers that can last you the better part of the work week.
I have yet to take a casserole picture that didn't look like a science experiment gone bad but, just imagine all of those succulent flavors merging together to create a nice warm, dense meal.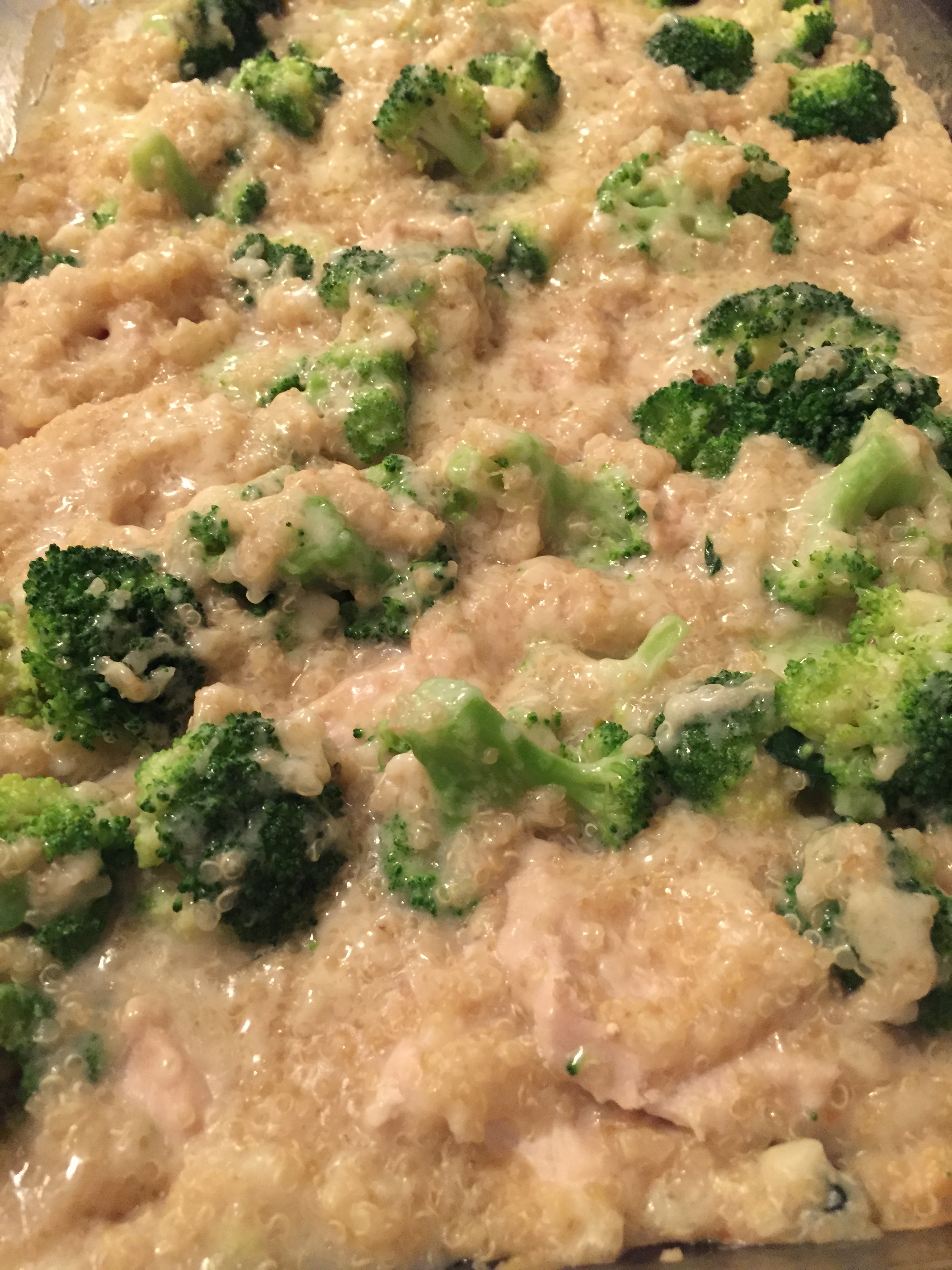 And, you won't have to go through a scavenger hunt to find all the ingredients.  You might just have them in your fridge/pantry; except for the Gruyere cheese?
Hope you enjoy and put this into your winter month meal rotation.
Chicken Quinoa and Broccoli Casserole
serves 8
adapted slightly from Pinch of Yum
Ingredients:
2 cups chicken broth
1 cup milk
1/2 cup flour
2 cups water, divided
1 cup uncooked quinoa, rinsed
1 pound boneless skinless chicken breasts
2 teaspoons Crazy Salt
1/2 cup shredded Gruyere cheese
3 cups fresh broccoli florets
Instructions:
Preheat the oven to 400 degrees.  Grease a 9×13 baking dish. Bring chicken broth and 1/2 cup milk to low boil in the saucepan..  Whisk the other 1/2 cup milk with season and flour; add the mixture to the boiling liquid and whisk until smooth creamy sauce forms.
In a large bowl, mix the sauce from step one, one cup of water, quinoa- stir to combine.  Pour the mixture into the prepared baking dish.  Slice the chicken breasts into thin  strips and lay the chicken breast strips over the top of the quinoa mixture.  Sprinkle with seasoning  baked uncovered for 30 minutes.
While the casserole is in the oven, place the broccoli in boiling water for 1 minute until it turns bright green and then run under cold water.  Set aside.
Remove the casserole from the oven, check the mixture by stirring it around in the apan.  You can bake foran additional 15 minutes to reach desired consistency.  .  When chicken and quinoa are cooked and the sauce is thickened, add the broccoli and a bit of water until the consistency is creamy and smooth and you can easily stir it in the pan.  Sprinkle the top with the cheese and bake for another 5 minutes