I am taking a break from the normal recipe post.   I couldn't let this symbolic month  (Breast Cancer Awareness, Mom's intended 70th birthday, 4th Anniversary of Mom's death) tick away without talking about breast cancer.
So, today you're not going to get food but rather, food for thought.
Do you know how much my heart breaks every time I look at Mom's familiar handwriting on all of her now-faded recipe scraps?  With each written measurement and specified instruction, I reminisce about her hands:
Always manicured.
Always ready to guide.
Always ready to teach.
Always ready to support.
Always ready to reassure.
Always ready to encourage.
However, there aren't many days that go by  where I don't experience some twinge of anger when I think that she could still be alive.
She could still be alive because early detection is the key to survival.
She could still be alive if she had gotten routine mammograms.
I don't believe, for one nanosecond, that she had no idea there was a lump in her breast- the size of a grapefruit.
She hadn't gotten a mammogram in 10 years!  10 years! 10 years!
By the time she was diagnosed, she was already Stage IV.
Unfortunately, breast cancer will always be part of my life- whether I'm diagnosed or not.
The memories of my mom's suffering, coupled with the paranoia about my own fate, will always lurk in the back of my mind.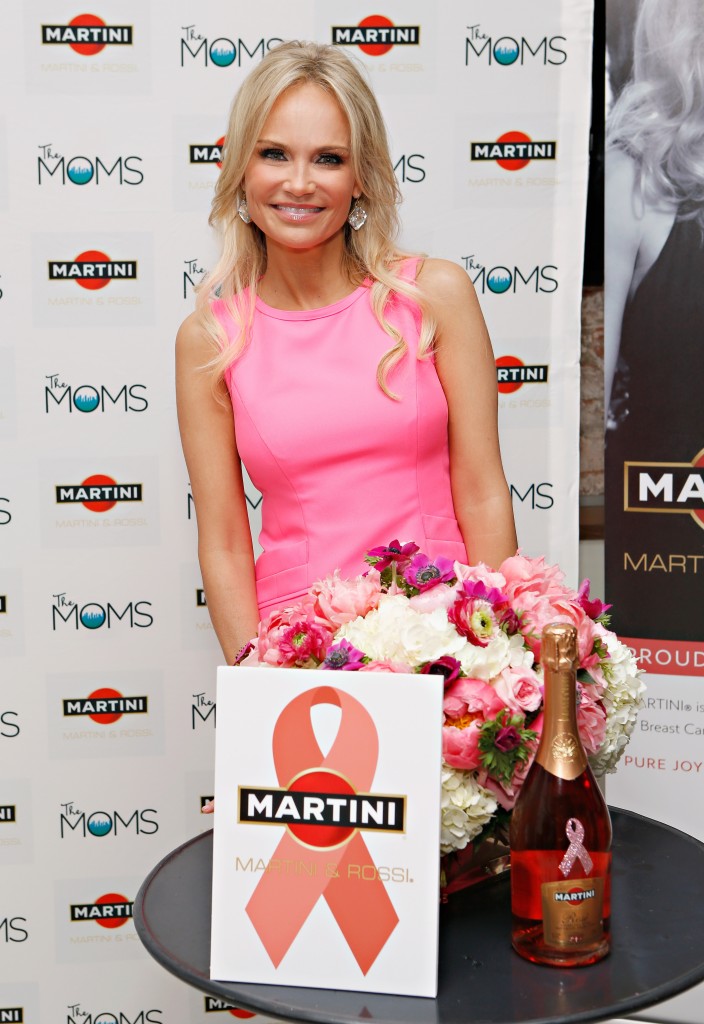 Kristin Cheneweth celebrates Breast Cancer Awareness Month with @TheMoms
Since October is Breast Cancer Awareness month, I've attended many philanthropic events. This past Monday I was invited to a luncheon hosted by The Moms (Melissa Gerstein and Denise Albert) and Martini Sparkling Wine to toast breast cancer awareness and celebrate the strong and beautiful women affected by breast cancer:
Tony Award-nominated actress Kristin Chenoweth, spoke of her role as caretaker for her sick mother as she battled breast cancer for the second time several years ago. Thankfully, her mother recovered, and Kristin passionately and honestly reflected upon the impact the experience had on her own life.
Elizabeth Chabner Thompson, MD, MPH, shared her own personal story and battle with breast cancer. Dr. Thompson is a practicing Radiation Oncologist and the founder of BFFL Co, Best Friends for Life, a company whose mission is to improve patient experiences.
16-year survivor Debbi Musen spoke of her personal battle and present day fundraising commitments.
Dee Dee Ricks, a patient advocate once highly regarded as a power woman on Wall Street, now only identifies herself as a breast cancer survivor. She produced a documentary that chronicles her life as a white successful woman battling cancer vs Cynthia, an uninsured African American diagnosed with stage four breast cancer. She is now dedicated to help fight for the 100 million Americans who aren't able to access treatment so they may also exercise their constitutional right to live.
While I feel very fortunate to be leading a healthy life (though not without my own breast cancer scare), I simply can't imagine what these women went through as mothers battling the cancer, or as a daughter, having a mother who survived breast cancer.
Truth is, breast cancer doesn't discriminate.  It can happen to any woman.
Let's help to:
EDUCATE
ADVOCATE
CREATE AWARENESS
PROMOTE EARLY DETECTION
ADVANCE MEDICAL RESEARCH
Thank you for your continued support of this blog and my fundraising efforts.  With your help I've raised over $75,000 for Breast Cancer Research. 
Shameless Plug: Don't forget that with any items purchased through the My Judy the Foodie Store, a portion of the proceeds will be donated back to the Breast Cancer Research Association of America.