So much pink washing takes place during the month of October.
Wasting money and time on pink nonsense doesn't remotely save lives!
Do you think when a professional football player wears hot pink socks to a game, it directly translates to money donated to breast cancer related causes? Raising awareness and actually raising money are very different.
It's so moving when I meet companies, as well as individuals, who work tirelessly on a mission to raising money for good causes. While I'm excited for the launch of our very own campaign Bake it Happen this October– which my sister and I created in 2013 to creatively generate money for breast cancer research through baking – today I want to focus on another impactful program.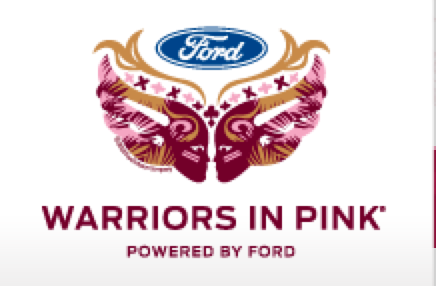 Not many people know that Ford has been in the fight against breast cancer for over 21 years with the program, Warriors in Pink. I've recently been introduced to Aimee, a chosen Model of Courage for the Ford Motor Company, who is a breast cancer survivor, culinary school graduate and food blogger. While going through treatment, cooking became a form of meditation for Amy, the same way it was for my mother. In an effort to bring more good days, Aimee shares her passion for food and cooking by volunteering her time at Camp Sunshine (a camp in Maine for children with life-threatening illness and their families). In addition, with Ford Warriors in Pink, she's also helping to spread the Good Days Project.
 The Good Days Project is a simple yet powerful effort to bring more good days to those living with breast cancer. Most cancer patients find themselves exhausted, overwhelmed and sometimes feeling alone, therefore categorizing their days by 'good days' and 'bad days'. While many people want to help, most are unsure of the best way to show their support.
Warriors in Pink is focused on sharing options and resources that empower people to take real action to help lesson the burden for people with breast cancer. Through this program, Ford developed a partnership with the ride-hailing app Lyft, to provide free rides to and from breast cancer treatment centers in 17 cities around the country. They've also teamed up with Meal Train Plus, which allows friends and family to coordinate meal deliveries, errand services, childcare and more for a loved one living with breast cancer through a shared calendar.
Each Good Days box is filled with:
custom scarf
easy-to-make recipes (from Aimee and Haven's Kitchen)
food items (olive oil, candy, etc)
kitchen utensils–oven mitts and kitchen towels
custom-designed soothing playlists exclusively available on Spotify
$75 gift card for a massage
$15 iTunes gift card
$20 ride from Lyft
cool socks
handbook of ways to help provide support for breast cancer patients
On behalf of the Ford Motor company, I'm happy to pay it forward, by offering one lucky reader -who has been touched in some way by breast cancer-  an opportunity to receive a Good Day gift box.
To enter, simply leave a comment in this post as to how breast cancer has affected your life.
For more information on the Warriors in Pink Good Day campaign go to: http://www.ford.media.com.
Disclaimer:  I was not compensated for writing this post.  I did receive a Warriors in Pink gift back for my own use as well as for giveaway purposes.  All opinions expressed in the post are, as always, my own.
Winner will be picked at random on 9/20/2015.