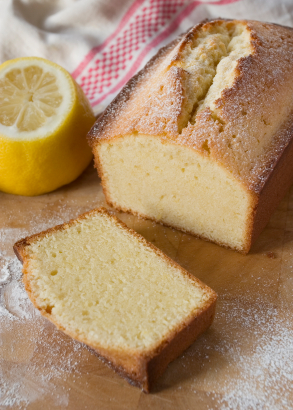 Sitting by the fire over winter break last week, I had a sudden craving for a thick slice of Mom's Blueberry Brunch Cake. It's deceptively light and tasty and can be served at all hours of the day.  It's just as good served alongside a cup of tea at breakfast as it is after a nice hearty dinner. Unfortunately, I didn't have any blueberries around. Instead, I had only lemons and I wasn't about to venture out to the store in the below freezing temperatures.  Quite serendipitously, I stumbled upon a Lemon Buttermilk Cake recipe (similar to the Lemon Blueberry Yogurt Cake I've made) that seemed like it would satiate my appetite.
As I quickly perused the recipe, I realized that I have only cooked once with buttermilk; most recently a few weeks ago when I made Mom's Cucumber Soup.  While I swore I wasn't venturing to the market for ingredients, thankfully my only carton of buttermilk was still fresh even after having been in the fridge for weeks. I learned that the acidity of buttermilk gives it a longer refrigerator shelf life because it's a natural preservative that inhibits the growth of pathogenic bacteria.  I love that there's constantly a learning curve for me in the kitchen!
After 10 minutes of easy prep and one hour of cook time, I had baked a perfectly moist, undeniably tasty Buttermilk Cake.  The warm cake (served alongside some french vanilla ice cream) boasted hints of lemon that rendered it soo refreshing I could have had 3-4 pieces in one sitting.  But, given that my New Year's Resolutions were looming, I forced myself to just eat one slice.  Everyone, including our guests for the day, unanimously gave it two thumbs up.
The best part? When wrapped tightly, this cake can safely be stored and eaten up to 5 days later.
So, guess what I had for breakfast again this am?
I know  you will enjoy!
Lemon Buttermilk Cake
(adapted from Healthy Eating)
serves: 8
Ingredients:
1/2 cup canola oil
2 cups all-purpose flour
2 teaspoons baking powder
1/2 teaspoon kosher salt
1 1/2 cups sugar
3/4 cup buttermilk
2 large eggs
1 1/2 tablespoons lemon zest
1/4 cup lemon juice
1/2 teaspoon vanilla extract
Instructions:
Preheat oven to 350 degrees.
In large bowl, whisk together flour, baking powder, salt, and set aside.
In medium bowl, whisk together oil, sugar and buttermilk, eggs, lemon zest, juice and vanilla.  Add to the dry ingredients and whisk to combine.
Pour the batter to an oiled 8 1/2 by 4 1/2 inch loaf pan and bake until done – 65-75 minutrd.
Transfer to rack and let cool completely.
Enjoy.