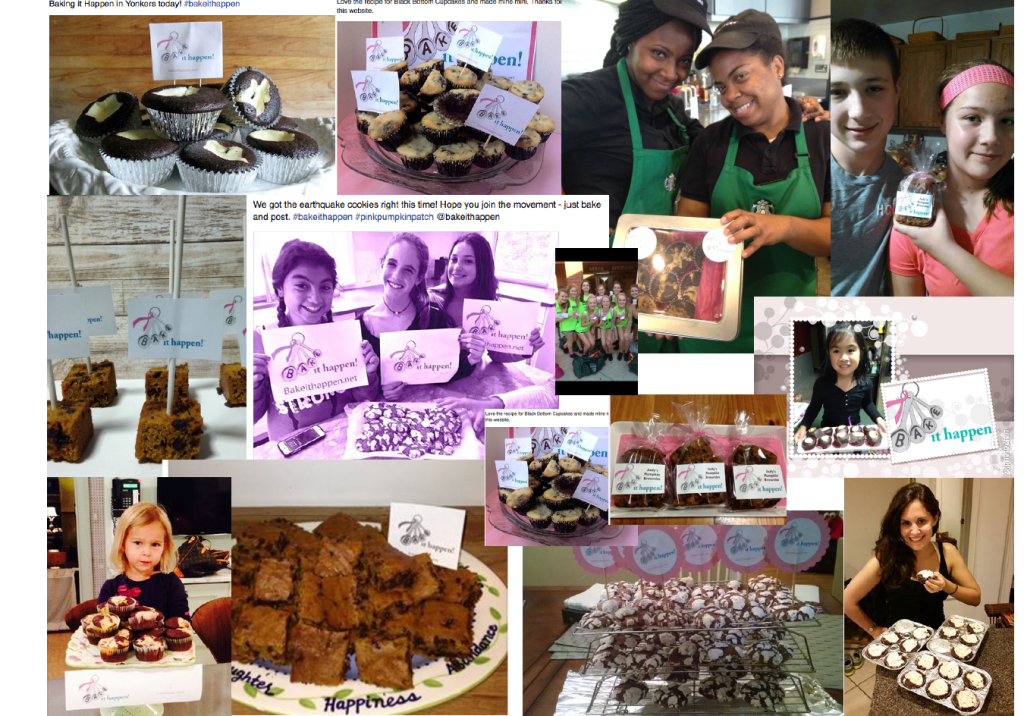 This year, I'm beyond proud to announce the 3rd annual breast cancer cause-marketing campaign my sister and I created called: BAKE IT HAPPEN™.
The premise (like last year) is as simple as it is tasty and fun:
Just head over to Bake it Happen and sign up to receive Judy's celebrated recipes: Banana Chocolate Chip Loaf, Black Bottom Cupcakes and Pumpkin Chip Muffins.
Then, all we want you to do is to bake these tasty baked goods and  share them with everyone, everywhere:
at your child's soccer game
at your board meeting
at church, at synagogue
at the gym
with your neighbors
Don't forget to snap a photo of your Bake it Happen experience. It could be a picture of you baking, your kids baking, a picture of your baked goods, a picture of people enjoying your goods.
When you upload your picture to @ubakeithappen (our Facebook fan page) –or if you're not on Facebook, you can email your picture to ubakeithappen@gmail.com–you're automatically entered in to win a brand new IPAD and a 3-months mini-of-the-month membership from Baked by Melissa.
But, don't forget, it gets even better than that.
Every time your share your photos, $5  will be donated to our awesome campaign partner the Pink Pumpkin Patch Foundation!   The PPPF works with America's pumpkin growers who have committed to giving a percentage of proceeds from every pink pumpkin sold this year to organizations involved in breast cancer research.
Last year Bake it Happen helped to raise $20,000 for the Pink Pumpkin Patch Foundation.  The money was then awarded as a grant to:  Dr. Ted Hinchcliffe and Gail Dennison at The Hormel Institute and for a second year to Dr. Eva McGhee of Charles R. Drew University of Medicine and Science. She will continue to use this money to help continue her Precision medicine-translational research in genomics/genetetics.
We hope you're inspired to help us Bake it Happen and spread the baking love throughout the month.
We promise you this campaign will be fun, tasty and rewarding at the same time.
So, what are you waiting for?
To get the recipes and more information, please visit our site: Bake it Happen!
Can't wait to see what's baking….
Save
Save
Save
Save
Save