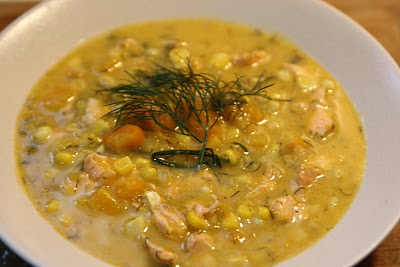 It's Seriously Soup day today, featuring one of my favorite bloggers, Serena, who authors a blog called Seriously Soupy.  Serena started Seriously Soupy as a creative outlet for herself after her first daughter was born, which combined her passion for cooking with an interest in learning more about soups and soup making.  Since it started, she has given soup tours and taught soup classes and has a catalog of over 100 soups on the site!  You can join Serena on her Soupy journey at SeriouslySoupy.com and twice a month you can find her here, at My Judy the Foodie, sharing her wisdom and helping demystify the world of soup.
Here's what Serena has to say:
This week I wanted to make a corn chowder, but instead of using potatoes and bacon, I decided to use a butternut squash I had lying around.
Hardly a traditional chowder, I really wanted to experiment with a less watery soup and one whose ingredients weren't all blended together (there as been a lot of that lately). I read about a salmon chowder in the cookbook, The Soup Bible, and I liked the idea of a creamy fish soup.
I decided to use carrots, corn, tons of dill and of course butternut squash. Thanks to the fresh dill, scallions and onion, the recipe didn't require much additional seasoning- only some salt and pepper.  It was also nice to test out butternut squash in a different recipe other than as an ingredient in my all-time favorite soup — puree of butternut squash.
Enjoy.  This soup is quite hearty; ideal for the wintry months ahead.
Salmon Butternut Squash Corn Chowder
Ingredients:
4 cups of water
1 butternut squash, peeled and cut up into squares
1 fillet of salmon, cut up
1 large carrot, cut up
1/4 cup of heavy cream
1/2 red onion, chopped up
3 ears of corn
Bunch of fresh dill
2-3 sprigs of scallions, cut up
pinch of salt and pepper, to taste
Instructions:
Pour water into a medium-size soup pot and start boiling on a low flame.
Chop up the onions, butternut squash, carrots, corn, along with the scallions and dill and add them to the pot.
Cover and let cook on a low flame for 30 minutes.
Taste and add salt and pepper.
Cut up the salmon and add it to the soup, along with the cream.
Let cook for another 20 minutes, taste again and enjoy!
How do you make your chowder?