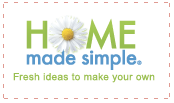 If you're looking for a highly nutritious carbohydrate, that can not only help you stay lean but also helps to maximize your energy levels, then Quinoa (keen-wah) is your answer.
Did you know it's a gluten-free, cholesterol-free whole grain?
Did you know it contains more calcium, iron, and protein than wheat, and….quinoa is almost always organic?
Have I peaked your interest level yet?
Well, check out my latest recipe for a Cheesy Veggie Quinoa Bake featured over at P&G Home Made Simple.
I'm thrilled to be a contributing writer to a site I frequent on a daily basis for household tips, tricks, ideas and tasty recipes!
I know you'll love the delicate and fluffy texture to this dish and, you'll also be quite surprised at how filling it is. It's the perfect alternative to those super dense old-school casseroles made from cans of condensed soup.
Hungry yet?
Don't wait any longer…..Check it out here!