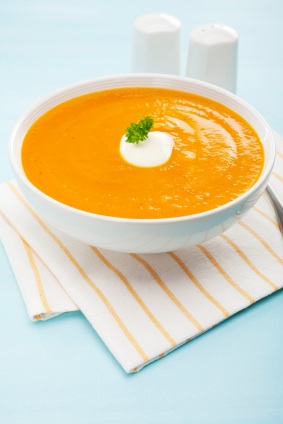 It's Seriously Soup day today, featuring one of my favorite bloggers, Serena, who authors a blog called Seriously Soupy.  Serena started Seriously Soupy as a creative outlet for herself after her first daughter was born, which combined her passion for cooking with an interest in learning more about soups and soup making.  Since it started, she has given soup tours and taught soup classes and has a catalog of over 100 soups on the site!  You can join Serena on her Soupy journey at SeriouslySoupy.com and twice a month you can find her here, at My Judy the Foodie, sharing her wisdom and helping demystify the world of soup.
Here's what Serena has to say:
In case you didn't know it's Super Bowl time.  To me that  means friends, screaming, football, and tons of food. Since it's likely that you are going to chow down on some greasy and heavy eats, why not start out the night with a healthier creation with my Twice Baked Sweet Potato/Three Potato Super Bowl Soup?
Quite the mouthful and maybe not the most creative title for this soup, but that is exactly what it is—a baked sweet potato and two other potatoes (russet and red) in a soup.
The baked sweet potato is then added to the soup mixture, blended together, where the new soup mixture is scooped into the shell of the sweet potato and baked again and volia the Twice Baked Sweet Potato/Three Potato Super Bowl Soup was born.
Did I lose you with that description? I hope not cause it's really not as involved as it sounds and not even that difficult to prep. What results is a thick and creamy soup that is housed in the skin of the sweet potato, making it a smaller soup portion then a standard bowl. But, I think this size is an appropriate way to start the night, since I'm sure soup is not all that you are going to be eating!
Enjoy!
Twice Baked Potato, Three Potato Soup
Ingredients:
3-4 cups of water
2 large sweet potatoes (adjust depending on your guests/family size)
3 medium-sized russet potatoes
3 medium-sized red potatoes
1 yellow onion, chopped up
1 sprig of fresh dill, pulled apart and cut up
1/2 cup of shredded cheddar cheese
1/4 cup of heavy cream
pinch of sea salt
pinch of black peppercorn
pinch of garlic salt
pinch of cinnamon
sour cream for garnish
Directions:
Pre-heat the oven to 350 degrees.
After 10 minutes, place the sweet potatoes in the oven and let cook for 1-2 hours (depending on the size).
While they are cooking (start 30-45 minutes before sweet potatoes will be done), add water to a pot and turn on the flame to a medium heat.
Cut up the onions and dill and add to the pot. Cut up the potatoes into small squares, along with the skins and add them to the pot. Add salt, pepper, cinnamon, and garlic salt and cover. Let cook for 15-20 minutes.
Add the heavy cream and cheese (optional) to the mixture. Check to make sure that the potatoes are soft. If soft, turn off the flame and check on the sweet potatoes. If also done, turn off the oven and gently open up the sweet potato with a knife.
Scoop out the potato flesh, leaving a thin base of potatoes in the shell and add the sweet potatoes to the soup mixture. Blend together (I used a hand blender) until smooth. I also ended up adding another cup of water (the mixture was really thick!) and then scoop some soup into the skins of the sweet potato and re-bake for another 15 minutes until the soup is golden brown.
Remove from oven and top the soup with cheese, sour cream, or bacon, depending on your preference.
Enjoy!
Any soups are on your menu for the Super Bowl?