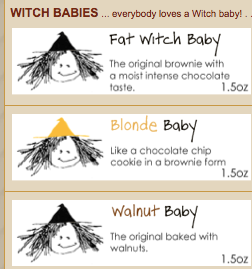 THIS GIVEAWAY IS NOW CLOSED!
VALENTINE'S DAY is right around the corner.
Forget about flowers. You can't eat flowers.
Instead, celebrate the special day with CHOCOLATE.
Whether you want to show your love to someone else, or you'd opt to self –indulge, receiving a box full of New York's legendary Fat Witch Brownies will definitely satisfy any sweet tooth.
Fat Witch Brownie babies are my all-time favorite.
They're 3-bite sized, individually wrapped, ready-to-eat, brownie treats that are made from natural ingredients!
Yes, you heard correctly, you can indulge without worrying about preservatives.
And, they stay fresh 5-7 days, or taste just as good frozen (and last up to 3-months), or refrigerated (stay fresh 7-21 days)— that is if you can manage not to eat them all in the same day.
So, what are you waiting for? Indulge yourself NOW by entering to win a box full of 36 Baby Witch Brownies to be delivered on Valentines Day!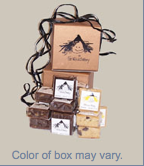 Besides receiving a cool box, open it up and you will indulge on the following:
18 Fat Witch Babies – the original chocolate brownie with a moist intense chocolate taste
9 Fat Witch Blonde Babies – tastes like a chocolate chip cookie but in brownie form
9 Fat Witch Walnut Babies – the original chocolate brownie with walnuts
Giveaway Details:

One (1) lucky winner will receive a 36 Baby Witch Fat Witch Sampler Box (a $63 chocolate value)!

How to Enter
To enter to win, simply leave a comment in the post letting telling me to whom you'd send this box of amazing bite sized brownies- be honest you might want to keep them all for yourself!
Additional (Optional) Entries
To up your chances of winning, you can receive up to FOUR additional entries to win by doing the following (these are optional, not required):
1. Subscribe to My Judy the Foodie by RSS. Come back and let me know you've subscribed in an additional comment.
2. Become a fan of My Judy the Foodie on Facebook. Come back and let me know you became a fan in an additional comment.
3. Follow My Judy the Foodie on Pinterest. Come back and let me know you've followed in an additional comment.
4. Follow @myjudythefoodie on Twitter. Come back and let me know you've followed in an additional comment.
The Fine Print
Deadline: Saturday, February 9th 2013 at 11:59pm EST.
Winner: A winner will be chosen at random using Random.org and announced at the top of this post. The winner will also be notified via email and the My Judy the Foodie fan page on Facebook; if the winner does not respond within 24 hours, another winner will be selected.
Disclaimer: I was not compensated for writing this post. I'm just a HUGE FAN of Fat Witch brownies. As always, all opinions expressed are my own.