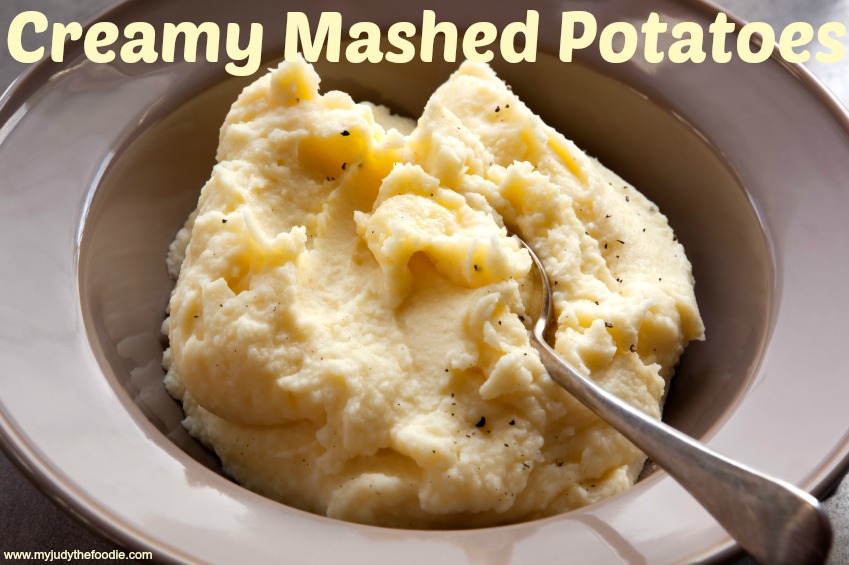 Today was a perfect vacation day.
Have you ever longed for a day where you never get out of your pajamas?  Where you (almost) don't have a care in the world?  Where you really feel as though you're off any sort of radar?  When I woke up and heard the wind howl and saw the rain cascading over my windowsill, I knew we'd have a day chock full of puzzles and baking and reading and dozing ahead of us.
We'd already baked Mom's Bourbon Nut Cut and her celebrated Banana Chocolate Chip Loaf, we'd made her Garlic Chicken, so today we figured we'd make her Flank Steak with marinade and take a stab at making homemade mashed potatoes.
That's right, I've never attempted to make mashed potatoes before!  In fact, I haven't had such luck keeping potatoes.  I usually stow them away in a dark place only to forget them until they're finally discovered covered with myriad sprouts.
But, to my family, there's nothing better than enjoying a side of potatoes with your steak! So, I set out to mash up and whip up some potatoes.
Ok, so here's what I've learned to achieve the best creamy mashed potatoes:
Use Yukon Gold potatoes instead of Russet potatoes.  My first attempt used Russet potatoes. Because they contain lots of starch and low water, when I cooked them in the boiling water, they disintegrated.
Yukon Golds have medium starch and medium water so when they were cooked in boiling water they keep most of their shape and stayed moist and relatively fluffy.
Make sure to peel your potatoes,  No skin in your mashed masterpiece.
Many recipes use either heavy cream or half and half.  I used neither.  I did, however, cheat and use 8 ounces of Philadelphia Cream Cheese and it was splendid.
While I rarely use salted butter, I did this time around.
I sneaked in a couple teaspoons of our celebrated Old Bay Seasoning for some added flavor.
My potatoes (the second time around) were a hit!
Like with pasta, I totally misjudged the amount of potatoes needed to serve four people.  I purchased 5 pounds of Yukon Golds and probably made double the amount needed for my family.  We're looking at many nights of leftovers ahead of us.
Creamy Mashed Potatoes
Ingredients
5 pounds Russet Or Yukon Gold Potatoes
1 1/2 cups salted Butter
1 package (8 Oz.) Cream Cheese, Softened
1 teaspoon Old Bay Seasoning or Lawry's Seasoned Salt
Instructions:
Peel and cut the potatoes into same-sized pieces.
Bring a large pot of water to a boil and add the potatoes – cook for 30 minutes. When potatoes are ready, a  fork should easily slide through the potatoes.
Drain the potatoes in a large colander and then place them back into the dry pot and put the pot on the stove.
Mash the potatoes over low heat and then add butter and cream cheese and continue to mash.
Sprinkle in Old Bay Seasoning or Lawry's or BOTH!
Enjoy.