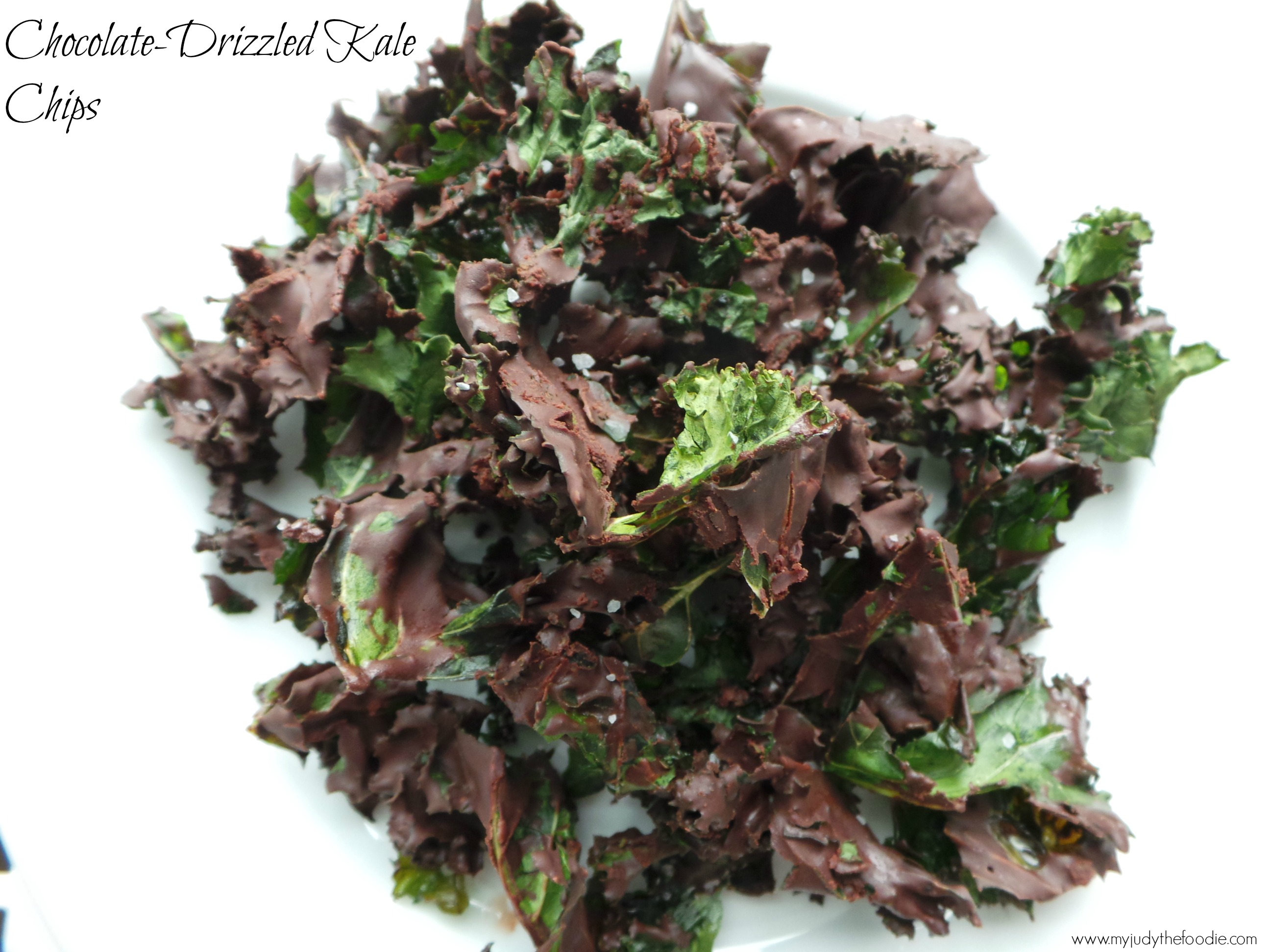 Valentine's Day is only a few days away so I'm already scheming for themed dishes.  My go to favorite snack is a sweet, tasty recipe combining two ingredients I love to eat: crunchy kale and bitter dark chocolate.  Yes, you heard me correctly… I make Chocolate Drizzled Kale Chips.
What's wrong with taking a detour this Valentine's Day?  Forget about those sweetheart conversation hearts and the endless heart-shaped boxes filled with meltable chocolate candies.  Make something for your loved ones that truly combines ingredients that directly serve your heart well.
There are many studies that claim eating a small amount of dark chocolate two or three times each week can help lower your blood pressure and improve your blood flow. And, we all know the healthy benefits of kale: its high concentration and excellent source of antioxidant vitamins A, C, and K; its high fiber content that helps to lower blood cholesterol and reduce the risk of heart disease; its high concentration of eye-health compounds, just to name a few.
These chips are delicious.
Scratching your head right now thinking kale and chocolate is a strange combination?
It's not that unusual.After all, chocolate covered pretzels and chocolate covered potato chips are sold for mass consumption.  Why not chocolate drizzle kale?
My kids absolutely adore the plain kale chips I've been baking every week.  They're my quick fix to the constant vegetable stress when it comes time to round out a meal. These chips are perfectly crunchy and salty and they almost melt in your mouth.  You can literally eat handfuls upon handfuls, they're that good.  The key is to not over bake the curly leaves until they burn but rather, to bake them until they become delicately crispy.
Because these chips are so fragile, you can't physically dip them into your favorite spreads without having them break into pieces.  But, you can certainly drizzle your chips with some equally heart-healthy dark chocolate, place them in the fridge to harden, and enjoy your new found snack twist on a veggie favorite!
And, we're lucky that kale, unlike other vegetables, actually thrives in cooler weather.
I don't have a double boiler at home so I created a make-shift one on the stove top that's worked before when I made my Peppermint Bark for the holidays.
By accident I melted too much chocolate (I mean who wouldn't) and got so excited I dumped the whole broiler full on top of my kale.  I can't stress enough that baked kale is paper-thin and so very delicate.  You should merely drizzle your chocolate on top.  Do not completely coat the leaves (like I did) as the weight of the chocolate will make it impossible for you to pick your chocolate drizzled kale chips.  So, my first batch was a chocolate disaster. I had to chisel out bite-sized pieces and couldn't even taste the kale.
My second batch was fantastic—just the right touch of bitter kale crunch, sea salt, and light drizzling of sweet dark chocolate.
Note: these chips should last 3 days in the refrigerator. Enjoy!
Chocolate-Drizzled Kale Chips
Serves 4-5
Ingredients:
large bushel of kale
1/4  cup – 3/4 cup  dark chocolate
3 tsp. olive oil
1/4 tsp. sea salt
Instructions:
Preheat oven to 325 degrees F.
Chop chop kale into 1 inch chip-like size pieces making sure to remove all stems.
Spread kale evenly onto baking sheet and use a basting brush to lightly coat leaves with extra virgin olive oil. Sprinkle with sea salt.
Place sheet in the oven and bake for 20 minutes or until  just crispy (be sure to keep checking on kale so that it doesn't burn).
Meanwhile, melt 1/4 cup-3/4 cup of dark chocolate in double broiler stirring often (your choice of chocolate).
When kale is baked crispy, drizzle chocolate over top (be sure not to coat the leaves).
Place in refrigerator for 15-20 minutes and serve.
Store leftovers in an airtight container for up to 3 days.