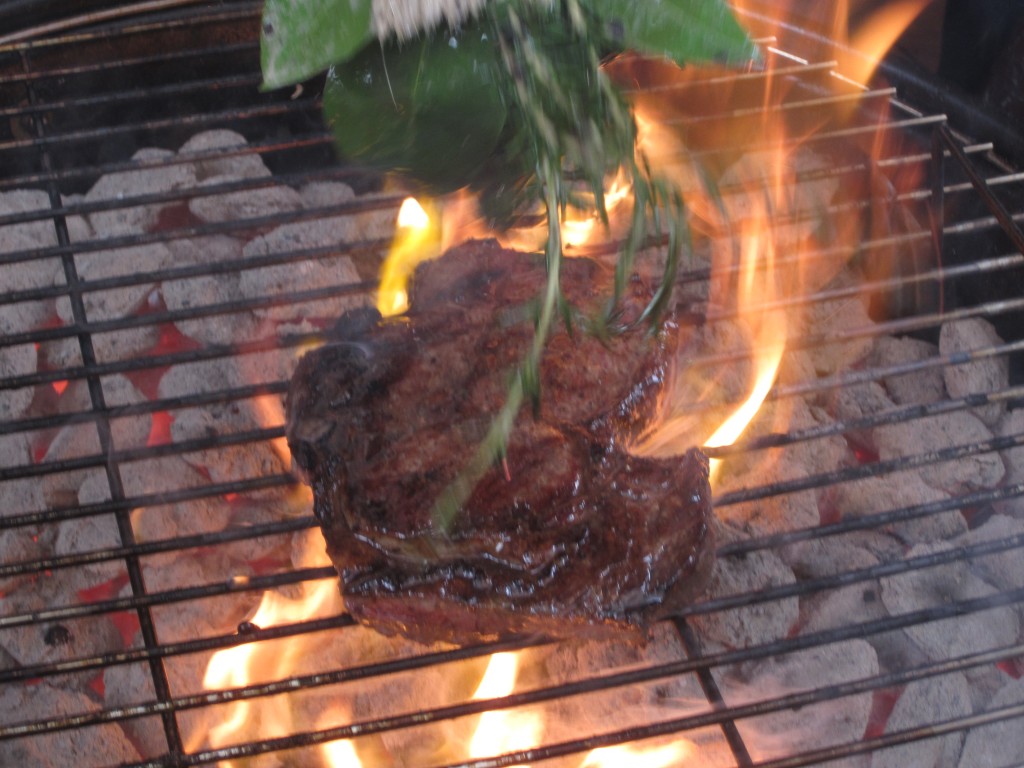 Don't forget to vote for My Judy the Foodie
in the Top 25 Foodie Moms 2013 Contest.
You can vote 1x per 24-hour time period until 6/4/13!!
So, go ahead spread the word and, vote here!
Memorial Day weekend is upon us!  Hopefully you'll be able to enjoy some fresh-grilled meats or veggies at some point over the weekend.
If you find yourself working the grill, don't forget these helpful tips for cooking your best meat:
Steak should be at room temp to ensure optimum grilling (approximately 15 minutes).
Just before grilling, pat steak dry, brush with a light coating of olive oil and season with Kosher salt and pepper as desired.
Add salt no more than 2 minutes before grilling to avoid drying out of meat.
Always wait for the grill to reach medium heat as opposed to high heat to avoid charring your meat.
Never cut into a steak on the grill.  Use your finger to test its doneness.
You should work on a clean grill grate that has been oiled with canola oil – avoid the sprays.
Flare ups are a big part of grilling caused by the fat dripping on the coals!  It's OK and provides desired smokiness.
Once off the grill, allow your steaks to rest before cutting (approx. 5 minutes).  That'll keep all the juices inside.
And, here's some helpful information on steaks:
T-Bones – Good for those who want the best of both worlds in a steak—New York Strip and Tenderloin.  They're best grilled to take on bold flavors.
NY Strip – Otherwise known as the Steak Lover's Steak.  It's got great flavor and tenderness and can be cooked in any manner.
Filet – Cut from the tenderloin….the most tender cut of steak.
Rib Eye – Most popular steak because it's LOADED with flavor.  It's best grilled and remains tender through medium to medium-well.
Top Sirloin – Best for cookouts because of its unique flavor and tenderness.  It can be grilled, broiled, sautéed or pan-fried.
Today my family cooks outside on a gas grill, but the smell of the charcoal burning and the sounds of the steaks sizzling definitely bring back memories of Mom (not Dad) cooking steaks during those hot summer nights.  She would be out in the back yard manning the little round Weber grill overflowing with steaks and Silver Queen corn.
Boy do I miss those days…
It's time for you to get your grill on!
Let's kick off the summer grilling season right…
Photo courtesy of Amazon.com
Enter to win:
A Deluxe Cuisinart 10-Piece Grilling Set ($60 value):
Set includes Chef's Spatula, Grill Tongs, Chef's Fork, Set of 4 Skewers, Grill Brush, 2 Replacement Heads
Leather carry case included perfect for storage and travel
Forged stainless steel construction
Handcrafted Pakka Wood Handles
Classic Cuisinart Quality
photo courtesy of Amazon.com
Bobby Flay's Grill it Cook Book:
The book contains 150 simple and delicious recipes organized by ingredient, with chapters covering juicy beef steaks and succulent shrimp, of course, as well as perhaps less traditional grill fare such as asparagus, fruit, lamb, scallops, potatoes, and squash, so you can expand your backyard repertoire. Bobby teaches you how to grill each staple perfectly while also offering an arsenal of ideas for how to transform your favorite ingredients into something inventive and satisfying.
Giveaway Details
One (1) winner will receive a Deluxe Cuisinart 10-Piece Grill Set & a copy of Bobby Flay's Grill It book.
How to Enter
To enter to win, simply leave a comment in the post letting telling me what you'd like to make on the grill this summer. That's it! You're entered to win!
Additional (Optional) Entries
To up your chances of winning, you can receive up to FOUR additional entries to win by doing the following (these are optional, not required):
1. Subscribe to My Judy the Foodie by RSS. Come back and let me know you've subscribed in an additional comment.
2. Become a fan of My Judy the Foodie on Facebook. Come back and let me know you became a fan in an additional comment.
3. Follow My Judy the Foodie on Pinterest. Come back and let me know you've followed in an additional comment.
4. Follow @myjudythefoodie on Twitter. Come back and let me know you've followed in an additional comment.
The Fine Print
Deadline: Monday, May 27th 2012 at 11:59pm EST.
Winner: A winner will be chosen at random using Random.org and announced at the top of this post. The winner will also be notified via email and the My Judy the Foodie fan page on Facebook; if the winner does not respond within 24 hours, another winner will be selected.
Disclaimer:  I was not compensated to write this post.   All opinions expressed in this post are (as always) my own opinions.