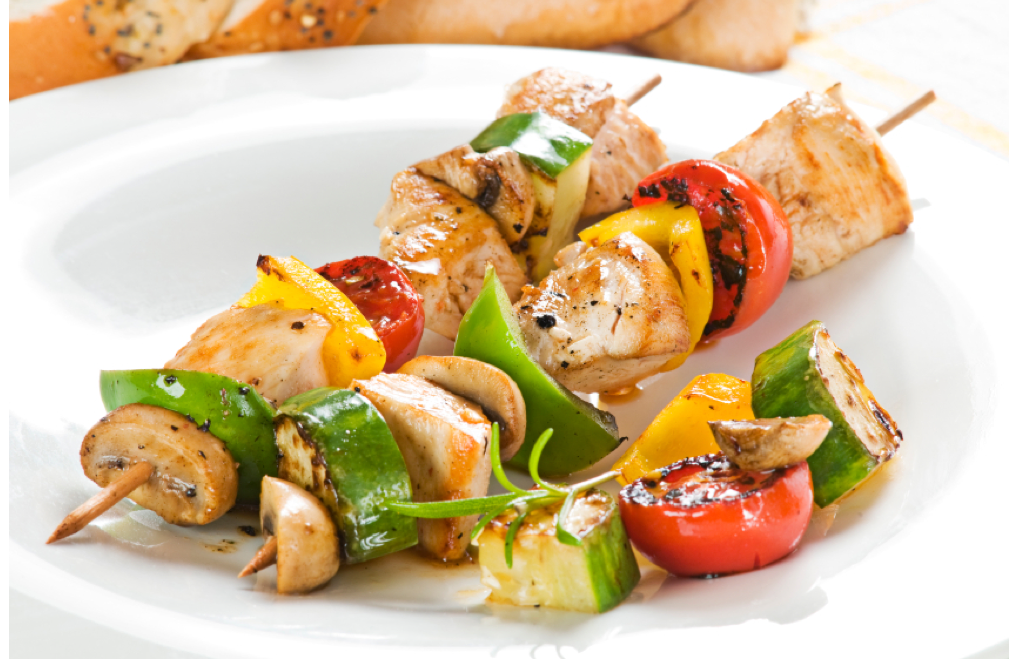 It's HOT outside.  So hot that the idea of cooking anything in the kitchen becomes incomprehensible.
When the mercury rises, I always take my food to the grill. Many envision grilling dogs and hamburgers, creamy potato salad and greasy chips during the dog days of summer. I'm not denying that they're all delish, but they're not so great for your waistline.
Why not try to trim the fat a little bit?  After all, we are still smack in the middle of bathing suit season so we should be cognizant of our middles!
Looking for something to grill that tastes delicious without a slice of cheese on top?Check out this tasty recipe for Lemon Scallion Chicken and Veggie Kabobs -from Jennifer Christman RD -that I keep on my summer rotation.
The recipe ch ecks all the boxes for me: it'squite simple to make and it's the perfect main dish to any BBQ.  Just remember to make sure you thread the kebabs with enough space between the chicken and the vegetables so that they can cook evenly.
Enjoy.

Lemon Scallion Chicken and Vegetable Kabobs
Author:
Jennifer Christman RD
Prep time:
Cook time:
Total time:
A healthy option for your summer BBQ!
Ingredients
24 oz raw, boneless, skinless chicken breast (should yield three 6-oz cooked servings)
2 cups (2 small) summer squash*
2 cups (18 medium) mushrooms, quartered
1-1/2 cups (1 small-medium) zucchini
1 cup (8 medium) cherry tomatoes
*Half lengthwise, then cut into 1" chunks
Lemon scallion sauce:
¾ cup (4-6) scallions, chopped
1 Tbsp olive oil
½ tsp salt or salt substitute
6 Tbsp fresh lemon juice
1 Tbsp hot red pepper sauce
¼ tsp freshly ground black pepper
Instructions
In small bowl, combine scallion sauce; set aside. (You may wish to reserve part of this sauce for finished kabobs.)
Preheat grill to medium heat.
Thread kabobs with chicken, zucchini, squash, mushrooms, and tomatoes.
Brush kabobs before and during cooking with sauce.
Grill kabobs 10 minutes, turning once, until cooked through.