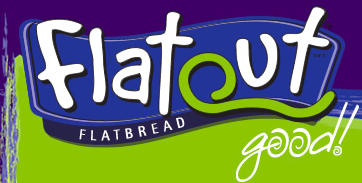 Let's face it, dinnertime can become so tedious and routine sometimes.
However, last week our mealtime became fun time.  I'm a Flatout Flatbread Blog Ambassador and received my samples of Flatout Thin Crust Flatbreads Artisan Pizza!
The Thin Crust Flatbread Artisan Pizza comes in four different varieties: Rustic White, Spicy Italian, Heritage Wheat, and Rosemary & Olive Oil.   As we were deciding our specific pizza creations, we realized these flatbreads can be paired with numerous ingredients to render them ideal as appetizers (Thin Crust Pear & Gorgonzola Pizza) to entrées (think steak and cheese) to salad (think arugula and fontina)to desserts (Thin Crust Chocolate Raspberry Pizza).
Within minutes my son was messily covering his flatbread with sliced skirt steak, cheese and tomato sauce.  My daughter neatly designed her flatbread with cheese and pepperoni and I made some fresh pesto sauce and paired it with some mozzarella.
Six minutes later we were sampling our fresh-from-the-oven finished products.  That's all it takes, 6 minutes! (see video of our creations):
video courtesy of Maddy Brooks
Flatout Flatbread is also a good source of fiber and whole grain and they do not contain any saturated fat!  Not only are they flatout convenient, they're flatout good!
You can buy Flatout Flatbreads in many stores as well as your local Walmart.  To find the closest store to you, go here: http://flatoutbread.com/find-a-store/where-we-are/
Also, don't forget to visit Flatout's 30 Days of Grilled Pizza here where you can access 30 different pizza recipes (ours included)!
Can it get any better you ask?  YES!
Win a trip to Chicago to attend the Taste of Chicago!
Taste of Chicago is the nation's premier outdoor food festival showcasing the diversity of Chicago's dining community. The delicious array of food served at Taste of Chicago is complemented by music and exciting activities for the entire family. Every summer since 1980, Chicago's beautiful Grant Park on the city's magnificent lakefront has been home to the world's largest food festival.  For more details, click here!
Pesto Flatout Flatbread Pizza
Ingredients:
For the pesto:
2 cups fresh basil
1/2 cup olive oil
2 tablespoons pine nuts
1/2 cup freshly grated Parmesan cheese
for my video on how to make the pesto, click here
For the pizza:
1/2 cup halved grape tomatoes
1 cup low-fat mozzarella cheese
Instructions:
Follow instructions on Flatout flatbread packaging to preheat flatbreads.
Make pesto and carefully spread over top flatbread.
Sprinkle mozzarella cheese to completely cover flatbread.
Carefully place grape tomato halves on top.
Bake for another 3-4 minutes.
Enjoy- best eaten while hot!
Disclaimer:  I am a Flatout Flatbreads Ambassador.  While I was compensated for writing this post, all opinions expressed are my own.  Flatout Flatbreads is sponsoring the trip to Taste of Chicago.