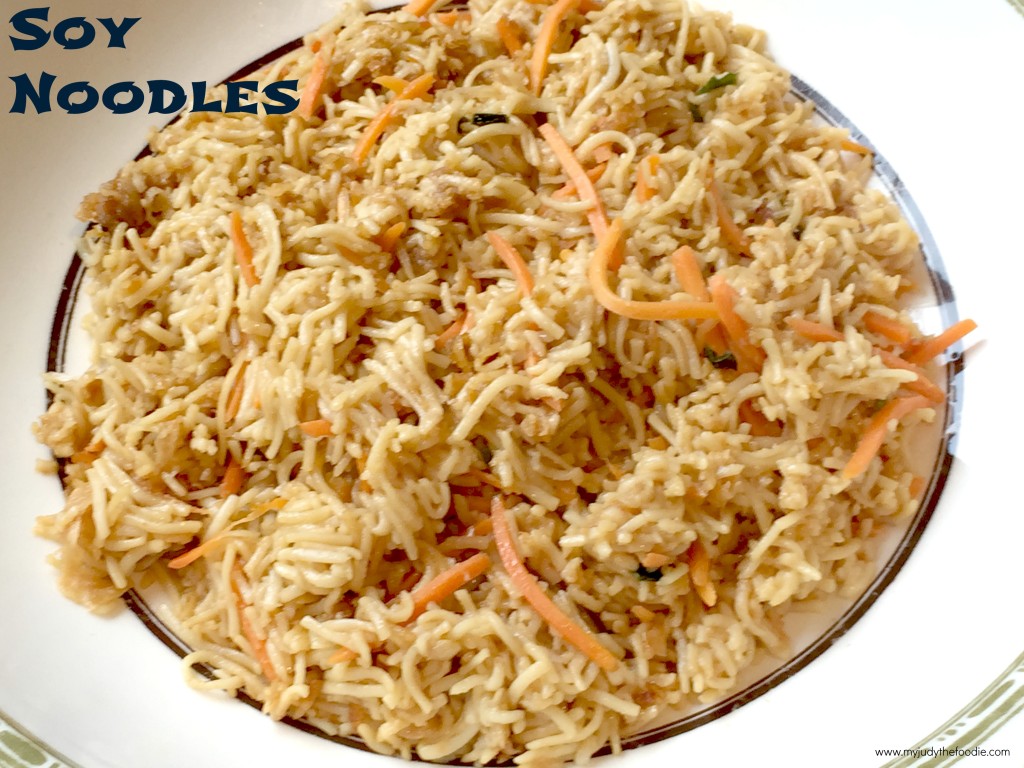 We're gearing up for Passover in a week so that means that we've been plowing through some of the carbs that are in our pantry.  I usually don't cook too many noodle dishes for dinner because I know that my kids probably default the spaghetti dishes at least two days out of the week. But, this dish is so tasty and easy to make, I knew it would be a homerun.
If you don't have some of the ingredients in this recipe, that's ok, I didn't either.  The original recipe has Shaoxing wine which I left out.  And (gulp) use whatever thin noodles you want as I didn't have Hong Kong-style egg noodles.  Bottom line, you certainly don't need to make an extra trip to seek out the Asian section of a specialty food market.  The soy sauce combined with sugar, Tamari and sesame oil and sriracha pack quite a nice punch. But, you should try to keep in the bean sprouts, it wouldn't be the same dish without it.
If you're averse to just eating noodles for dinner, don't be shy, throw some protein on top.  We enjoyed grilled chicken strips.  And, if you want more flavor, ramp the dark soy sauce and sugar amounts to your liking— you're the chef.
Soy Noodles
adapted from Love and Olive Oil
serves 4
Ingredients:
1 tablespoon soy sauce
2 teaspoons dark soy sauce or tamari
2 teaspoons sesame oil
2 teaspoons dark brown sugar (or light)
1 teaspoon sriracha
2 tablespoons vegetable oil, divided
3 ounces thin egg noodles
2 garlic cloves, minced
2 green onions, sliced into matchsticks, white/light green and darker green parts separated
1 medium carrot, thinly sliced into matchsticks or ribbons
3 ounces bean sprouts*

3 chicken breasts, grilled and cut into strips
Ingredients:
In a small bowl, whisk together soy sauce, dark soy sauce, sesame oil, sugar, and sriracha. Set aside.
Bring a large pot of water to a boil. Add noodles and cook for 2 to 3 minutes or until tender. Drain and rinse under cool water.
In a large skillet, heat 1 tablespoon vegetable oil over medium-high. When oil shimmers, add noodles and cook for 2-3 minutes, without stirring, to make sure the bottoms are slightly browned. Try to flip over as best you can and let cook for another 2 minutes. Set aside temporarily.
Return skillet to medium-high heat with remaining 1 tablespoon oil. Add garlic along with white and light green parts of green onion and quickly sautée until fragrant, about 30 seconds. Return noodles to skillet along with soy sauce mixture.
Toss breaking up clumps of noodles as you go, until noodles are entirely coated, about 2 to 3 minutes.
Add dark green parts of green onion, carrot ribbons, and bean sprouts and any other vegetables, and cook for 1 minute more or until  just softened.
Layer grilled chicken breasts strips on top and ENJOY.