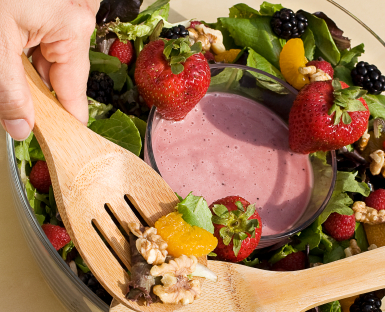 It was such a beautiful day yesterday in the northeast yesterday.  A  day defined by blue skies, no humidity, and a comfortable 75 degree temperature.
It was also a memorable day as My Judy the Foodie blog reached a bunch of milestones thanks to readers like you:
My Judy the Foodie ranked #8 in the Circle of Moms Top 25 Foodie Moms Contest !
My Judy the Foodie Fan Page reached a whopping 5500 fans— in just two short years!
Very exciting.
To celebrate, I've made a simple, fruity, tasty fruit dip that is so sweet and refreshing, it'll put an immediate smile on your face.
There's no stove involved.
You only need a couple of ingredients from your fridge and a blender.  That's it!
This fruit dip is ideal as a refreshing afternoon snack, as a breakfast option with granola or even as a dessert after dinner.
Enjoy!
Fruit Yogurt Dip
serves 2-3
Ingredients:
1 apple peeled and diced
1/2 cup dried cranberries
1/2 cup dried cherries
3/4 cup Greek style plain yogurt
1 tablespoon honey
Instructions:
Place all ingredients in a food processor and pulse until desired texture is reached.
Refrigerate at least 30 minutes before serving.
Can be served with granola or on top of sliced fruit.