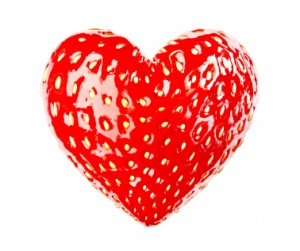 Love is a fruit in season at all times, and within reach of every hand.
Mother Teresa
Every summer my father used to put on his ripped jean shorts, grab some plastic bags and a crudely-made walking stick, and take us on a windy journey through the ivy-infested woods of our back yard.  The mission: blackberry and raspberry picking!  We'd spend hours half-listening to Dad drone on and on about the insects and the flora and fauna and anything else he found interesting.  While we desperately tried to fill up our bags to the top, they were always only half full upon our return.  Nonetheless, we still celebrated our bounty:  fresh ripe bursting blackberries and raspberries from our own woods—not the store. I remember a few times Mom was brave enough to dare the long, uphill hikes but, most often she'd wait at home for the fruit loot so she could begin jamming.
I was reminded of our special jamming event just yesterday when I was cleaning out our freezer and stumbled upon the last remaining jar of jam from our 2006 escapade.  My heart sank.  The label still clearly reads "Maddy and Judy – 2006."
I felt like I had just unearthed a valuable relic from the Titanic.  I didn't know what to do with it.  Clearly it had past its prime as the sides of the jam were laced with a beautiful pattern of freezer burn.  But, I didn't want to throw it away either.   So I packed it back on the freezer shelf to sit there like a trophy to be viewed every time the door was opened.
To continue with the traditions, in the summer we purchase the freshest boxes of organic strawberries from our fave local farm stand: The Green Thumb.  My daughter likes to hull the strawberreis with the most unusual apparatus we purchased from the stand. I'm not sure if it saved us any time but, since we weren't using a knife, it empowered my daughter to oversee the process unsupervised.
Within moments we find ourselves stirring a beautifully bright candy apple red mixture of mashed strawberries and pectin and sugar – just like Mom's.
Then we fill the Ball jars, neatly label them, and line them next to the one precious Ball jar labeled, "Judy and Maddy 2006."
Sure Jell Freeze Jam
Ingredients:
2 cups crushed strawberries (buy 1 qt. fully ripe strawberries)
4 cups sugar, measured into separate bowl
3/4 cup water
1 box SURE.JELL Fruit Pectin
Instructions:
RINSE clean 5 (1-cup) plastic containers and lids with boiling water. Dry thoroughly.
STEM and crush strawberries thoroughly, 1 cup at a time. Measure exactly 2 cups prepared fruit into large bowl. Stir in sugar. Let stand 10 minutes, stirring occasionally.
MIX water and pectin in small saucepan. Bring to boil on high heat, stirring constantly. Continue boiling and stirring 1 minute. Add to fruit mixture; stir 3 minutes or until sugar is dissolved and no longer grainy. (A few sugar crystals may remain.)
FILL all containers immediately to within 1/2 inch of tops. Wipe off top edges of containers; immediately cover with lids. Let stand at room temperature 24 hours. Jam is now ready to use. Store in refrigerator up to 3 weeks or freeze extra containers up to 1 year. Thaw in refrigerator before using.
Spread away!