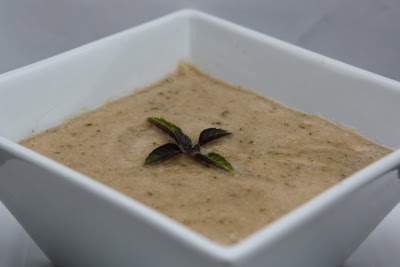 It's Seriously Soupy Sunday, featuring one of my favorite bloggers Serena, who authors a blog called Seriously Soupy. 
Serena started Seriously Soupy as a creative outlet for herself after her first daughter was born, which combined her passion for cooking with an interest in learning more about soups and soup making. Since it started she has given soup tours and taught soup classes and has a catologue of over 100 soups on the site! You can join Serena on her Soupy journey at SeriouslySoupy.com and twice a month you can find her here, at My Judy the Foodie, sharing her wisdom and helping demystify the world of soup.
Here's what Serena has to say:
I love chilled soups in the summer, and one of my favorite ways to create soup is to mix a little bit of natural sweetness from fruit with savory and fresh herbs. My kids have been eating a lot of watermelon so I knew that was an easy ingredient to add. I then used some red basil that I had from the farmer's market and added in some of my favorite fruits: honeydew and cantaloupe for a sweet and refreshing soup that also includes ginger, lime and fresh basil!
Enjoy!
Triple Melon Basil Melon Soup
Ingredients:
¼ cup of cantaloupe, cubed
¼ cup of honeydew, cubed
¼ cup of watermelon, cubed
Pinch of ginger
Splash of lime
½ cup of water
2-3 sprigs of fresh basil
Garnish: red basil
Directions:
Boil water on a low heat.
Cut up the melons and add them to the pot, along with ginger, lime and basil (you can also add honey or lemons, if you wish).
Let cook for 3-5 minutes – stirring periodically.Turn off the flame and (when cool) add the fruit and water to a blender.
Blend it together and top with red basil.
Can be eaten immediately or cold where you should chill in for 2-3 hours.