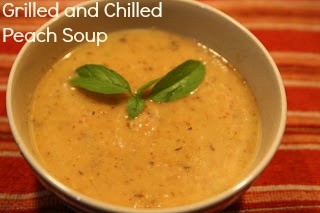 Even though I'm starting to get solicitous emails for Halloween costumes, I refuse, on August 1st, to admit that summer is ever ending.
The farm stands are bursting with a cornucopia of fresh fruits, veggies and herbs.
The corn is almost as high as an elephant's eye.
The frothy surf is just a tad bit warmer.
In my mind, summer is FINALLY here.
To celebrate the season, I've been thoroughly enjoying grilling fruits and vegetables outside.  Have you grilled any Kale yet?  Watch my video:
if reading via email or reader, head to site to watch video 
My favorite grilled fruits recipes are for peaches, pineapples and bananas.  Today, Seriously Soupy will share her her simple yet refreshing recipe for Grilled and Chilled Peach Soup.
Don't forget, there's an abundance of chilled soups waiting to be tried.  Once you do try them,  you'll get hooked and your soups will undoubtedly become a fixture to your picnic table alongside the burgers and dogs.
Here's what our resident expert Seriously Soupy has to say:
Chilling various fruits and vegetables is a great way to create new soups while staying cool. I want to test out a few this summer and started with a grilled and chilled peach soup. This soup-like blend took two days to make, which began by grilling the peaches with fresh mint, basil and lavender. The mixture was then cooled overnight in the fridge and blended together with some water and chilled in a freezer for a tangy/sweet soup-like blend that is sure to be a hit this summer. Enjoy!

Grilled and Chilled Peach Soup
Ingredients:
6-8 peaches
2-3 tablespoons of olive oil
1 teaspoon of salt
1 teaspoon of cinnamon
1 tablespoon of sugar
2 cups of water
fresh herbs (mint, basil and lavender)
Instructions:
Day One: Preheat the oven to 350 degrees. Cut up the peaches and fresh herbs. Place them on a baking sheet or on aluminum foil. Sprinkle with olive oil, cinnamon and salt. Let cook for 30-40 minutes. Turn off oven, let cool and place in a refrigerator overnight.
Day Two: Place mixture in a blender with water and sugar. Make sure everything is mixed together, taste and top with whole peaches or fresh herbs. Enjoy!
About Seriously Soupy: Serena is the author of a blog called Seriously Soupy.  Serena started Seriously Soupy as a creative outlet for herself after her first daughter was born, which combined her passion for cooking with an interest in learning more about soups and soup making.  Since it started, she has given soup tours and taught soup classes and has a catalog of over 100 soups on the site!  You can join Serena on her Soupy journey at SeriouslySoupy.com and twice a month you can find her here, at My Judy the Foodie, sharing her wisdom and helping demystify the world of soup.