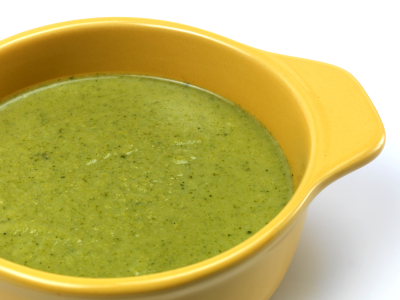 We're all about soups in my house.  We feel so grateful to have benefited from so many of Seriously Soupy's amazing homemade recipes.  In addition, after realizing just how easy it is to make soup, I've been experimenting with some of my own recipes.
The other night I was inspired to make some broccoli soup since I had three heads lying around.  My kids love broccoli any way it's prepared so I figured the probability of them liking a broccoli based soup was fairly high.
I found a very healthy Broccoli Soup recipe over at Elena's Pantry (one of my favorite food blogs).  I decided to tweak it a bit for my audience by adding in some Parmesan cheese and substituting some of the water for Chicken Stock.
The final result was quite tasty.  My daughter took one spoonful and proclaimed she didn't even like broccoli so there was no way she was going to like broccoli soup.  And, after that one spoonful, she didn't try any more.
My son, on the other hand, slurped up two bowls full and happily soaked up pieces of Challah bread with the thick soup too.
I regard my experiment as a success if 2/3 of the people in the house enjoy the recipe.  Next time around I would probably use 100% chicken stock instead of water and I'd add a little of heavy cream.
Try it for yourself and enjoy.  It's ideal to make for the cool weekend ahead and only takes 30 minutes.
Broccoli Soup
adapted from Elena's Pantry
serves 5
Ingredients:
2 tablespoons EVOO
1 medium onion, chopped
2-3 heads of broccoli coarsely chopped
1 quart water
1 quart chicken stock (low sodium)
1/4 cup grated Parmesan cheese
Instructions:
Heat oil in a large pot and saute onions about 15 minutes
Add broccoli and saute for 5-10 minutes
Add water and chicken stock and cook until broccoli is soft – 15 minutes
Sprinkle in Parmesan cheese and puree soup batches in a blender until smooth and creamy
Reheat soup and serve