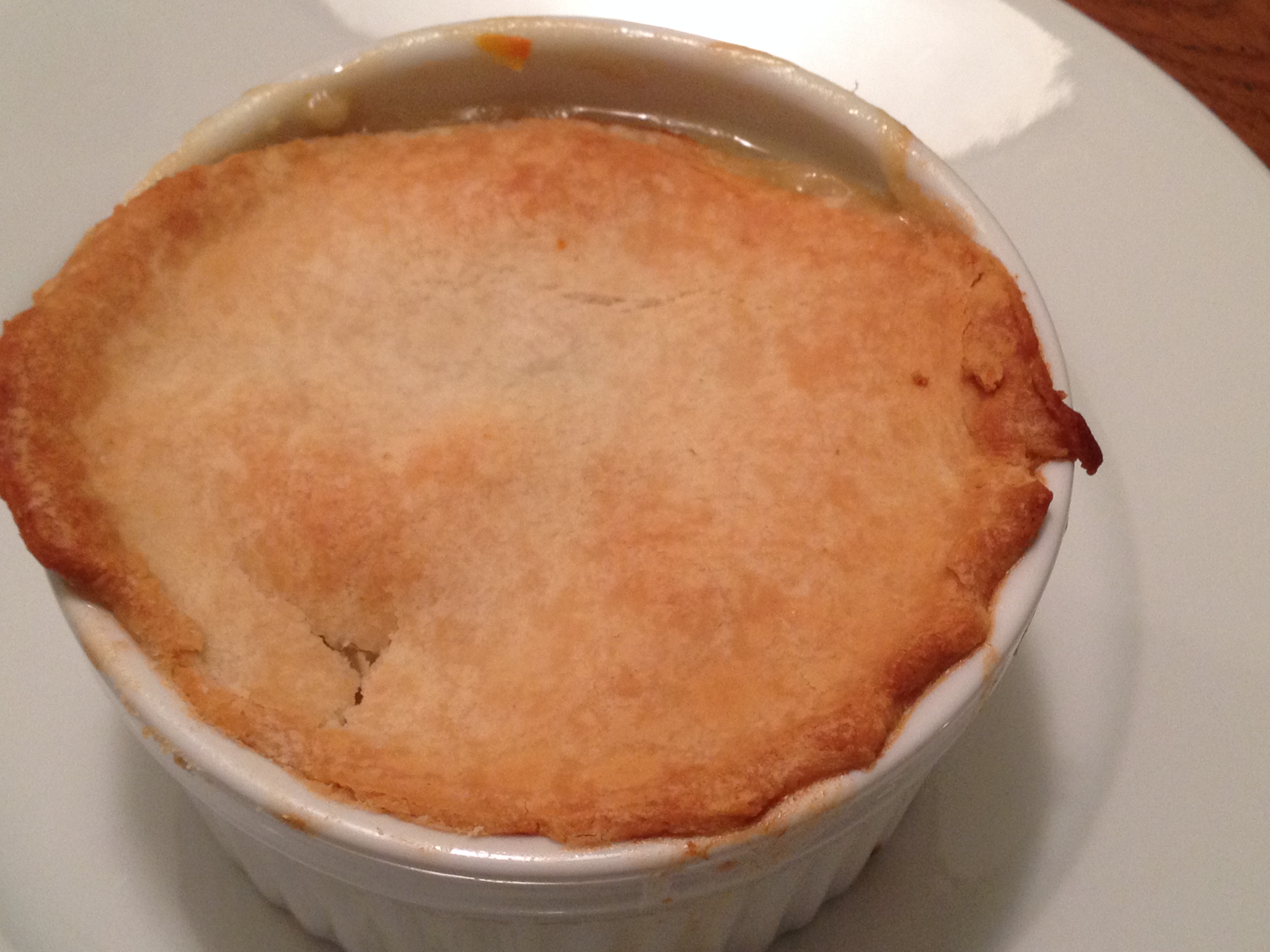 I remember eating chicken pot pies in the lunchroom at school.  There was something so intriguing and mysterious about each student having their own little miniature pie-baked meal.  They were a welcomed hearty meal usually served on a cold winter's day.
Since I had so much success with other single serve recipes like the meat-stuffed zucchini boats and the mini frittatas I decided to take a crack at making my own single serve chicken pot pies for dinner last night.
There's nothing better than pie for dinner.
In the past I have purchased 9" ready-to-heat pot pies at our local market and found that half of the pie always went to waste.  Let's face it, the left over sliver of pot pie is not too appetizing after it's been sitting and congealing in the refrigerator for over a day.
Because I'm usually only feeding my two kids at dinner time, any recipe that produces single serve portions is certainly ideal and much less wasteful.
As luck would have it, I had some ramekins that had never been put to use.  And, my kitchen was stocked with most of the ingredients for the pot pie:  chicken stock, celery, carrots, potatoes and shredded chicken.  I only need to run out to get a refrigerated pie crust.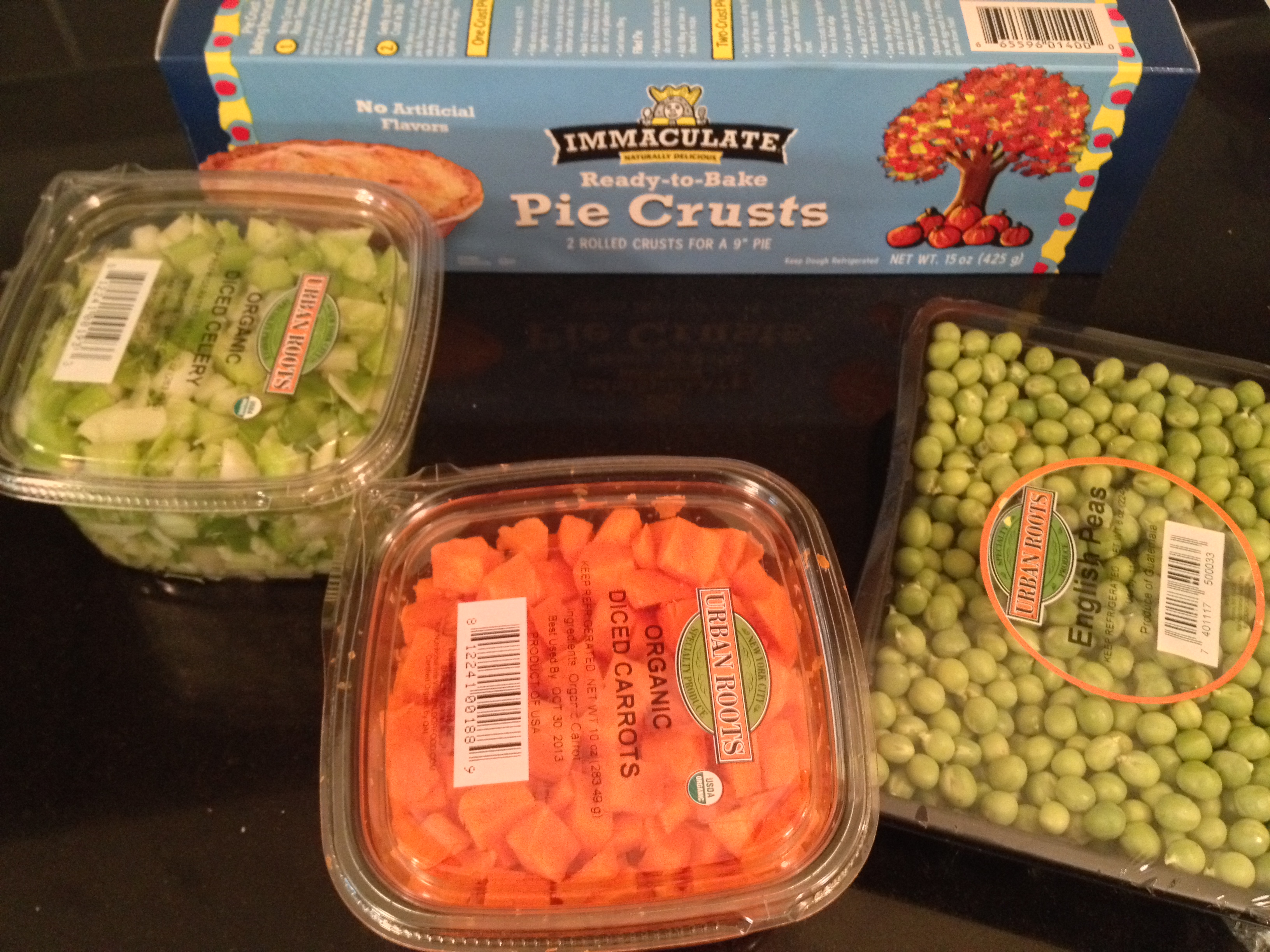 While the pot pies look so delicate and appear to require a high degree of culinary difficulty, the pie-making experience was quite the opposite.
All you need to do is sauté the ingredients for the filling in a skillet on the stove. I decided to use pre-made refrigerated pie crust dough for the top.  It's fun for the kids to trace the circumference of the ramekin in the pie dough like they're playing with playdough.  Then, you just fill up the ramekins, cover the top with your round piece of dough, and stick them in the oven for 40 minutes.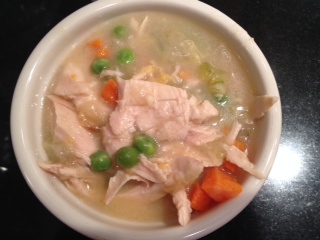 My kids were thrilled to have the miniature pot pies for dinner, in the comfort of their own home, not at school.  While I was worried that one little pot pie would not be enough, they were surprisingly filling.  My kids could only eat one so I froze the remaining three for another cool fall evening.
You should definitely put this on your dinner hit list, they're fun to make, quite tasty and you might get the award for coolest mom (like I did last night!).
Chicken Potpie
adapted from Cooking Light September 2013 issue
serves 6
Ingredients:
1 tablespoon canola oil
1 cup chopped vidalia onion
1 cup chopped carrot
1/2 cup chopped celery
2 boiled potatoes, cut into 1″ squares
1 garlic clove, minced
1/4 cup all-purpose flour
4 cups unsalted chicken stock
2 cups cooked, shredded chicken breast
1 cup green peas- thawed
refrigerated pie dough
Instructions:
Preheat oven to 425 degrees.
For Filling:
Heat oil in large deep saucepan over medium heat.  Add onion, celery, carrot and potatoes and sauté for 4 minutes. Add garlic.
Combine flour, salt and pepper in with the sautéd vegetables.  Cook for 1-2 minutes stirring constantly.
Pour in chicken stock and bring to a boil.  Reduce heat and simmer for 8 minutes. Add chicken and peas and simmer another 5-6 minutes.
Remove from heat and let cool.
For Topping:
Use empty 10-ounce ramekin to trace a circle in the pie dough.  Cut out dough.
Pour filling into each ramekin and cover each top with the dough circle.
Bake at 425 degrees for approximately 30 minutes.