I will admit this post is a re-post from last summer.  However, this recipe is so good that it's worth the spotlight again!  Definitely get it on your summer repertoire.
If you were to taste just one bite of the pistachio-crusted breast, you'd mistakenly think it'd taken hours of preparation.  Not so!  Not so!
Ever breaded a chicken cutlet before?  That's essentially what you do to your chicken breasts but, instead of coating them with breadcrumbs, you're covering them with ground pistachio nuts.
The crushed pistachio nut layer renders the chicken breasts like unique fossils with bright green fragments.
And, once cooking and sizzling atop the ¼ " of olive oil in the skillet pan, I knew I'd like this dish.
When the chicken was more than halfway cooked in the skillet, stick it in the oven to bake to completion.  While it's baking, you can start concocting the raspberry sauce.
With just a couple tablespoonfuls of horseradish here, a bunch of squirts of soy sauce there, and two 10 oz. jars of raspberry jelly blobbed on top and you're done creating the sweet jelly-like glaze for your chicken.
I still can't decide which version of the chicken reigned supreme – with or without the sauce- because, honestly, it's-just-that-good!
I'm not lying when I admit that I've eaten the chicken for the past three meals in the last two days.  It's-just-that-good.
So, the next time you're struggling to put a spin on your tried-and-true chicken routine, start by using crushed pistachios.
And, if you really want to WOW the crowd, top off your chicken with homemade raspberry, soy and horseradish sauce. The confluence of these two tastes is unbelievable.
If Mom were here, she'd be so thrilled knowing her daughters not only cooked together but, continued to satiate the hungry masses.
I know you will enjoy.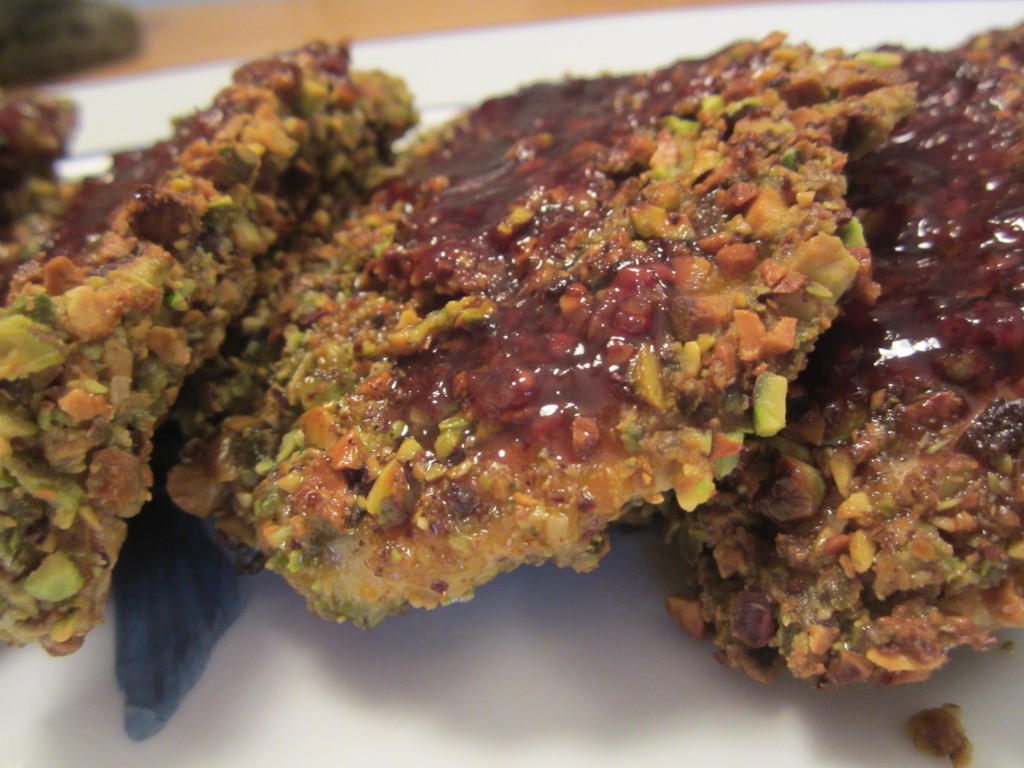 Pistachio-Crusted Chicken w/ Raspberry Soy Sauce
Ingredients:
2 lbs thinly-sliced chicken breasts
garlic powder
olive oil
sea salt
5 eggs
flour
3 cups crushed pistachio nuts
2 10 oz. jars of raspberry jelly (100% sugar preferrablly with seeds) (black or red)
3/8 cup of low sodium soy sauce
4 tablespoons of whit horseradish from a jar
Instructions:
Preheat oven to 350 degrees.
Season the chicken breasts with garlic powder, olive oil, sea salt.
Dip breasts into bowl filled with flour, then a bowl full of beaten eggs.
After chicken is fully coated with egg wash, place in bowl with crushed pistachio nuts and cover completely.
Once breasts are completely coated with nuts, place inside large, heated skillet containing at least 1/4 cup of oil (there should be at least 3″ of oil layering the bottom of the pan).
Saute the chicken so both sides are cooked (approximately 2-3 minutes).
Place chicken into baking pan in oven for approximately 15-20 minutes (be careful not to over bake).
While chicken is baking, combine raspberry jelly, soy sauce and horseradish in a bowl and mix completely to desired taste.
Optional – heat up sauce and pour over top baked chicken.
Not optional – ENJOY!