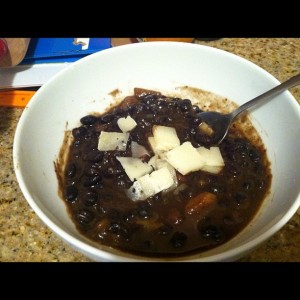 It's Seriously Soup day today, featuring one of my favorite bloggers, Serena, who authors a blog called Seriously Soupy.  Serena started Seriously Soupy as a creative outlet for herself after her first daughter was born, which combined her passion for cooking with an interest in learning more about soups and soup making.  Since it started, she has given soup tours and taught soup classes and has a catalog of over 100 soups on the site!  You can join Serena on her Soupy journey at SeriouslySoupy.com and twice a month you can find her here, at My Judy the Foodie, sharing her wisdom and helping demystify the world of soup.
Here's what Serena has to say:
We're in the full swing of fall which means that pumpkin-related goodies are popping up everywhere. While I love a good pureed pumpkin soup, I also cook a lot with black beans and thought the combo sounded really tasty together. For the soup base I also decided to add  some sweet potatoes which are also associated with comfort and health. For the soup's flavors, I added in some bay leaves, garlic, onion, nutmeg and cinnamon. I let the soup cook for over three hours, creating a rich and creamy recipe.
When the soup was finished cooking, I topped it with some thinly-sliced Manchego cheese (my favorite cheese pairing for beans) and then served the soup with crunchy bread that made for  the most delicious and filling lunch.
Enjoy and happy fall!
Pumpkin Black Bean Soup
Ingredients:
3- 5 cups of water 2 cups of dry black beans, rinsed
1 sweet potato, cut
2-3 long carrots, cut
1 red onion, chopped
4 cloves garlic, minced
3-5 bay leaves
1/4 cup pumpkin, cut up
1 can pumpkin puree
1 tablespoon of cinnamon
1 teaspoon of nutmeg
salt and pepper to tate
Instructions:
Boil 2-3 cups of water in a pot.
Cut up the bay leaves, garlic and onions and let boil.
Add the black beans and let cook for about an hour.
Add the sweet potato, carrots, pumpkin, pumpkin puree, nutmeg, cinnamon, tomatoes and salt and pepper.
Add more water if needed and let cook for another hour, stirring periodically.
Enjoy and top with cheese or sour cream, if desired.