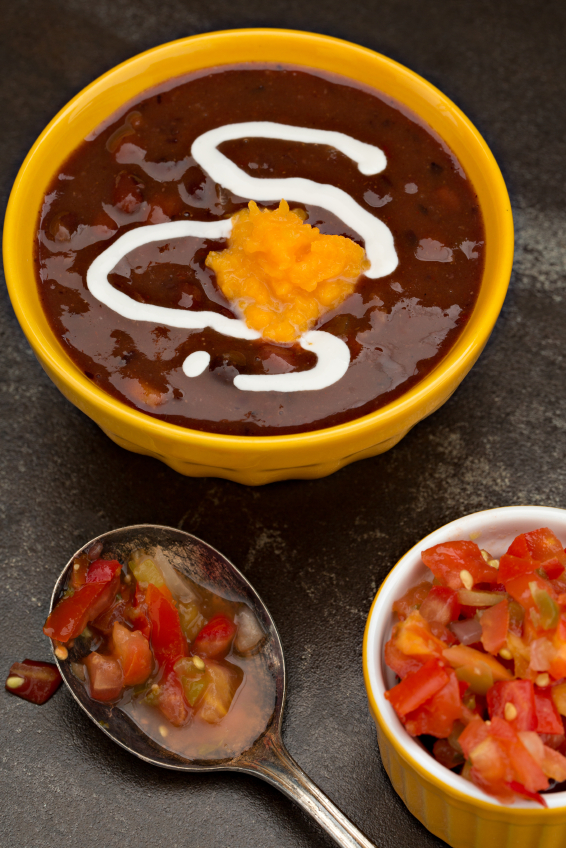 While we haven't officially gone pumpkin picking yet, we're definitely incorporating pumpkin into our kitchen.
Last Thursday was the kick off our our national breast cancer baking campaign Bake it Happen and our newest campaign recipe is a tasty Pumpkin Oatmeal Chip Cookie.  I made 3 batches with my kids this weekend that we'll be distributing over the course of the week.
While the weather is undoubtedly getting a bit cooler and jackets are a must, comfort  soups are going to play an integral role in our meal time routines.
Since I've got a bunch of cans of pumpkin pure in the pantry (for Bake it Happen), I knew I'd want to make Seriously Soupy's tasty Pumpkin Bean Soup.  The base to the soup contains a plethora of black beans as well as some sweet potatoes– both attributed to good health and hearty dishes. To enhance the flavors to the soup you just add in some bay leaves, garlic, onion, nutmeg and cinnamon.
After three hours of cooking, voila, the soup becomes creamy and rich.
Don't hesitate to top your creation with some thinly-sliced Manchego cheese (great pairing with the beans) and serve the soup with crunchy bread.  Other tasty toppings:  salsa, sour cream, crumbed feta….
This dish is ideal for lunch or dinner.
Happy fall.
Pumpkin Black Bean Soup
from Seriously Soupy
Ingredients:
3- 5 cups of water 2 cups of dry black beans, rinsed
1 sweet potato, cut
2-3 long carrots, cut
1 red onion, chopped
4 cloves garlic, minced
3-5 bay leaves
1/4 cup pumpkin, cut up
1 can pumpkin puree
1 tablespoon of cinnamon
1 teaspoon of nutmeg
salt and pepper to taste
Instructions:
Boil 2-3 cups of water in a pot.
Cut up the bay leaves, garlic and onions and let boil.
Add the black beans and let cook for about an hour.
Add the sweet potato, carrots, pumpkin, pumpkin puree, nutmeg, cinnamon, tomatoes and salt and pepper.
Add more water if needed and let cook for another hour, stirring periodically.
Enjoy and top with cheese or sour cream, if desired.