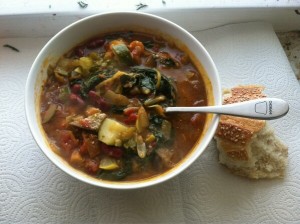 It's Seriously Soup day today, featuring one of my favorite bloggers, Serena, who authors a blog called Seriously Soupy.  Serena started Seriously Soupy as a creative outlet for herself after her first daughter was born, which combined her passion for cooking with an interest in learning more about soups and soup making.  Since it started, she has given soup tours and taught soup classes and has a catalog of over 100 soups on the site!  You can join Serena on her Soupy journey at SeriouslySoupy.com and twice a month you can find her here, at My Judy the Foodie, sharing her wisdom and helping demystify the world of soup.
Here's what Serena has to say:
I have been experimenting with a lot of soups using apples and squashes this fall, but the other day I was craving a hearty soup as satisfying as a meal. A friend mentioned a soup that was said to be a favorite recipe of two sisters in Italy who ate it every single day. As she listed off the ingredients (spinach, carrots, eggplant, leeks, etc) I knew this was something that was right up my alley and with a day at home, it was the perfect activity.
Ready in about an hour, this comforting and wholesome soup was even a hit with both of my kids who gobbled it up and kept saying how delicious it was. I loved it for its use of multiple veggies and beans for a healthy winter soup. I am looking forward to making this again and again and again.
Vegetable Minestrone Soup Recipe 
adapted from Fine Dining Lovers
Ingredients:
1 Eggplant
1 Zucchini
1 Onion
2 Each Carrot
1 Leek
1 Tomato
1 bunch, Basil
4 bunches, Spinach
1 clove Garlic
20 ml Pesto
20 ml, grated Parmesan
Extra-virgin olive oil To taste
100 g Green bean
100 g, cooked Kidney bean
50 g Peas
Salt To taste
Instructions:
Wash, peel and dice all the vegetables and place them into a large pot with a drizzle of oil and a pinch of salt.
To make the dish more digestible, begin sautéing the vegetables in a cool pot.
Once slightly softened, add enough water to cover the veg and leave to simmer.
It's important to cut all the vegetables to the same size to ensure uniform cooking.
After 40 minutes, turn off the heat.
The vegetables should maintain their original consistency and should not be mushy.
Leave the dish to cool, once cooled serve into soup bowls.
Add a spoonful of pesto, some Parmesan and a drizzle of olive oil.
According to the Genoese tradition, this dish is excellent when served at room temperature or even cold, sprinkled with Parmigiano cheese.