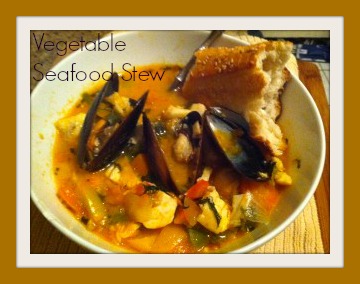 It's  Seriously Soup day today and Serena will share one of her new soupy creations: Vegetable Seafood Stew.  Don't forget you can join Serena on her Soupy journey over at SeriouslySoupy.com and twice a month you can find her here, at My Judy the Foodie, sharing her wisdom as she helps demystify the world of soup.
Here's what Serena has to say:
The majority of the soups on Seriously Soupy are either vegetable or bean-based with some fish recipes sprinkled in. This pretty much sums up the way I eat, but I do want to delve into more diverse recipes that will include meat and other ingredients with which I have never created soup.  Fish was first on the list. I recently received some fish from Alaska Seafood Marketing, an organization that represents the Alaska fisheries of salmon, cod, rockfish, halibut, black cod, sole, crab and Alaska pollock, and I immediately started brainstorming different recipes that I could create using this healthy protein. The beauty of their fish is that it's managed for continued abundance as mandated by the Alaska Constitution since 1959. In fact, their wild fisheries are so important that finfish farming is prohibited by law in the state of Alaska. This ensures safe seafood that is also managed for protection against overfishing, habitat damage, and pollution.
With an abundance of fish, I decided to make a hearty and healthy fish stew using Pacific Halibut Filets. I imagined that this lean and light fish would be the perfect combination for this soup. I started by making a sauce of fresh tomatoes, dill, lemon, onions, celery and garlic. Then I added in some carrots, mushrooms and fish and finally the halibut and some mussels to create a savory and filling soup.
I love this flavorful soup as well as the fact that the fish maintained its firm texture and shape during the cooking process.
Vegetable Seafood Stew
Ingredients:
1 pound of halibut filets, cut up
approximately 5 cups of water
1 yellow onion, cut up
6 cloves of garlic, minced
1 scallion, cut up
bunch of fresh dill
bunch of fresh basil
4 tomatoes, cut up
1 lemon
2 stalks of celery, cut up
2 carrots, cut up
10 mushrooms, cut up
10 mussels (I used frozen)
salt and pepper to taste
olive oil
Instructions:
Drizzle some olive oil in a large pan and cut up the onions, scallions and mince the garlic. Add them to the pan and put on a low heat as you cut up the tomatoes and celery and add them in as well.
Add in the dill, lemon and basil and cover. Cut up the carrots and mushrooms and add them in the pan with 3 cups of water and let cook for 20 minutes on a medium heat.
Cut up the fish and add it into the pan. Let cook for another 20 minutes or so, stirring periodically. Add in the mussels, some salt and pepper.
Enjoy with some crusty bread.