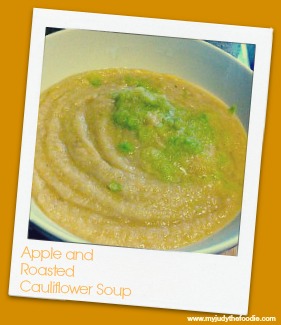 It's Seriously Soup day today, featuring one of my favorite bloggers, Serena, who authors a blog called Seriously Soupy.  Serena started Seriously Soupy as a creative outlet for herself after her first daughter was born, which combined her passion for cooking with an interest in learning more about soups and soup making.  Since it started, she has given soup tours and taught soup classes and has a catalog of over 100 soups on the site!  You can join Serena on her Soupy journey at SeriouslySoupy.com and twice a month you can find her here, at My Judy the Foodie, sharing her wisdom and helping demystify the world of soup.
Here's what Serena has to say:
This weekend we made a trip to upstate New York and discovered a quirky little place called Mr. Apples. Cardboard signs that said the apples were "organic style," old cars that said 'Woodstock or Bust' and a random Shop Rite cart made for a unique experience as we picked and looked for apples.
We loaded up with a variety of apples and came home with ideas for pie and sauce, but being a soup-maker I also thought about what soup I would create using these colorful apples. I had cauliflower and sage at home, and liked the idea of that combination. I first roasted the cauliflower and then created a light broth of onions, sage and garlic. While the broth was cooking, I added in the apples and then the roasted cauliflower and celery. In about 40 minutes the soup was done and I blended it to perfection
I really love this soup; it's naturally sweet, comforting on a cold day, and a delicious way to enjoy apples.
Apple and Roasted Cauliflower Soup
Ingredients:
6-8 apples, cut up (I kept the peels but they can be taken off)
1 head of cauliflower, cut up
1 tablespoon of olive oil
2 cups of water
1 yellow onion, cut up
2 stalks of celery, cut up
1 teaspoon of cinnamon
3-5 sprigs of fresh sage, crumbled
salt and pepper
Directions:
Pre-heat the oven to 375 degrees.
Cut up the cauliflower and place it on a baking tray. Drizzle it in olive oil and salt and pepper.
While that is cooking, start a broth on a low flame of water, onions, sage, salt, pepper and garlic.
Cut up the apple and celery as the broth and cauliflower are cooking.
Add in the apples, celery and cinnamon and cover. After 30 minutes add in the cauliflower (you may need a little more water here).
Cover and let cook for another 20 minutes.
Blend together and top with some shredded apples. Enjoy!