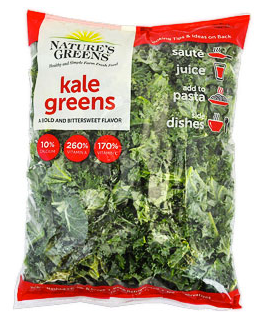 Our favorite new family vegetable, hands down, is KALE.
It's quite remarkable to think that only two years ago my kids would only eat broccoli (if it were covered in cheese) and now they've delved into Brussels sprouts, spinach and KALE.
If you read my blog, you know that we now love:
Our favorite brand of kale comes from Nature's Greens cooking greens – triple-washed, ready-to-use greens that are available year-round in both one and two pound packages of: kale, collard, mustard and turnip greens, along with green blends. 
The operative words here my friends are TRIPLE-WASHED, READY to USE.   Lettuces can be very dirty since they're pulled directly from the soil.  I can't tell you how many times I've purchased loose kale from farmer's markets where it's been so dirty, simply cleaning the leaves became a total turn off and I never even got to creating the recipe.
Now, imagine purchasing a package of fresh greens that requires no cleaning at all. Simply open the package and it's ready to use.  It's certainly changed my outlook on recipe prep and it will for you too.
Now that I've peaked our interest about Nature's Greens,  you must take part in Nature's Greens Show Us Your Heritage Contest.
I'm going to enter too: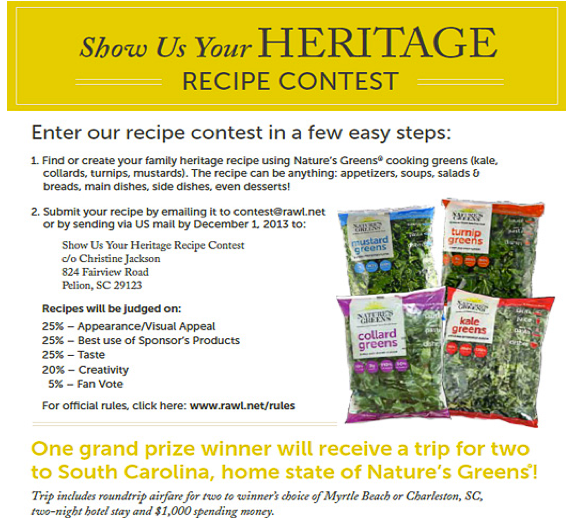 Sounds fun right?  Take a crack at it.  All you have to do is submit any recipe containing Nature's Greens cooking greens and you're entered to win an awesome trip for 2 to SC and $1000 to spend!
Don't forget, the contest ends 12/1/13.
For more information, visit http://www.rawl.net/contest
Disclaimer:
I was compensated for writing this post but, all opinions expressed within are (as always) my own.
Take note that I was already a HUGE fan of Nature's Greens before I was solicited to write this post!
Good luck.