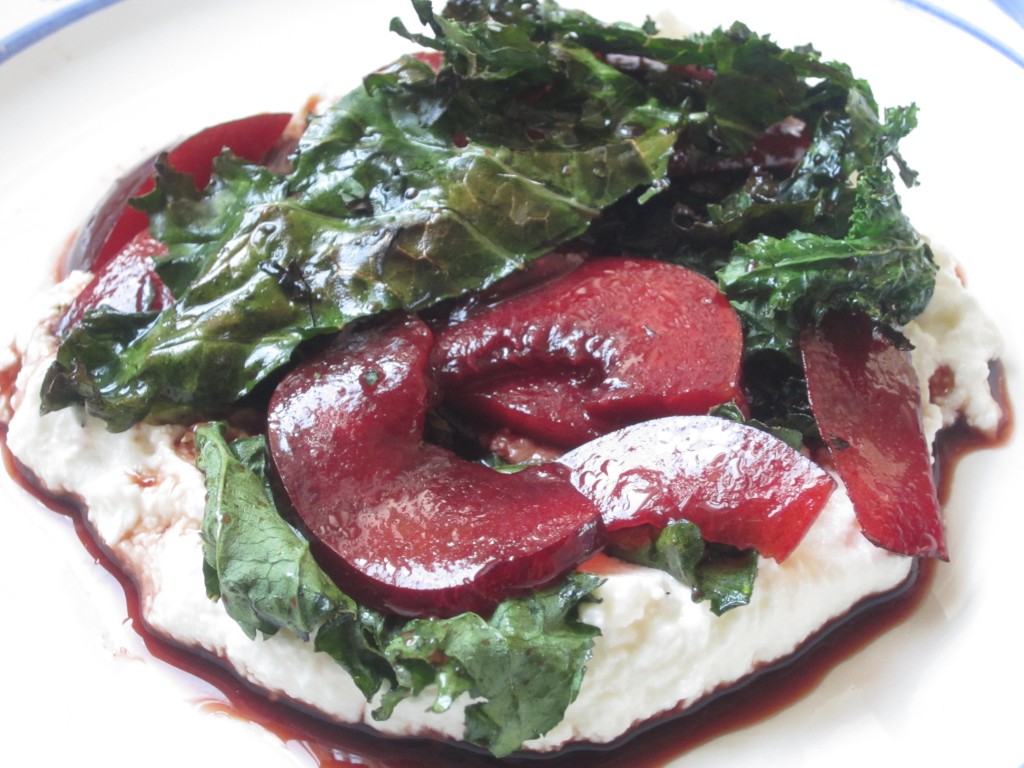 I know I sound like a broken record but kale is our new favorite vegetable.
It's certainly not new but, up until this year, no one in my family had ever tasted it!
My mom has not one recipe in her vast archives that uses kale so, it truly does feel like this green cabbage plant has been a mystery to my family. However, since we've discovered it, and have fallen in LOVE with our Crispy Kale Chips, I'm on a mission to find as many tasty recipes boasting our new leafy friend.  In fact, I also planted three different varieties in my garden which are all abundant and ready to be eaten so, I'm forced to cook with it.
I was strategic about the way I introduced Kale to my family.  I knew my kids would love the Crispy Kale Chip recipe.  They're  salty and crunchy with a little hint of parmesan cheese; they truly taste like potato chips…but made from kale.
My next kale recipe endeavor was the Kale Salad with Green Beans. It was a little riskier as anything containing the word "salad" warrants more explanation and coaxing.  But, luckily the tasty vinaigrette, and again, the parmesan cheese, helped my culinary cause.  Much to my surprise, the salad was eaten and it received two thumbs up.
Can you sense how I'm gaining momentum with my kale-cooking-confidence?  I decided I'd try something completely different.  I found an easy salad recipe that peaked my interest and it required that I GRILL the kale with some olive oil.  It sounded incredibly tasty and the grilled kale couldn't taste too different from the crispy oven-baked kale, right?
First I cut up some beautiful plums in fine pieces.  I marinated them in a very simple sauce containing some fig balsamic vinegar and oil for about an hour in the fridge.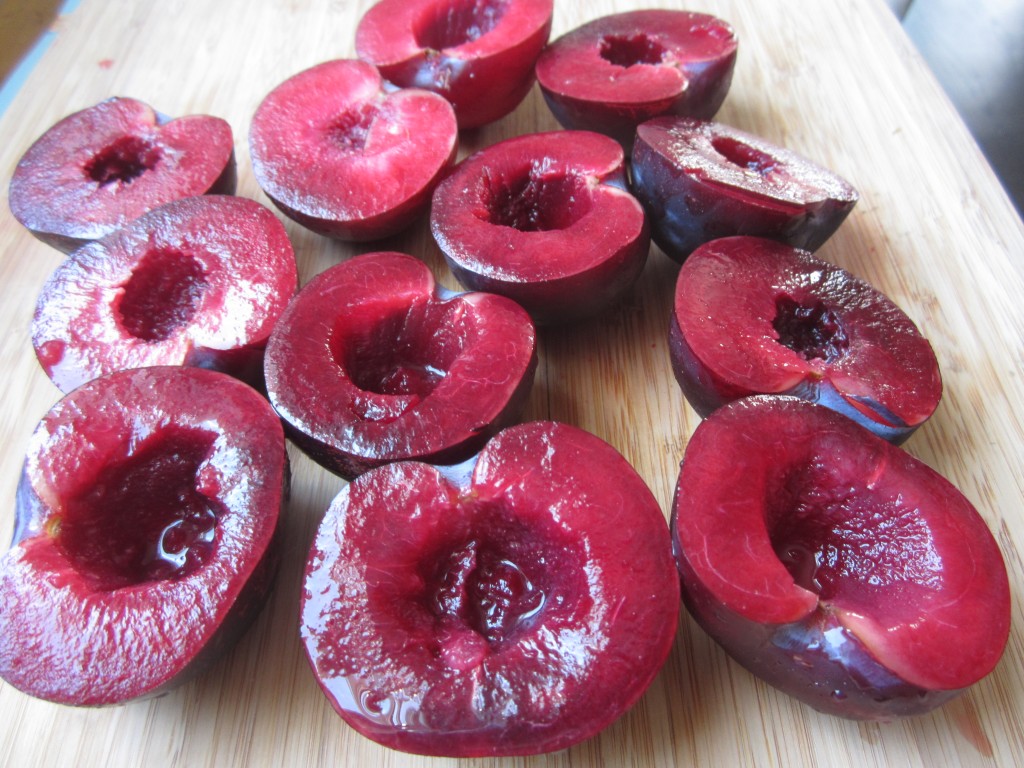 Cored plums, read to get sliced
While my plums were marinating, I picked an awesome bunch of curly kale leaves right from my vibrant garden.  I simply dusted the leaves with olive oil and a pinch of sea salt. and grilled them for about two minutes on each side –or until the outside of the leaves became slightly charred (I found this quite exciting too as I've never grilled anything leafy).
When the leaves were perfectly charred, I  took them off the grill and let them cool. I placed a nice heaping portion of part-skim Ricotta cheese on a plate.  Then I decorated the cheese with some of my freshly-grilled kale leaves and loaded on some of the deep purple marinated plums!  I also poured some extra sauce on top the salad (like a dressing).
The final salad looked gorgeous with the juxtaposition of the colors from the white cheese to the green kale to the deep purple plums! I was impressed with myself—more for taking another "risk" and pushing the envelope with the kale and my kids.
I'm happy to report it's yet another "hit" for our dining repertoire.
My son devoured the dish and actually asked for seconds.  And, I had three servings too.  The salad has the right blend of crunch and softness and sweetness.
It's fast, easy, fresh.  It's perfect for summer:  for lunch, as a side, or as an appetizer for your dinner.
Go on, shake up your salad routine!
Grilled Kale Salad with Ricotta and Plums
adapted from Bon Appetit July 2012
Ingredients:
4 tablespoons  extra-virgin olive oil, divided
3 tablespoons balsamic vinegar
2 teaspoons chopped fresh thyme
1 teaspoon of honey, kosher salt, freshly ground pepper
4 medium plums, pitted and halved and thinly sliced
12 large curly kale leaves
1/4 cup fresh ricotta cheese
Instructions:
Whisk 3 tablespoons oil, vinegar, thyme and honey in a medium bowl.  Season with salt and pepper.
Add sliced plums to oil mixture and toss to coat; transfer plums to a plate.
Heat gas grill to high.  Brush kale leaves with remaining one tablespoon oil; season with salt.
Grill kale, turning once, until crispy and charred at edges (about 2 minutes).
Transfer kale to a work surface and let stand until cool enough to handle.
Remove large center stems with a knife and discard.
Divide ricotta among plates; season with salt and pepper.  Stir vinaigrette again.
Tear kale pieces in a large bowl and toss with some of the vinaigrette.  Divide leaves among the plates.
Top with plums and drizzle remaining vinaigrette over top!