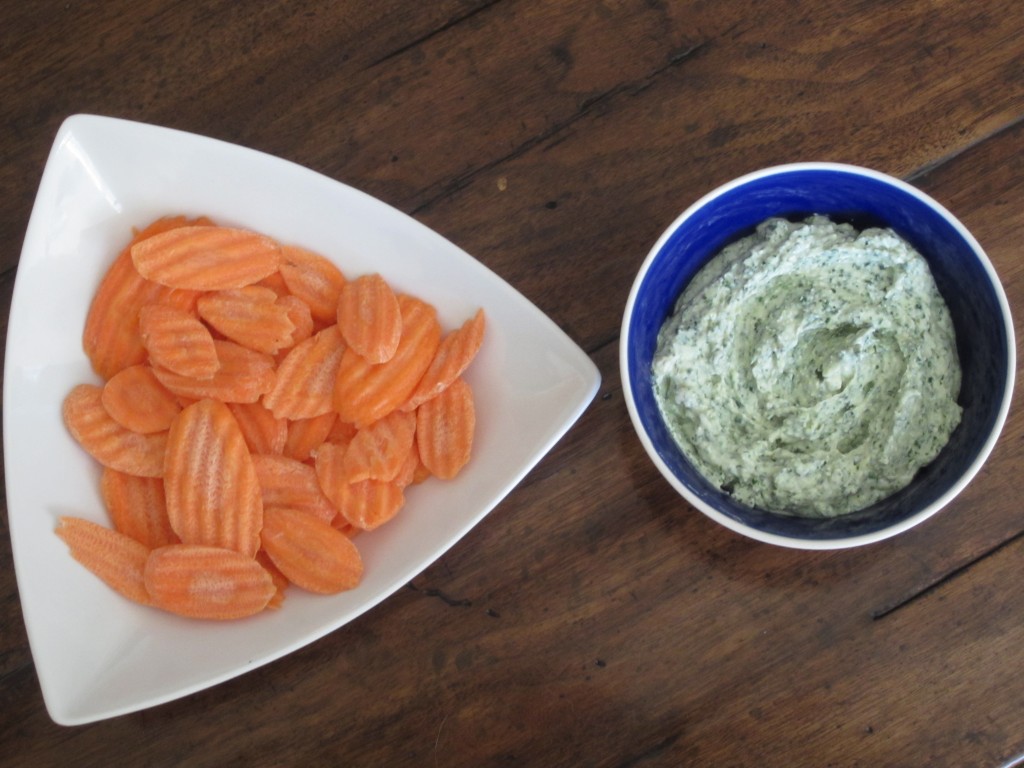 We started making homemade kale chips just a few weeks ago and already my kids have asked if there's anything else we can "do" with this new favorite veggie.  I thought I was hearing them incorrectly at first.  Never have they requested a vegetable-based dish.  And, I certainly didn't want my small window of opportunity to pass before I got a chance to create something new.
Last week I leaf-eared a very easy (and healthy) recipe for Kale Dip with Snap Peas in the April issue of Whole Living Magazine.  It appealed to me because it's quite simple to make, requires very few ingredients (all of which I had stocked in the pantry) and, looked light and refreshing.  I welcome any dip recipe that doesn't require extreme amounts of cheese.  I noticed that the Kale dip is based mainly from cottage cheese which rests a lot easier on my conscience than Mom's famous Hot Crab Dip —- which, by the way,  is the BEST tasting dip but contains an entire package of regular cream cheese.
Within 8 minutes, 8 minutes  (still within my window of opportunity with the kids), I whipped up a fresh batch of Kale dip.
I grabbed some mini carrots to accompany the dip and cautiously placed it on the table.
"Ew, what is this?"  my six-year old whined as he pointed (and leaned in to smell) the shredded pieces of kale in the dip.
"You asked me for more kale so I made a new kale dip!"  I barked, defensively.
"Well, I was thinking more like kale fries since you've already made kale chips," my son responded, disappointed.
"Oh."  I had no comeback.  How could a cottage cheese dip ever measure up to salted kale fries?
Sensing my defeat, my son slowly picked up the smallest mini carrot he could find and barely touched the dip in front of him
He tasted the tiny bit and said, "THIS IS GOOD!"
I was thrilled.
"It has a lot of CHEESE in here, right MOM?"
"Um, of course it does," I responded, knowing I was sort of telling a half truth.  Well, it does contain a full cup of cottage cheese!
Both kids took my endorsement and gobbled up the remaining dip.
And everyone was happy.
Enjoy your dip.
Kale Dip with Carrots (adapted from Whole Living Magazine)
Ingredients:
1 tablespoon extra-virgin olive oil
1 garlic clove, thinly sliced
3 cups thinly sliced kale leaves
coarse salt
1 cup low-fat cottage cheese
1 tablespoon fresh lemon juice
2 cups mini carrots
Instructions:
Heat oil in pan over medium heat.  Add garlic and kale and season with salt.
Cook covered, stirring occasionally until tender, 3-4 minutes.
Let cool.
Transfer to food processor.  Add cottage cheese and puree until smooth. Stir in lemon juice.
Refrigerate up to 3 days.
Serve dip with chilled carrot slices.