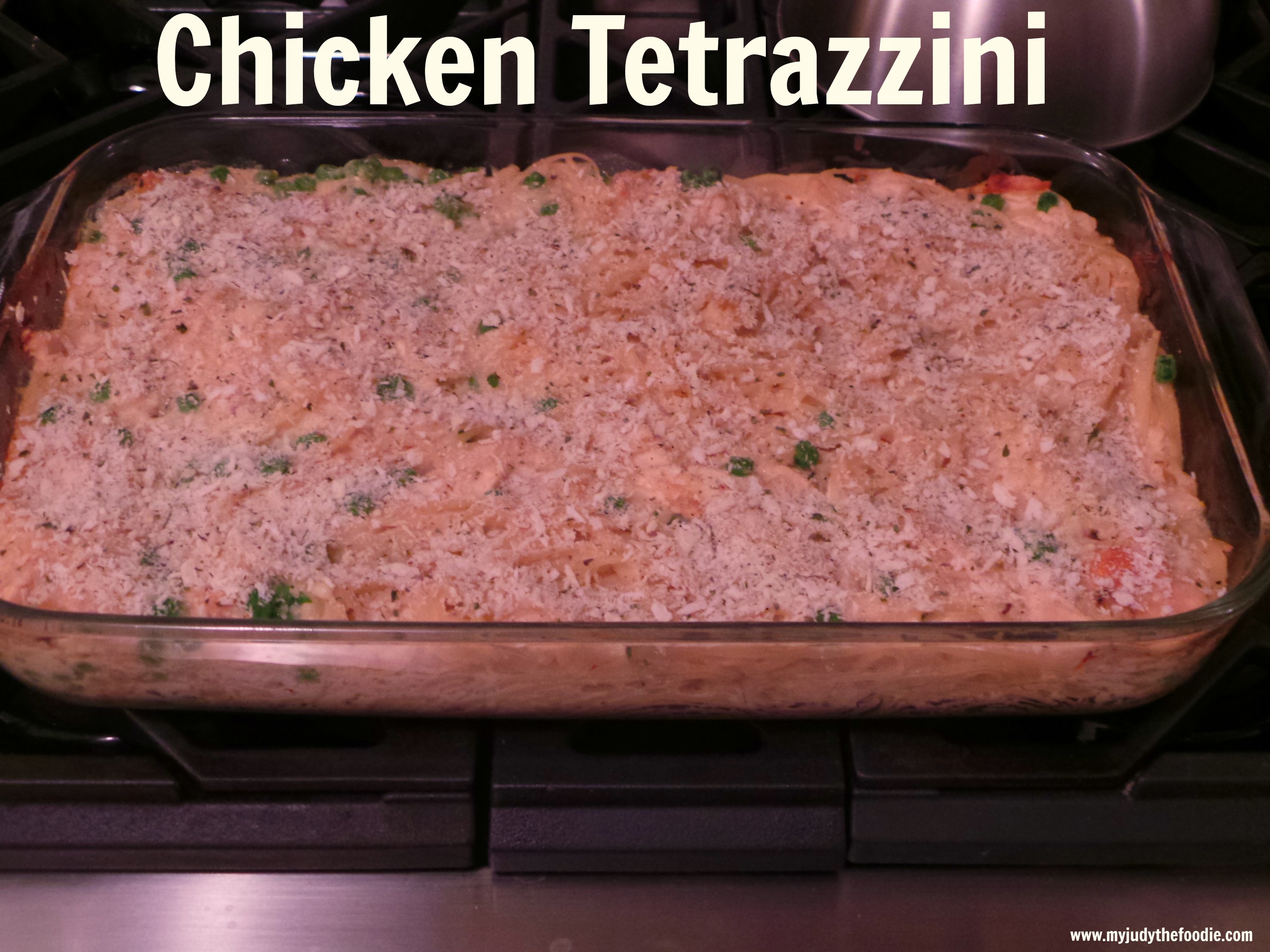 Snow has been steadily falling for the past few hours, turning the city into a peaceful winter diorama. Temperatures have plummeted to low teens and we're bracing for another bitter day today complete with ample sledding, movie watching, reading and eating.
Knowing that we'd be stuck indoors for some time, last night I knew we needed the ultimate comfort food for dinner– to warm us and to tide us over until today, when we could happily enjoy the leftovers again.  I decided to make one of mom's hearty casseroles—with chicken and noodles and cheese—Chicken Tetrazzini.  However, since I am in the process of reviewing Lauren Slayton's new book, Little Book of Thin, I did feel a little guilty sticking to the original calorie-laden recipe with the same indulgent ingredients mom used in the 1970's. So, I tweaked the recipe somewhat (thanks to Cooking Light magazine), to make it a bit healthier, albeit, not very.
Mom's recipe, like most traditional Chicken Tetrazzini recipes, contains mushrooms and peas and milk and cheese. Knowing my mushroom-averse audience, I omitted them from the recipe but, I also replaced the whole milk with evaporated low-fat milk and lightened up on the cheese quantities.
After only 30 minutes baking in the oven with the smells of garlic wafting throughout our apartment, we were ready to dig in.  Everyone had hearty helpings of this linguine-based dish and as planned, there are plenty of left overs for today (either for lunch or dinner).
Best part: this will also freeze well; the perfect winter food arsenal for these cold months ahead.
Enjoy.
Chicken Tetrazzini
adapted in part from Cooking Light Magazine
servings: 8
Ingredients:
8-10 ounces uncooked linguine
2-3 tablespoons butter
2 1/2 cups unsalted chicken stock
1 can evaporated low-fat milk
3 ounces grated Parmesan-Reggiano cheese
1 ounce cream cheese
1 teaspoon salt
1/4 teaspoon pepper
4 teaspoons olive oil
1 cup chopped onion
5-6 cloves minced garlic
4 cups shredded cooked chicken breast
1 cup frozen green peas
1 cup Panko bread crumbs
Instructions:
Preheat oven to 375 degrees.
Cook pasta according to directions on box.
Melt butter in saucepan, stir in flour, cook 2 minutes stirring with a whisk.
Add stock and milk and bring to a boil.  Reduce heat and cook on simmer for 4-5 minutes.
Remove saucepan from heat and whisk in Parmagiano-Reggiano, cream cheese, salt and pepper.
In another skillet, heat oil and saute onions and garlic approximately 3 minutes.
Combine milk mixture, pasta, chicken and peas in a large bowl and toss to thoroughly combine.
Pour mixture into a well-greased 13×9-inch glass baking dish.
Sprinkle top with bread crumbs– coating completely.
Bake in oven approximately 30 minutes or until dish starts to bubble.
Enjoy.