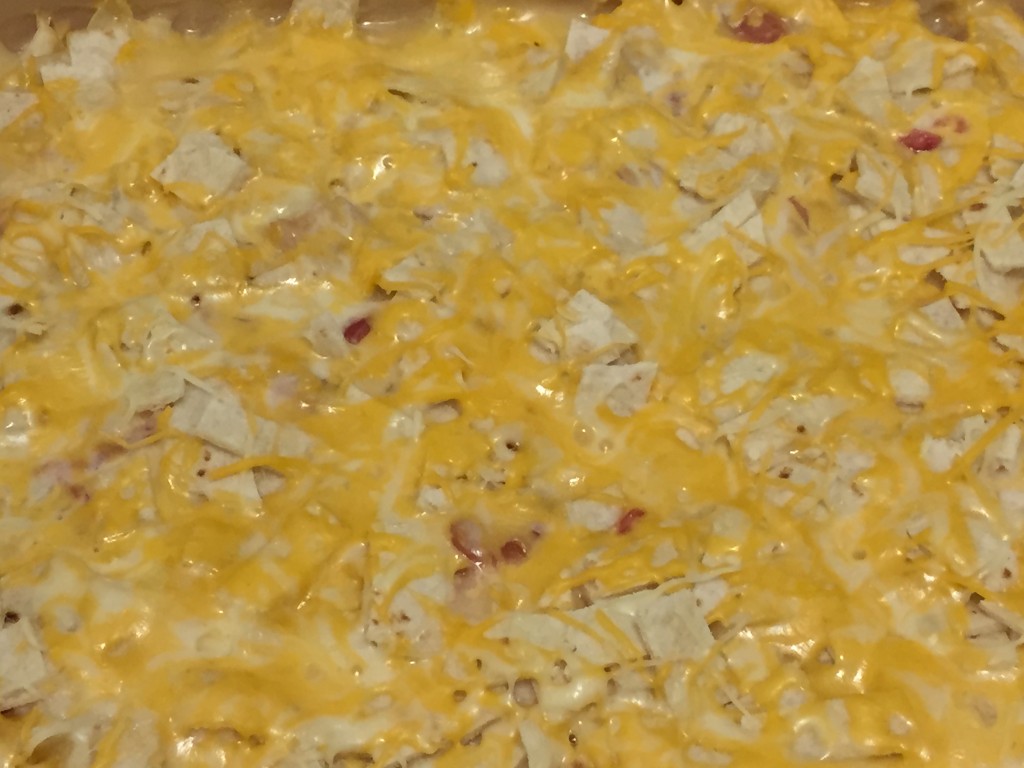 Frigid temperatures coupled with cranky, tired kids means comfort food becomes my go-to dinner on many weekdays during the dark winter months. 
Rich in flavors and undeniably hearty, it's ironic that most comfort food is surprisingly simple to make.

Whether you're into soups, or casseroles, or slow cooked meals, none of these recipes require much culinary skill at all. However, the meals are tasty, and filling and ideal for freezing or to be used as left overs.
Need I convince you more?
Last night's dinner was frenetic.  I had both of my kids coming home late, from different directions, and I got home late from a meeting too.  The last thing I intended to do was slave over the stove, or spend my time chopping vegetables.  I need something quick and easy, with little mess.
I had seen a recipe over the weekend that I had bookmarked– Chicken Tortilla Bake.  It seemed like the perfect dish to satisfy the varied palates at my table– chicken combined with cheese and some spicy tomatoes!  How could I go wrong?
I will admit that I was a little hesitant to use the canned Cream of Chicken soup because it has a TON of sodium but honestly, I realized that the dish checks off every other box on my short list so, I needed to try it.
To save time, instead of chopping tomatoes, I purchased a can of ROTEL (which I somehow only discovered last year when making the Slow Cooker Chicken Chili).  If Rotel is not available to you, you can easily substitute a jar of salsa.
The actual recipe can be summed up very quickly: I had to do NOTHING to do but open two cans, one bag and two packets, and dump their contents into a bowl.  Then, I made layers in the baking dish and put it my finished product into the oven for 40 minutes to bake.
That's it!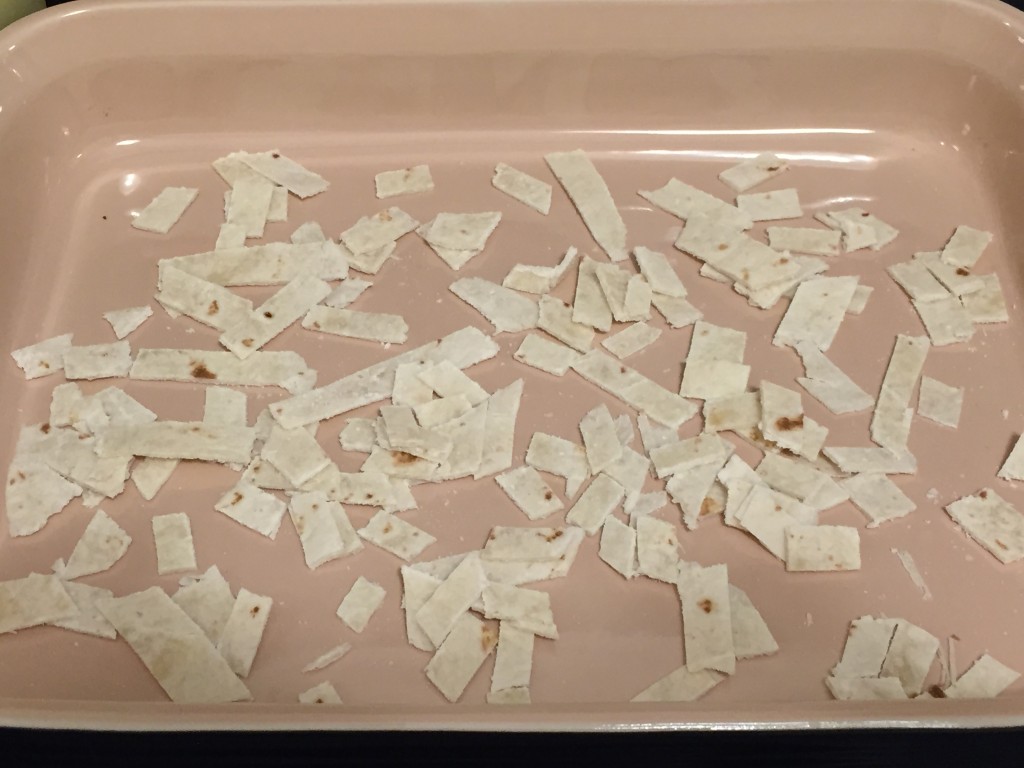 base layer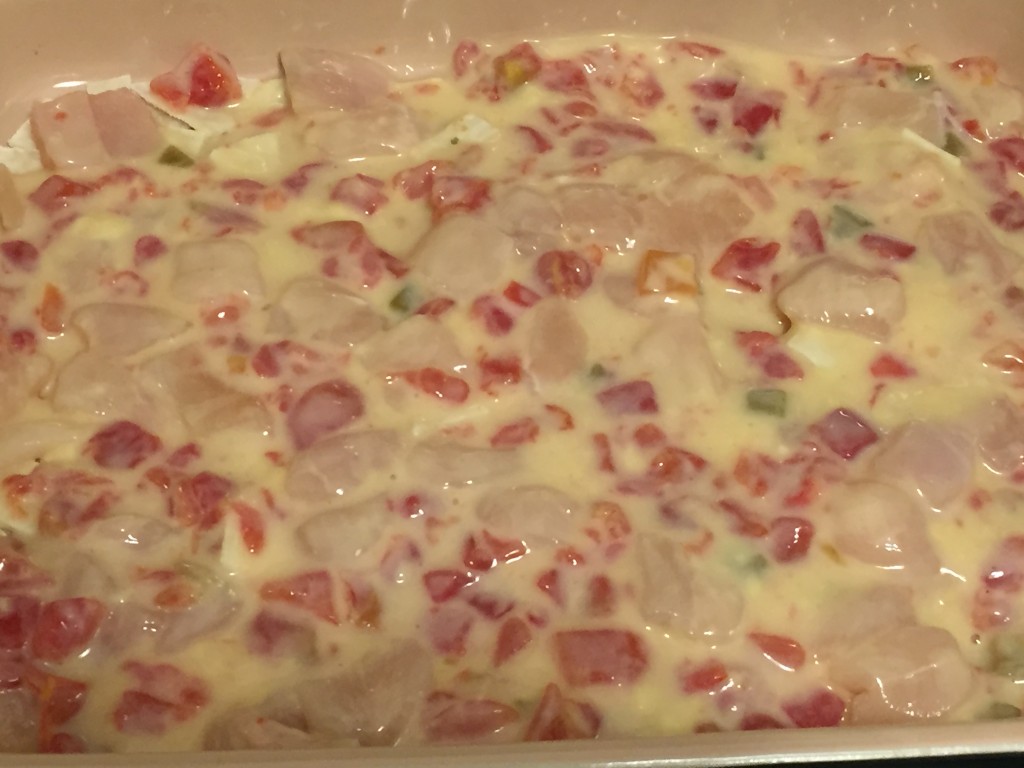 first layer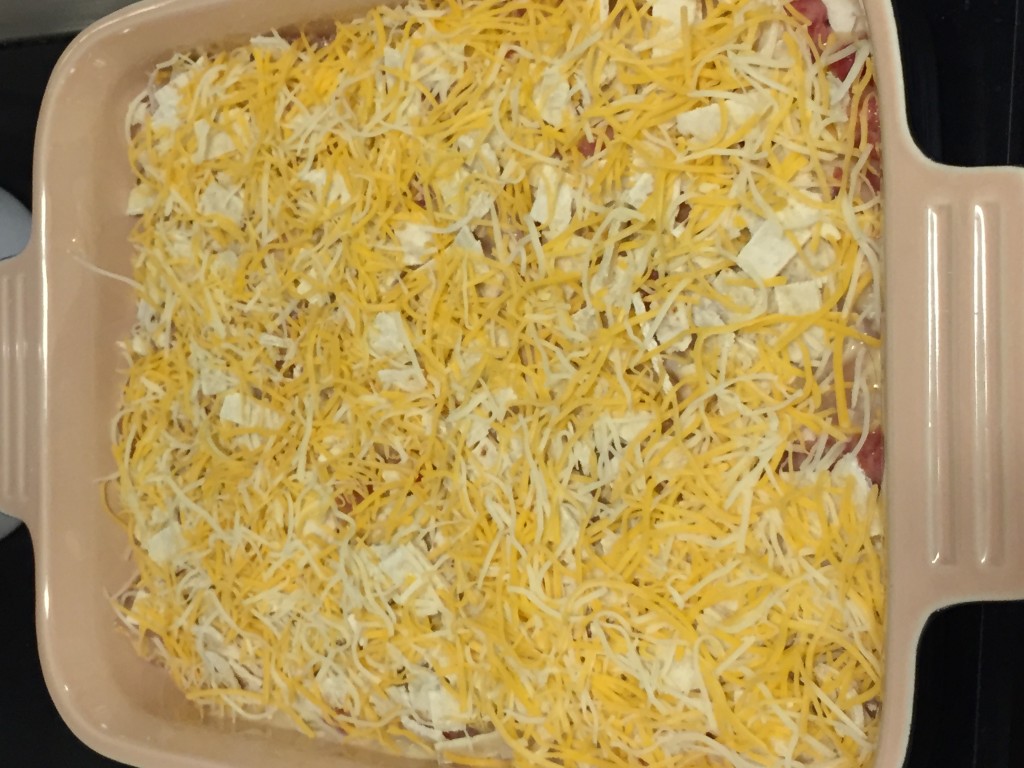 second layer
My kids loved the dish, and unfortunately we had absolutely no leftovers.  I was hoping for a dish with a firmer consistency like a quiche.  The combination of the soup and the milk rendered it a bit too soupy for my liking but, whenever I get a thumbs up from both kids, my opinion is null and void!  It's deemed a hit.
This is being added to my monthly rotation and I hope you try (and love) it too.
Happy eating.
Chicken Tortilla Bake
adapted from 30 Handmade Days
Ingredients:
1 can cream of chicken soup
1 10 ounce can of Rotel- diced tomatoes with green chiles
12 small flour tortillas, cut into thin bite-size strips
3 cups cubed cooked chicken
1 cup shredded cheddar cheese
1/2 c. milk
Instructions:
Preheat oven to 350 degrees F.
In a bowl combine soup, milk and undrained tomatoes or salsa and set aside.
Sprinkle one-third of the tortilla strips over the bottom of an ungreased rectangular baking dish.
Layer half of the chicken over the tortilla strips.
Spoon half of the soup mixture evenly over top.
Repeat layers.
Sprinkle with the remaining tortilla strips and top with cheddar cheese.
Bake, covered, about 40 minutes or until bubbly.
Uncover; bake about 5 minutes more or until cheese is melted.