It's frigid here in the northeast.  Therefore my quest for comfort food has become dire. I love this breakfast Egg Casserole recipe from Mom's collection.  You heard right, a casserole for breakfast time, not dinner.  It makes sense as breakfast is the most important meal of the day.  Why not serve a hearty dish to kick of the long day?
Mom's Egg Casserole is as simple as it sounds– baked eggs in a dish.  But, what makes it tastier than a simple egg dish is the addition of the cheese croutons, shredded cheddar cheese and cooked bacon.  These ingredients provide a nice variety of taste and texture to the somewhat bland egg base.  When soaked with the egg, the croutons become soft and sponge-like, creating the binding ingredient to the dish.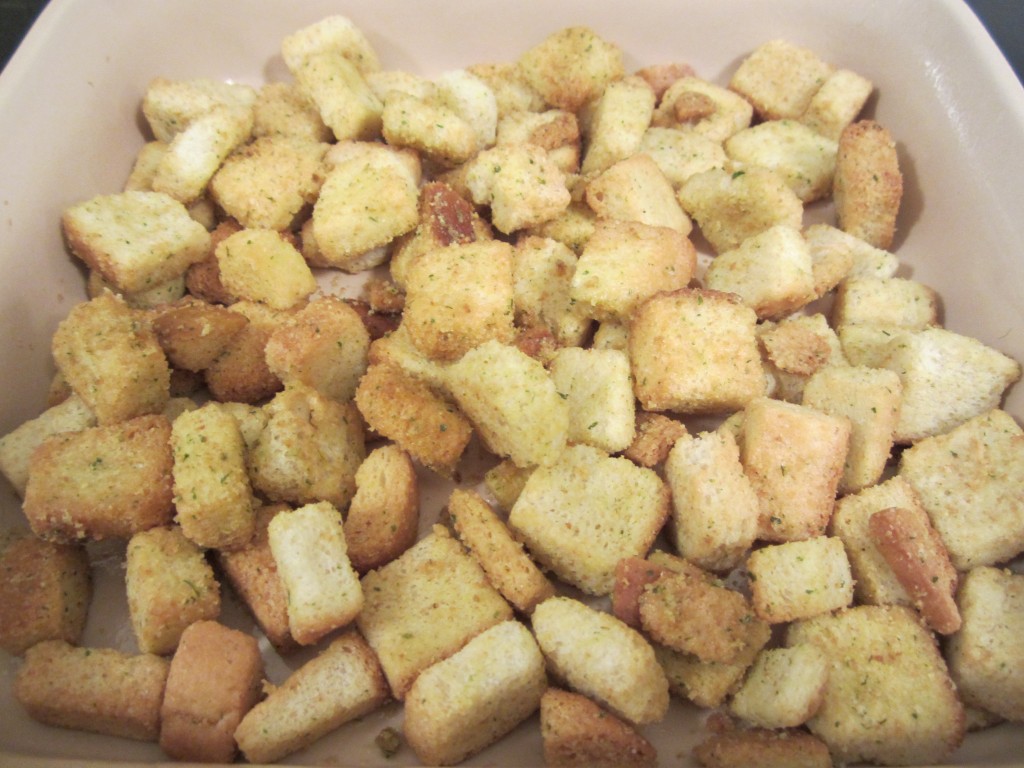 Cheese croutons lining the casserole dish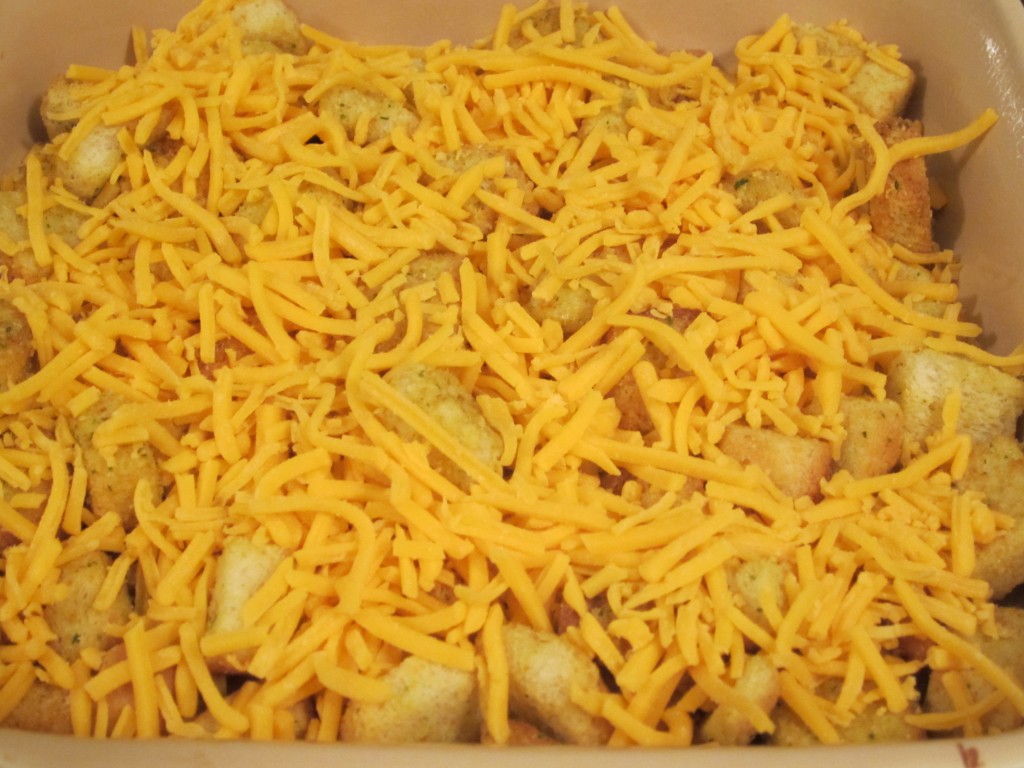 Second layer of shredded cheddar cheese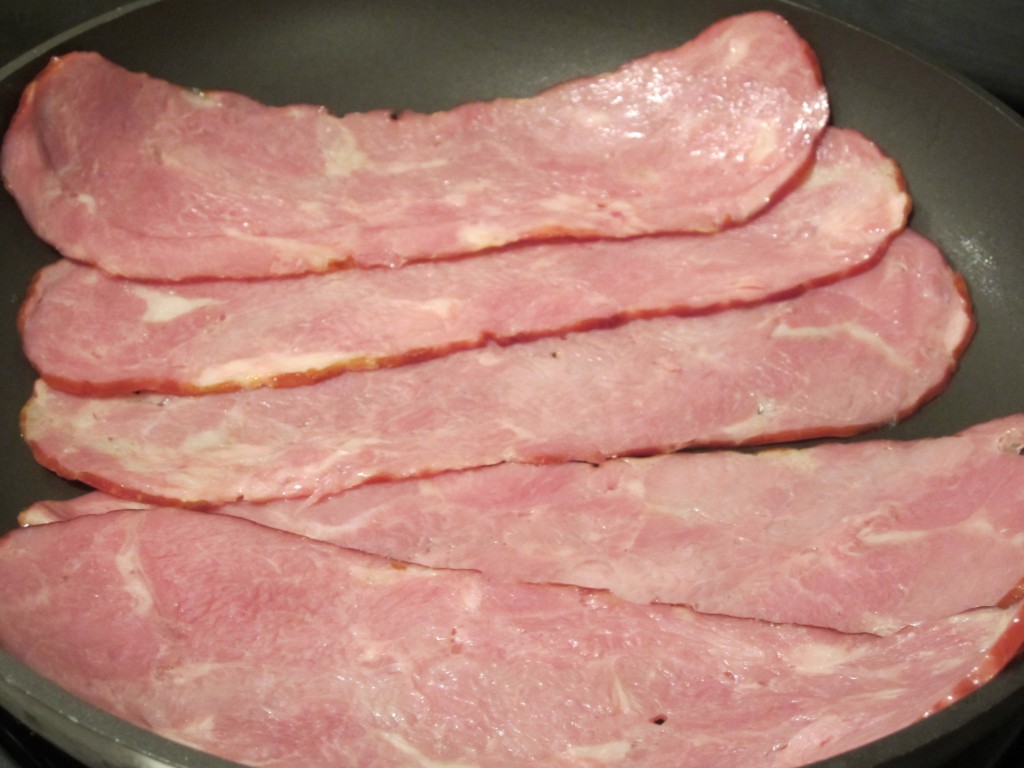 Turkey bacon cooking on the stove – to be crumbled and sprinkled on top casserole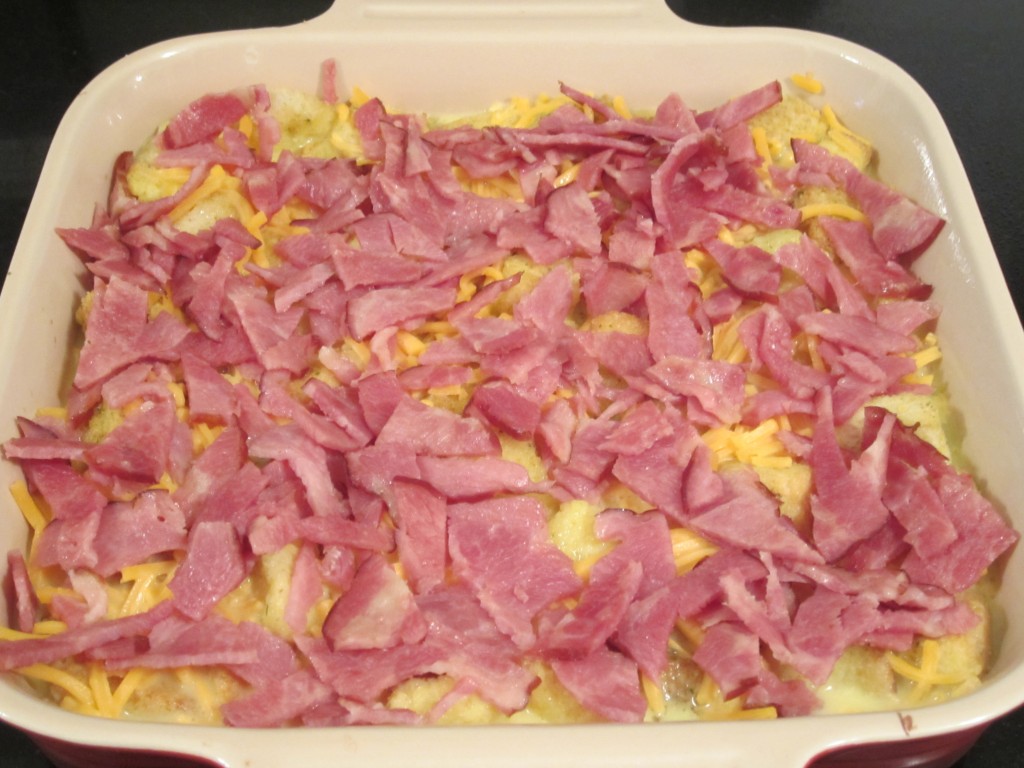 Casserole with addition of egg mixture and bacon topping – ready for oven
After only 10 minutes of preparation and 1 hour of baking, a beautiful and colorful casserole dish will grace your table to provide some much-needed diversity to your breakfast repertoire!  And, in our case, our dinner repertoire too–Wednesday night is Breakfast-for-Dinner-Night!
So, the next time you find yourself defaulting to the pre-packaged instant oatmeal to warm your belly, whip up some egg casserole.
You won't regret it, and neither will your family.

Egg Casserole
Prep time:
Cook time:
Total time:
A hearty egg casserole to start your day.
Ingredients
1 bag cheese croutons
1 cup shredded cheddar cheese
4 eggs
2 cups milk
½ teaspoon salt
½ teaspoon dry mustard
pinch of pepper and onion powder
6 piece bacon
Instructions
Preheat oven to 325 degrees.
Layer 1 cup of cheese croutons in the bottom of a greased 9x9 casserole dish.
Sprinkle 1 cup of shredded cheese on top croutons.
Mix together eggs, milk, salt, mustard, pepper and onion powder in a bowl.
Pour mixture over top croutons and shredded cheese.
Cook 6 pieces of bacon on the stove top.
Crumble bacon pieces on top casserole.
Bake in oven for approximately 1 hour.
Notes
To be a tad bit healthier, I used turkey bacon in place of regular bacon. Mom's recipe calls for 1 cup of cheese and 4 eggs, I added another half cup of cheese. You could easily add another egg. In place of croutons, you can use any bread, even old stale bread!